"I consider myself a well-educated young lady," she began, as poised as someone three times her age.
Sydney Smoot, a 9-year-old fourth-grader in Hernando County, Florida, delivered a powerful speech last month to her school board in opposition to the troubled Florida Standards Assessment testing.
Her speech left the audience applauding.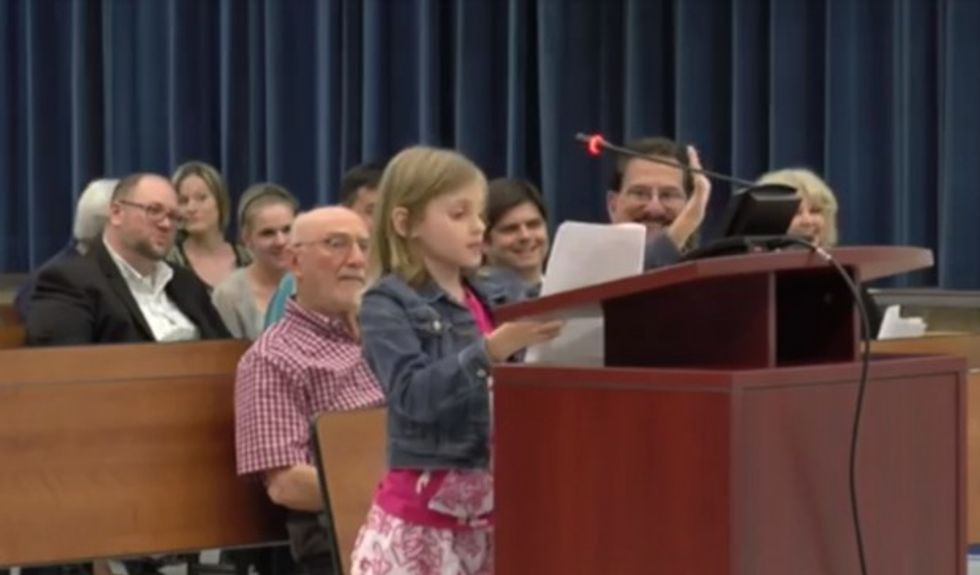 Sydney Smoot, 9, tells the Hernando County School Board exactly why she's opposed to Florida's current standardized testing regime. (Image via Washington Post)
"Ladies and gentlemen of the school board, I urge you to put a stop to high-stakes testing today!" Sydney declared, giving an impassioned solo delivery of the speech her mother helped her write.
Florida's testing regime isn't Common Core — Florida ditched the standards last year — though the Washington Post noted that Florida's replacement testing standards are "remarkably similar" to Common Core.
Noting that the tests come wrapped in a weird veil of secrecy — students are asked to sign a form saying they won't discuss the test with their parents, and grades are only delivered after the end of the school year — Sydney told the school board, "I have the right to talk to my parents about any and everything related to school and my education."
She also noted that the high-stakes testing was limiting real learning and cutting into a much-needed activity: recess.
Watch Sydney's whole speech below:
—
Follow Zach Noble (@thezachnoble) on Twitter