Boxing is bringing a whole new kind of  "instant replay" to a TV screen near you – sort of.
By implanting a small chip inside of a boxer's glove, Big Knockout Boxing could make specific fight data available to fans in real time, SlashGear reported.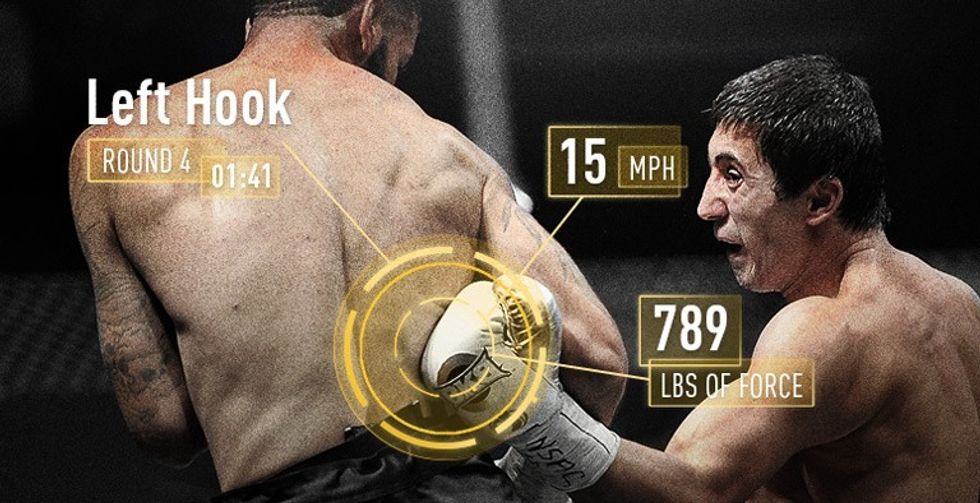 Image source: BKB
Want to know how fast the boxer threw that last punch? How would you like to know how much weight was behind the punch seconds after it's thrown? The technology isn't available in real time quite yet, though. But former heavy weight boxing champion Evander Holyfield said the technology is something he would like to see at least someday.
"I actually think the technology will add a lot," Holyfield told Popular Mechanics. "People are much smarter spectators now. They want more information, and the hit chips will give it to them. They'll know if a guy takes a hard hit and tries to hid or if he takes a tap and starts running. I can tell that by looking, because of my experience. But now everyone will know, 'You got tapped and you ran. And that's not right."
In-glove technology comes to boxing for the first time at the #BKB 2 event at Mandalay Bay Resort and Casino this past weekend. Via Popular Mechanics http://bit.ly/1y9ExJy

Posted by BKB on Monday, April 6, 2015
BKB's first step was seeking approval for a new glove design to allow room for a small space for the chip, TodaysKnockout.com reported, so that, almost upon impact, the chip calculates at what speed the punch was thrown, how much weight was behind the punch and what kind of punch it was.
The first time BKB used the technology was Sunday during an event at the Mandalay Bay Events Center in Las Vegas. BKB highlighted its first-ever use of the chips in a Facebook post on Monday.
While it appears this is the first official push forward for the boxing entertainment industry to adopt the technology, the concept altogether isn't new. Mashable reported on a crowdsourcing Indigogo campaign in July 2014. The page tried to raise money for iPunch, or a "smart" boxing glove capable of connecting to smartphones and determining the force and speed of punches.
Responsive Sports CEO and Founder Stephen Cains, who is a boxer himself, reportedly came up with the idea to help him up his own game: "I spent a lot of time in training, unable to improve, and I wanted to know why," he told Mashable. So that's when he put sensors in his gloves and headed to the gym.
(H/T: SlashGear)
– 
Follow Jon Street (@JonStreet) on Twitter