Top Iranian officials made two new claims which suggest Iran aims to speed up its move toward nuclear development and at the same time hide its activities from international atomic inspectors as soon as a permanent agreement over its nuclear program goes into effect.
Iran's foreign minister and nuclear chief told a closed-door session of parliament Tuesday that Iran would begin using its most advanced centrifuges as soon as the final deal with the U.S. and five world powers takes effect, Iran's semi-official news agency FARS reported.
The Times of Israel observed that if accurate, the claims "would make a mockery of [the] deal … since such a move clearly breaches the U.S.-published terms of the deal, and would dramatically accelerate Iran's potential progress to the bomb."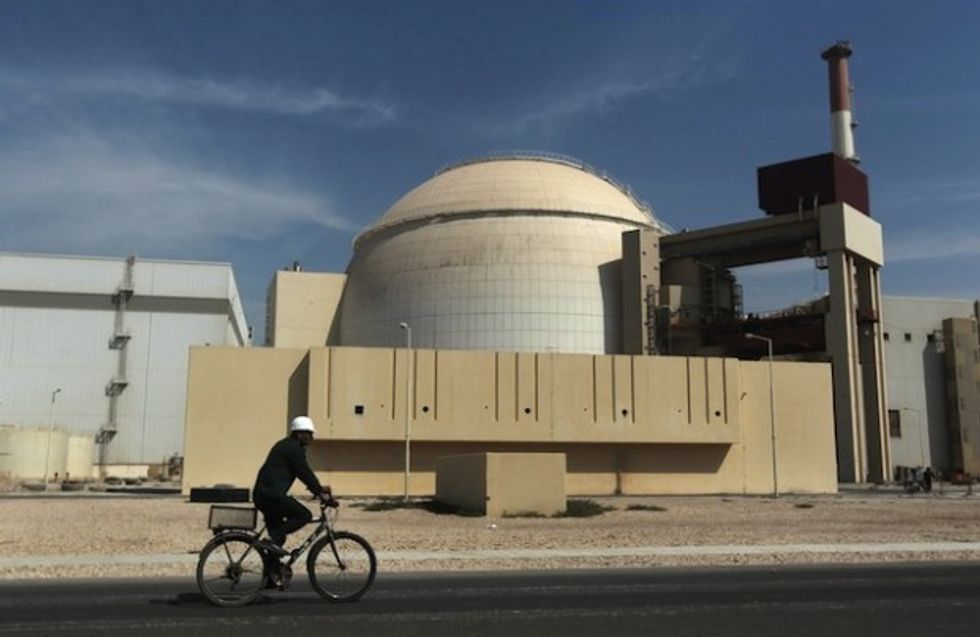 In this Oct. 26, 2010 file photo, a worker rides a bicycle in front of the reactor building of the Bushehr nuclear power plant, just outside the southern city of Bushehr, Iran. (AP Photo/Mehr News Agency, Majid Asgaripour, File)
Foreign Minister Mohammad Javad Zarif also told the lawmakers that Iran would not allow cameras into nuclear facilities to transmit live images to overseas atomic inspectors, Iran's Mehr news agency reported Tuesday, quoting Iranian lawmakers who attended the meeting.
Zarif said cameras could place Iranian nuclear scientists at risk by revealing their identities.
Several Iranian nuclear scientists have been killed in recent years by bombs magnetically attached to their cars.
The absence of live cameras in nuclear facilities would pose a challenge to international atomic inspectors trying to determine if Iran is complying with the agreement.
FARS reported that Zarif and Atomic Energy Organization of Iran head Ali Akbar Salehi told the lawmakers that Iran planned to inject UF6 gas into its latest generation centrifuge, the IR-8, which Iran has said could enrich uranium 16 times faster than its older generation IR-1 centrifuge.
Zarif and Salehi said working on the new centrifuges was part of the nuclear technology research and development activities which "have been agreed upon during the talks," member of the parliament's National Security and Foreign Policy Commission Javad Karimi Qoddousi said after the parliament meeting according to FARS.
When Iran announced its IR-8 centrifuge last year, it said it had a much larger capacity to enrich uranium.
Israeli Prime Minister Benjamin Netanyahu asked why the deal would allow Iran to continue working on advanced centrifuges.
The Nuclear Deal With Iran: Questions Unanswered pic.twitter.com/SHfGStnU5b

— PM of Israel (@IsraeliPM) April 7, 2015
Iranian media reported that Iran plans to issue a new fact sheet in the next few days to address Iranian concerns following a White House fact sheet explaining the Obama administration's view of the framework agreement announced last week.
The Times of Israel observed that under the White House understanding, the parameters of the agreement "leave no doubt whatsoever … that the use of anything other than the most basic, first generation IR-1 centrifuges is barred for 10 years."
A French fact sheet on the framework agreement, like the U.S. version, would not allow Iran to use IR-8 centrifuges; however, the French fact sheet noted that Iran would be allowed after 12 years to continue research and development on its more advanced IR-4, IR-5, IR-6 and IR-8 centrifuges, reported the Times of Israel which reviewed the French document.
The use of more advanced centrifuges would speed up Iran's ability to assemble a nuclear weapon.
President Barack Obama conceded in an interview to National Public Radio broadcast Tuesday that though Iran would need a year to obtain a nuclear weapon under the terms of the deal, after 13 years it could shrink its nuclear breakout time – the time needed to build a bomb - to almost nothing.
While the State Department later tried to walk back his admission, Obama's original statement to NPR matched the French understanding of the deal.
"I think his words were a little mixed up there, but what he was referring to was a scenario in which there was no deal," said State Department spokeswoman Marie Harf.
The Times of Israel reported that the French fact sheet – which has not been made public – differed in other areas from the White House document on the agreement on the issues of inspections and supervision of Iran's nuclear facilities.