A Jewish family in Southern California was left terrified over the weekend when they discovered swastikas spray-painted on their property while celebrating Passover.
According to KSWB-TV, electricity cut out to the family's Mira Mesa home after 11 p.m. Sunday night.
Israel Dahan checked on his three daughters before heading to the circuit breaker to turn the power back on. That's when he saw giant swastikas painted on his garage door and truck.
"In Jewish history, [swastikas] mean someone wants to kill us," Dahan explained to KSWB.
Home surveillance footage shows Dahan and his family checking the front yard for the possible suspects. Authorities later arrived on scene and asked neighbors if they saw anything.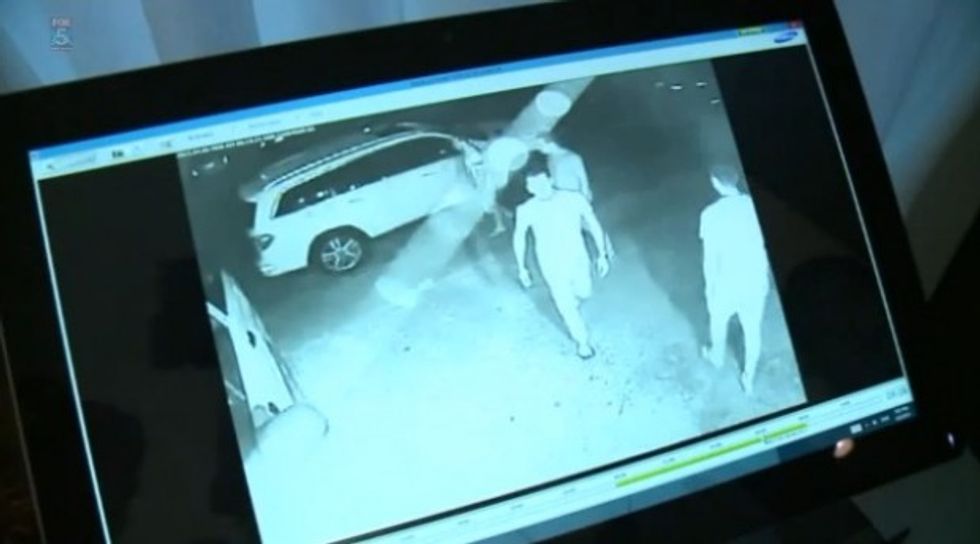 Image source: Screen grab via KSWB-TV
"This neighborhood has been a good neighborhood for 21 years. We've never had any problems here," one neighbor. Don Elmore, told KSWB.
"We decided to move to the U.S. in order to be more safe and to protect our kids…we're just trying to grow our kids in quiet neighborhood in a quiet place, which has not happened," Dahan said.
Local reporter Dan Haggerty tweeted that the family is now "terrified" and sleeps in one room armed with a knife.
Jewish family in Mira Mesa celebrating Passover get the power cut to their home and walk outside to find this. http://t.co/5ysxQj3SIW

— Dan Haggerty (@Dan Haggerty) 1428542073.0
Family moved from Israel to raise daughters here. They're terrified. Entire family sleeps in one room now. Dad keeps a knife under bed.

— Dan Haggerty (@Dan Haggerty) 1428544261.0
Police have not apprehended any suspects, KSWB reported.
—
Follow Oliver Darcy (@oliverdarcy) on Twitter