The Cold War-Era bunker in Colorado Springs that was designed to protect the U.S. military's command in the event of a nuclear bomb is getting a new purpose after many of the operations once inside Cheyenne Mountain have been moved over the years.
The Cheyenne Mountain Complex originally housed the control room for the North American Aerospace Defense Command, which later moved to Peterson Air Force Base not far away. But last week, William Gortney, commander of U.S. Northern Command and NORAD, said at a briefing that some military communications equipment was moving into the mountain.
This time, the military is turning toward the Cheyenne Mountain Complex for protection from electromagnetic pulses. EMPs can occur naturally, but the threat of artificial EMP attacks have been a popular discussion point of late.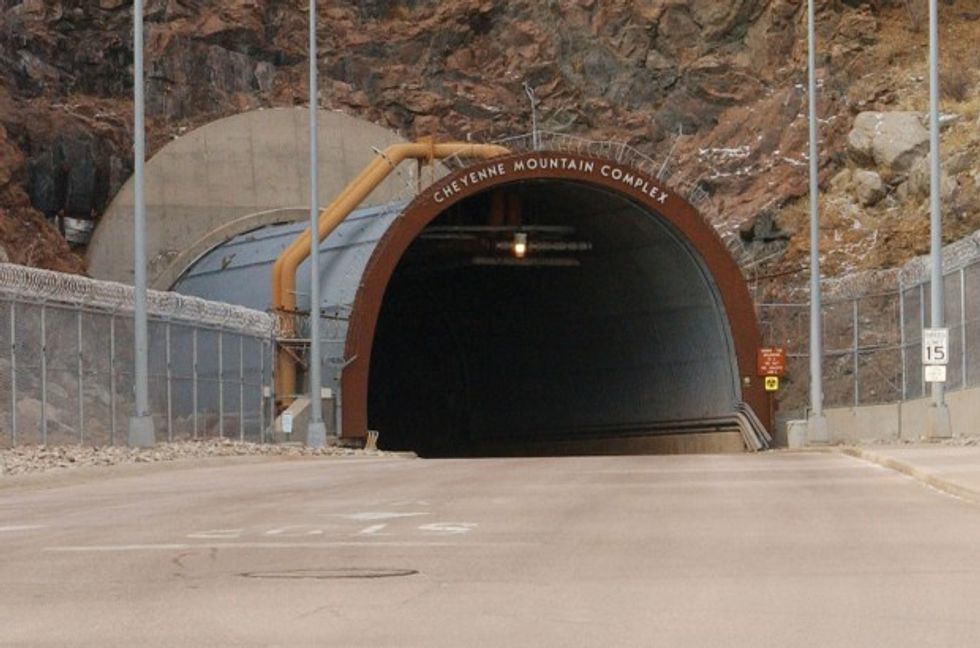 The entrance to the Cheyenne Mountain Complex. Military officials said they are moving some communications equipment into the complex because of its ability to protect against the effects of an EMP. (Photo credit: NORAD)
"Because of the very nature of the way that Cheyenne Mountain is built, it's EMP-hardened," Gortney said, according to Defense One. "It wasn't really designed to be that way, but the way it was constructed makes it that way."
A "solar EMP" is caused by a flare shooting out from the sun, sending extreme radiation toward Earth. Such natural events can result in "radio blackouts and GPS navigation errors," according to NASA. EMP bombs could have similar effects, knocking out communication systems and more.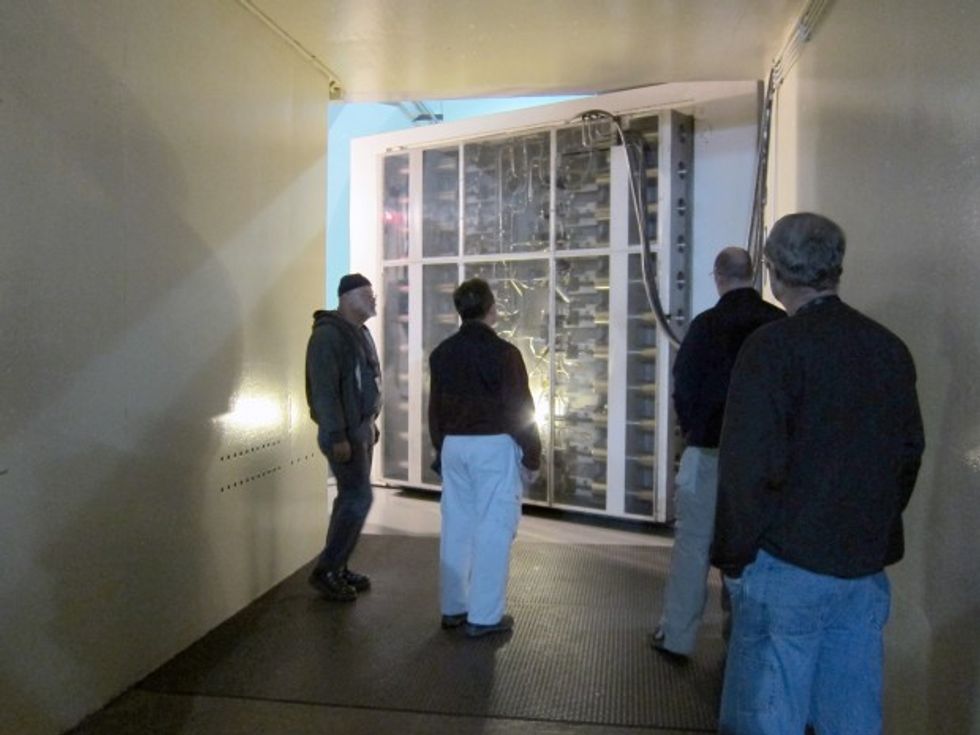 Cheyenne Mountain personnel watch as one of the mountain's 20-ton blast doors close during an exercise Oct. 25. The doors were shut for a 24-hour period during which personnel inside had to participate in a command-wide exercise. The 20-ton blast doors are closed and opened once a week. The last time they were closed for a contingency was 9/11, but they've never been closed for an exercise for more than 45 minutes. (Photo and caption credit: U.S. Air Force/Joann Missey)
Last week, the Defense Department awarded Raytheon a $700 million contract to "support threat warnings and assessments" for the Cheyenne Mountain Complex. The defense contractor will "[provide] NORAD authorities with accurate, timely and unambiguous warning and attack assessment of air, missile and space threats," the company's news release stated of the work it expects to complete by 2020.
"Raytheon has deep expertise in sustainment and modification solutions that include sensor and software systems, radars, command and control, and range-engineering services," David Wajsgras, president of Raytheon Intelligence, Information and Services, said in a statement. "We look forward to working closely with the Air Force in this important area of national security."
After NORAD and NORTHCOM's command center moved to Peterson Air Force Base, also in Colorado Springs, in 2006,  the Cheyenne Mountain Complex was officially re-designated as the "Alternate Command Center" in 2008.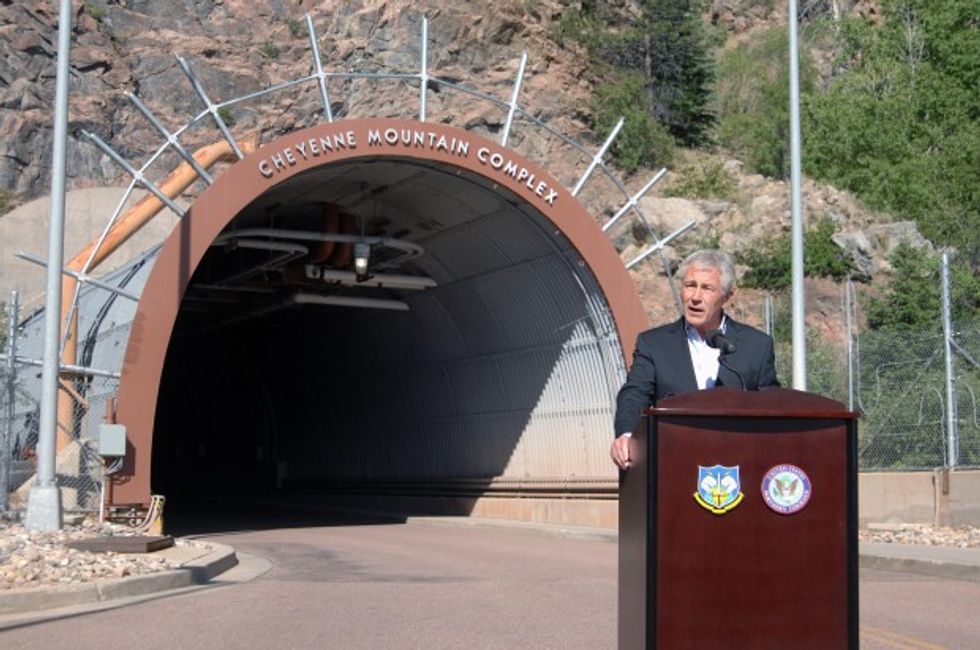 Former Defense Secretary Chuck Hagel speaking outside the Cheyenne Mountain Complex.(Photo credit: U.S. Air Force/Tech. Sgt. Thomas J. Doscher)
In addition other news, the Colorado Springs Military Newspaper announced in March that the underground complex would be getting an "unmanned micro-market" with healthier food options.
"With a demanding 24/7 mission and limited food options inside our mountain complex, we needed this marketplace to better serve and take care of our personnel," Col. Travis Harsha, Cheyenne Mountain Air Force Station installation commander, said in a statement. "Compared to our previous shoppette with limited hours, this marketplace provides 24/7 access with more convenience and healthier food options, all of which enable a healthier, happier and more productive team to take care of our critical mission defending North America."
(H/T: Daily Mail)
 —
Front page image via NORAD.