The tentative Iran nuclear agreement that the Obama administration celebrated as a major step forward just one week ago was thrown into serious doubt Thursday, as the U.S. and Iran fell into a public dispute over exactly what was agreed.
The fight called into question whether any understanding exists at all, and whether there's any way to bridge their vast public differences by June 30, the target date for a final agreement.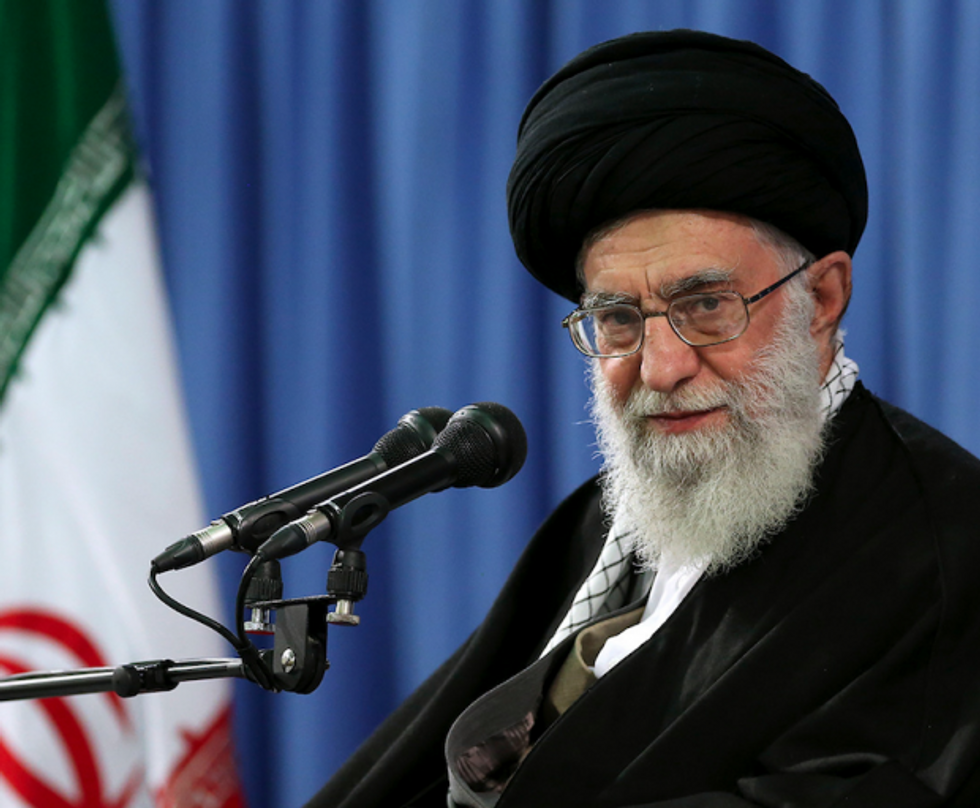 Iranian Supreme Leader Ayatollah Ali Khamenei said Iran won't accept a final nuclear agreement unless it allows all sanctions to be dropped immediately. That prompted the State Department to say that's not what's in the deal. Image: AP
The public dispute started when Iranian Supreme Leader Ayatollah Ali Khamenei insisted that all sanctions against Iran would have to be lifted as soon as any final agreement is signed.
"All sanctions should be removed when the deal is signed. If the sanctions removal depends on other processes, then why did we start the negotiations?" Khamenei said, according to Reuters.
Khamenei also said the "fact sheet" on the agreement that the U.S. side put out last week was "wrong" about almost everything it described.
"Americans put out a statement just a few hours after our negotiators finished their talks...this statement, which they called a 'fact sheet', was wrong on most of the issues," he said.
Additionally, he said Iran would not allow any of its military sites to be subject to inspections under the agreement.
All of those points are the complete opposite of how the Obama administration has described the status of the talks so far. The U.S. says Iran has agreed that sanctions will only be removed as Iran phases in the agreement, and that international inspectors will be able to request access to any site in Iran to ensure it lives up to its commitment to scale back its enrichment activities.
When asked Thursday if Khamenei was wrong about the deal, State Department spokesman Jeff Rathke said he wouldn't comment on "every public statement made by Iranian officials," an apparent signal that he also wouldn't comment on Khamenei's specific statement either.
"Sanctions will be suspended in a phased manner upon verification that Iran has met specific commitments under a finalized joint comprehensive plan of action," he said.
Rathke said that while the fact sheet on the deal that the U.S. released last week was not itself a negotiated document, it reflects the U.S. understanding of the status of the talks. "That fact sheet reflects the understanding we achieved in Lausanne," he said.
It's possible that Iran is making public statements about the agreement that aren't true in a show of strength for a domestic audience. But still, the lack of a single agreed text at this point in the talks has made it impossible to say for sure which side is right and which is wrong.
The U.S. fact sheet only contributed to that confusion, since Iran has indicated it doesn't agree with the wording of that information. And in a sign of possible trouble down the road, Rathke refused to tell reporters that a final agreement would be released in the form of a text that all parties to the talks can support.
"I'm not going to speak to the final shape and form of the agreement," Rathke said.
Iranian President Hassan Rouhani has also raised suspicions about the deal, by claiming that Iran got the upper hand in the talks.
"Our goal in the talks is to preserve our nation's nuclear rights," he said, according to Reuters. "We want an outcome that will be in everyone's benefit. The Iranian nation has been and will be the victor in the negotiations."