Glenn Beck on Friday asked Republican presidential candidate Rand Paul how he would handle being blamed for terrorist attacks if he puts an end to the "unconstitutional surveillance" on American citizens by the NSA, which he has pledged to do on "day one" if elected president.
"We are going to get hit one way or another," Beck said on his radio program. "It's just a matter of time before something happens, whether we're spying or not. What would you say to people who will say, 'Well, it's your fault,' because that's what will happen."
"People say this about the Patriot Act," Paul responded. "I tried to get rid of the Patriot Act because I think it turns the Constitution upside down. People said, 'Well, what would you rely on?' I said, 'Couldn't we just for a day rely on the Constitution?' The same way with the spying program."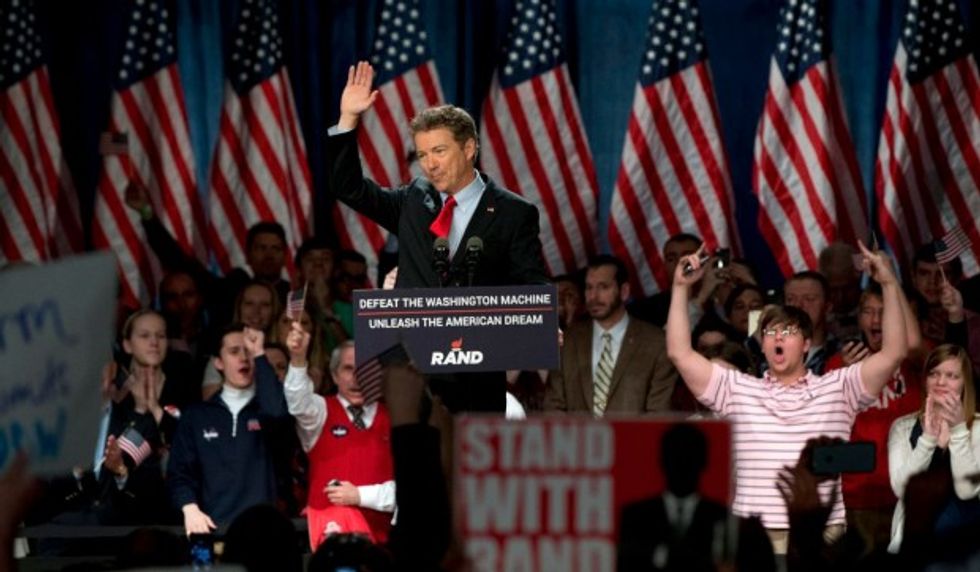 Sen. Rand Paul, R-Ky., announces the start of his presidential campaign as the audience cheers, Tuesday, April 7, 2015, at the Galt House Hotel in Louisville, Ky. Paul launched his 2016 presidential campaign Tuesday with a combative message against both Washington and his fellow Republicans, declaring that "we have come to take our country back." (AP Photo/Carolyn Kaster)
Paul said eliminating the mass collection of data on American citizens doesn't mean putting an end to our intelligence agencies.
"I think we should use our intelligence to find out about people who might attack us," Paul said. "So if you're here, you moved here from Pakistan or Yemen last year and you're calling people back in Yemen and you're plotting, and we have evidence, we should look at your phone records. If your records include 20 people you called in the country and in Yemen, and there's suspicion, take it to a judge and look at their phone records."
"I don't care if you go 20 hops into the material looking for people who are terrorists. I just want you to ask a judge and I want you to put an individual's name on the warrant," Paul continued. "What I object to is the warrant [NSA whistleblower Edward Snowden] revealed that said 'Verizon' on it. I don't know anyone named Mr. Verizon. And Mr. Verizon doesn't have possession of hundreds of millions of phone calls he has the right to divulge."
"You need to have warrants that are individualized," he concluded. "It can't be a blanket warrant for anybody's stuff."
[mlbvideo content_id=67142283]
The full episode of The Glenn Beck Program, along with many other live-streaming shows and thousands of hours of on-demand content, is available on just about any digital device. Click here to watch every Glenn Beck episode from the past 30 days for just $1!