PITTSBURGH (TheBlaze/AP) — Troy Polamalu's iconic football career is over.
The eight-time Pro Bowl safety told the Uniontown Herald-Standard he informed Pittsburgh Steelers chairman Dan Rooney on Thursday night he will retire rather than return for a 13th season.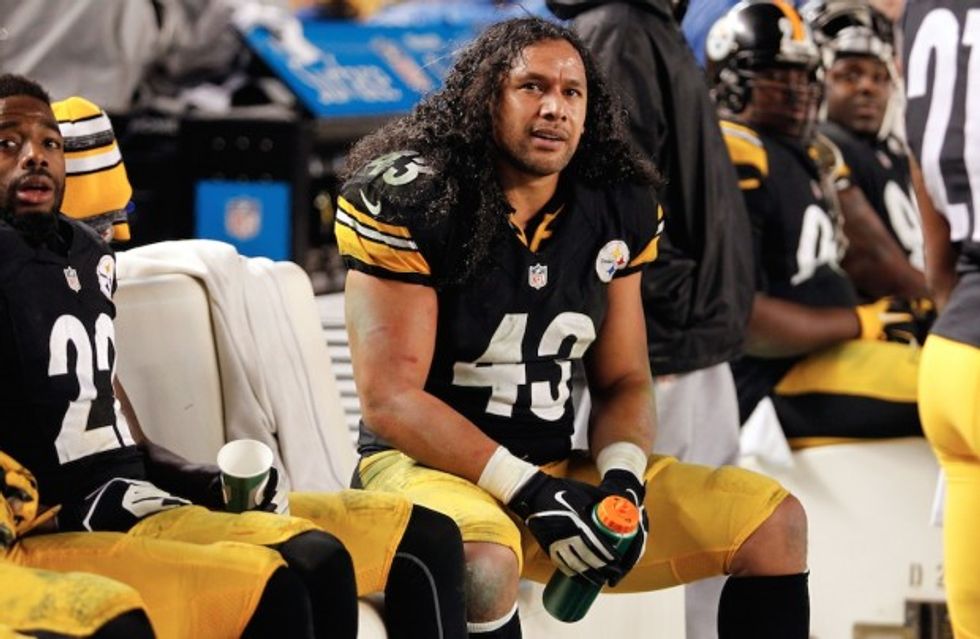 Troy Polamalu #43 of the Pittsburgh Steelers looks on from the bench against the Baltimore Ravens during their AFC Wild Card game at Heinz Field on January 3, 2015 in Pittsburgh, Pennsylvania. (Justin K. Aller/Getty Images)
The 33-year-old Polamalu had two years remaining on his contract but saw his play dip significantly from his prime, which peaked when he was named the 2010 NFL Defensive Player of the Year. Polamalu was limited to 12 games in 2014 due to a leg injury.
Polamalu told the newspaper he realized maybe it was time to go when he started debating whether he could make the commitment necessary to play another season. The newspaper reported the Steelers asked Polamalu to retire in February but he did not make a decision until this week.
The newspaper reported that the official decision came to him while he sat in church during Holy Week last week.
"It's all about family," Polamalu told the Herald-Standard. "I live here in Pittsburgh now, and since the end of the season I've had a chance to enjoy my family on a level I never had before. It was awesome."
He explained that his age and his years in the NFL provided numbers he felt were signs.
"Thirty-three is obviously significant because of Christ being 33; and 12 years, 12 apostles," he told the newspaper. "I'm not superstitious by any means but I always thought that if I played 12 years and retire from football at 33 and give my life and give my body and give my blood to this game, I think that would be a pretty significant landmark in my life."