Actor, television host and former Marine R. Lee Ermey is most often recognized as "Sgt. Gunny" from the iconic film "Full Metal Jacket." Ermey's portrayal of that gritty character has made him a popular host of shows about the military and weapons.
Ermey's latest show, "Gunny Time," premieres on the Outdoor Channel on Wednesday.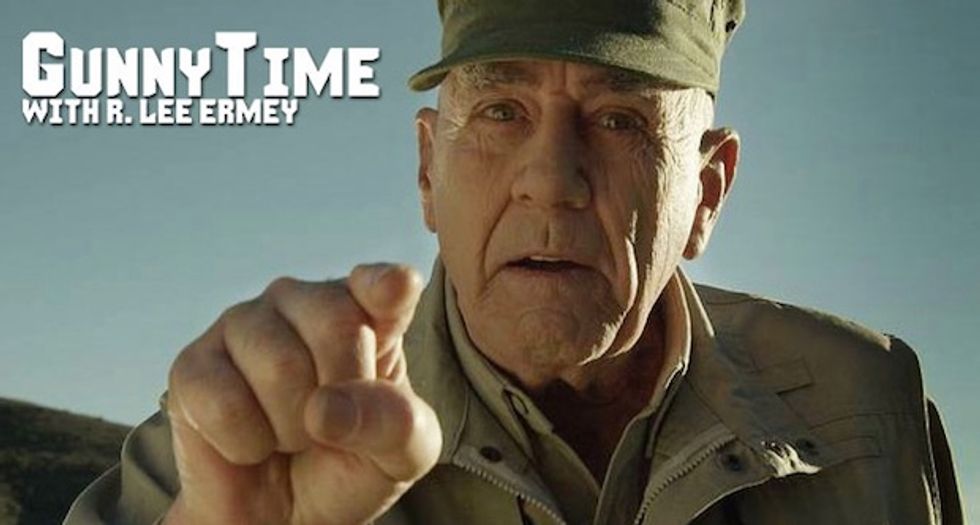 Image source: YouTube
At the NRA Convention in Nashville, TheBlaze interviewed Ermey about the show, his favorite guns and asked him to name best war movies ever made.
In terms of his favorite military-themed movies, Ermey goes with the classics — films from John Wayne. "M.A.S.H." (the television series) was also something he "never missed."
[/audio]
When asked if he or other Marines were offended by the 1960s TV show "Gomer Pyle, U.S.M.C.," Ermey laughed and called Gomer Pyle an "icon."
[/audio]
Explaining his upcoming show, Ermey was clear on what people should expect.
[/audio]
During the interview with TheBlaze, Ermey talked about the wide variety of weapons featured on the show, including a lever-action 1875 Winchester rifle. The Glock spokesman also revealed something about how he treats his favorite Glock - something he said he "should be ashamed of."
Listen to the entire interview here.
Watch a preview of "Gunny Time" from Outdoor Channel.
__
Follow Mike Opelka (@Stuntbrain) on Twitter.