NASHVILLE -- You might think you're prepared to respond to any threats that might come your way — but the odds are, you aren't prepared enough to satisfy Kyle Lamb.
Lamb is a retired Delta Force sergeant major who served 21 years in the Army, mostly with U.S. Army Special Operations. He now runs Viking Tactics, which offers tactical firearms instruction and consulting. Needless to say, he knows "prepared."
Speaking to a packed room of gun owners at the National Rifle Association's annual meeting on Friday, Lamb offered a crash course in preparedness in the face of unexpected personal danger. The military veteran, who served five combat tours in Iraq, was as thorough on the subject as he was politically incorrect.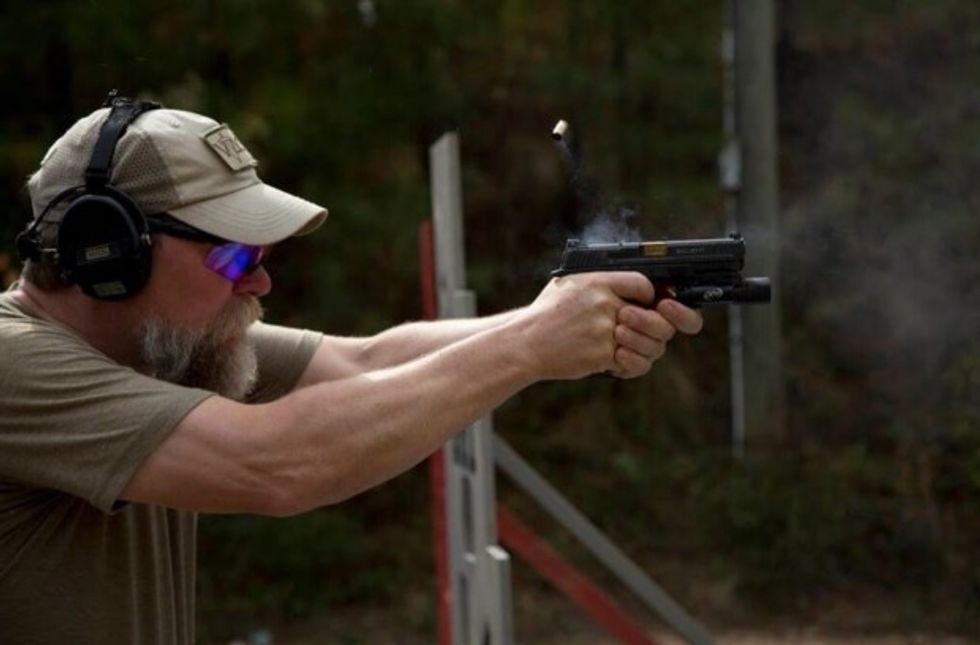 (Photo credit: Lukas Lamb)
The "Survival Mindset" seminar included several components that many people just don't think about — like being prepared for the sounds a human being makes after being shot. Much of the information Lamb passed down he learned from his experiences in combat.
"If you're offended by the word 'combat' — it's America. There's the door," Lamb told the audience, pointing his finger towards the door. He received prolonged applause for the line.
A key part of being ready to efficiently handle any threat that may sneak up on you, he said, is being prepared for three phases of combat: "Before, during and after."
Lamb said he conducts a "mental rehearsal" every morning, during which he contemplates what he would do if he found himself in a life-threatening situation. Another important aspect of this process, he said, is making sure your "tools" — including firearms — are ready and available.
Further, the "combat mindset" means "facing reality" and taking the responsibility of carrying a gun seriously, he continued. But it's also about understanding why you carry it and realizing you might have to use it.
"I don't take that very lightly, and I hope you don't either," he said.
Lamb seemingly caught a number of people off guard when he dedicated an entire slide to one question: "What do people sound like when they are shot?"
Recalling a combat incident where one of his fellow Americans had been shot, Lamb said, "We're trying to take care of him and I'm listening to those sounds that he's making — and it's disturbing,"
"However, I was prepared for that because I knew going into it what I was getting myself into," he added.
But at a different time, when he shot a bear while hunting and heard the animal let out a "death squall" that echoed through the mountains, it made him sick to his stomach because he didn't prepare for it. The importance of mental preparedness is vital, according to the veteran.
Here are a few other key points from Lamb's presentation:
• Gunfighting skills are not circus tricks — train for realistic situations

• Train frequently

• Practice shooting on the move

• Prepare to engage multiple targets

• Visualize and think through possible scenarios you might deal with

• Sharpen skills with a secondary weapon

• Basic physical fitness is part of being prepared
Rest assured, there's much more to Lamb's preparedness seminar. It's better to listen to him explain:
Lamb also took a passionate position on open carry. When he asked attendees if open carry is responsible, several of them replied, "no."
"I understand, some folks want to open carry to prove a point, but I'm going to tell you something right now. If I'm sitting at the local Dairy Queen and some dude in Bermuda shorts and a "Don't Tread on Me" t-shirt walks in with an AK slung around his neck, there's going to be freaking problems," Lamb said.
"First of all, I perceive that as a threat," he continued. "Second of all, the business people perceive that as a threat. Third, they don't want to see that and you've told everyone that you're carrying a gun. Dog gone folks, please, you're killing me. … Now we've lost our right to carry at several of those establishments. I don't feel that's being responsible. That's me."
If you'd like to hear more from Lamb, he also has a book out, "Stay in the Fight! Warriors Guide to the Combat Pistol."
---