Hillary Clinton has answered the question most everyone has presumed for the last seven years: Yes, she is running for president in 2016.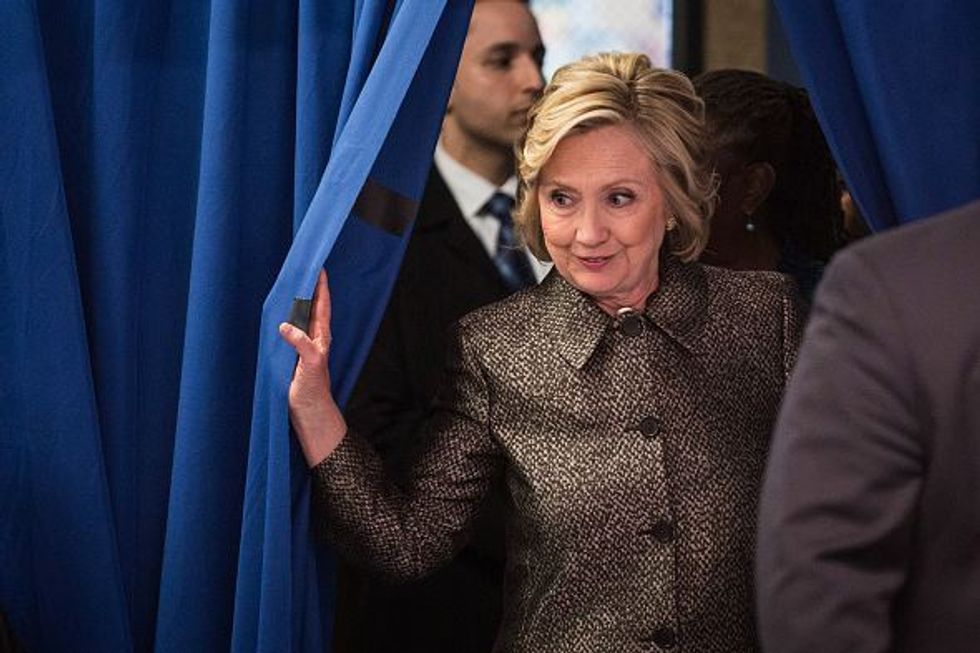 Andrew Burton/Getty Images
The highly anticipated announcement first came not from Clinton herself, but from longtime aide and campaign chairman John Podesta in an email to supporters Sunday afternoon, followed shortly by a formal campaign video.
"Americans have fought their way back from tough economic times, but the deck is still stacked in favor of those at the top," Clinton said in the video. "Everyday Americans need a champion, and I want to be that champion so you can do more than just get by, you can get ahead and stay ahead. Because when families are strong, America is strong."
Clinton has long been considered the presumptive favorite for her party's 2016 nomination, leading all other potential Democratic contenders who have been in a holding pattern waiting for her to make her intentions known.
Still, her video sought to dispel the notion that she is taking her frontrunner status for granted: "I'm hitting the road to earn your vote because it's your time," she said.
I'm running for president. Everyday Americans need a champion, and I want to be that champion. –H https://t.co/w8Hoe1pbtC

— Hillary Clinton (@HillaryClinton) April 12, 2015
Former Maryland Gov. Martin O'Malley, former Virginia Sen. Jim Webb, Vermont Sen. Bernie Sanders and former Rhode Island Gov. Lincoln Chaffee have expressed interest in entering the Democratic primary, and Vice President Joe Biden has not ruled out another bid of his own. Many progressives have pushed for Massachusetts Sen. Elizabeth Warren to enter the race, despite her repeated denials that she will run.
Clinton's populist comment about how "the deck is still stacked in favor of those at the top," suggests she is reaching out early to would-be Warren supporters.
Clinton's online presence quickly underwent a revamp Sunday afternoon, including taking out the teasing "TBD" from her Twitter bio and replacing it with "2016 presidential candidate."
She is set to make her first official campaign appearance in Iowa, the early presidential contest state where she faired poorly in 2008, and where a new Quinnipiac University poll has her essentially in a dead heat with several potential Republican rivals.
A separate Gallup poll found that Clinton's favorability rating is at its lowest point in seven years, standing at 48 percent. A year ago, her favorability was 59 percent.
Clinton came in third in Iowa in 2008, losing to then-Illinois Sen. Barack Obama and former North Carolina Sen. John Edwards. She came back to win the New Hampshire primary and move forward in a prolonged Democratic contest against Obama before ultimately dropping out and endorsing him, then going on to serve one term as his secretary of state.
Aside from fighting her rivals running for the White House, Clinton will also have to fend off what has become a sort of permanent machinery against her in Congress in the form of an ongoing investigation into her role in the 2012 attack in Benghazi, Libya, that left four Americans dead.
There are also the matters of her conducting government communications through a private server, and the millions of dollars from foreign governments and foreign donations that flowed into the Clinton Foundation while she was running the State Department — in violation of an ethics agreement she signed when she joined the Obama administration.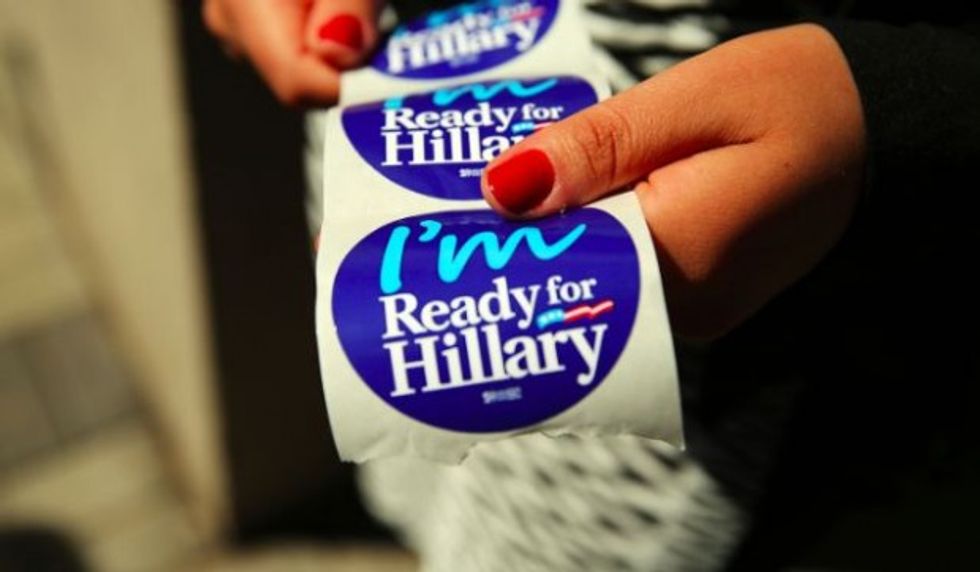 Spencer Platt/Getty Images
Rep. Trey Gowdy (R-S.C.), who chairs the House Select Committee on Benghazi, said last month he wants Clinton to testify on her decision to use her personal email while in office, and then the decision to delete thousands of those emails on her own without any oversight from the government on which emails should have been archived as part of her work record.
The email matter has already become a problem for Clinton, as many pundits have said it reinforces the view among many that both she and her husband routinely act as if the rules don't apply to them.
The Republican National Committee seized on that perception Sunday, saying Clinton has "left a trail of secrecy, scandal and failed policies" during her "decades as a Washington insider" and brought up both the email and foreign donations issues.
"Americans need a president they can trust and voters do not trust Hillary Clinton. Over decades as a Washington insider, Clinton has left a trail of secrecy, scandal and failed policies that can't be erased from voters' minds," RNC Chairman Reince Preibus said in a statement. "The Clintons believe they can play by a different set of rules and think they're above transparency, accountability, and ethics. Our next president must represent a higher standard, and that is not Hillary Clinton."
Gowdy also wants Clinton to testify on her efforts to keep Americans safe in Benghazi, and on how she reacted to the attack. Republicans have said Clinton and others in the Obama administration initially tried to play off the attack as a spontaneous reaction to an anti-Muslim video, instead of a planned terrorist attack.
Republicans have also pushed the Obama administration to investigate Clinton for her use of personal email. Earlier this month, Sen. David Vitter (R-La.) asked Attorney General nominee Loretta Lynch if she would investigate Clinton if she is confirmed.
Beyond the Benghazi attacks, Clinton will have to deal with further scrutiny of her record as secretary of state. She reached out to Syrian President Bashar Assad and was the chief figure supporting the "reset button" with Russia – all of which will be cast as failures by Republicans and also possibly by her Democratic opponents.
On the other hand, Clinton can also point out that she was part of the national security team that oversaw the operation to kill Osama bin Laden, while she also led the way for a nuclear missile reduction treaty with Russia, known as the START treaty.
In recent weeks, Clinton's likely Democratic rivals have stepped up in criticism of her, first with O'Malley calling for more answers about her email; Webb criticizing her foreign policy as secretary of state; and Chafee saying her 2002 support for the Iraq War disqualifies her from being president.
She did receive a boost from Obama on the eve of her announcement: In Panama on Saturday, he told reporters he thinks Clinton "would be an excellent president."
Pete Kasperowicz and Madeleine Morgenstern contributed to this report.