Are you smarter than a fifth-grader? How about a fifth-grader in Singapore?
A question that appeared on the Singapore and Asian Schools Math Olympiad test for "Primary 5" students has many on the Internet completely baffled – and now the question is going viral.
Facebook user Kenneth Jianwenz posted a photo of the problem on April 10. It asks students to figure out when "Cheryl" has her birthday based on the numbers "Albert" and "Bernard" are given.
Albert was given one number associated with the month of Cheryl's birthday while Bernard was told the number associated with the correct day of the month.
Albert says he doesn't know when Cheryl's birthday is, but knows that Bernard doesn't know either. From Albert's assertion, Bernard says he does know when Cheryl's birthday is. Knowing that Bernard knows when her birthday is, Albert says he knows also.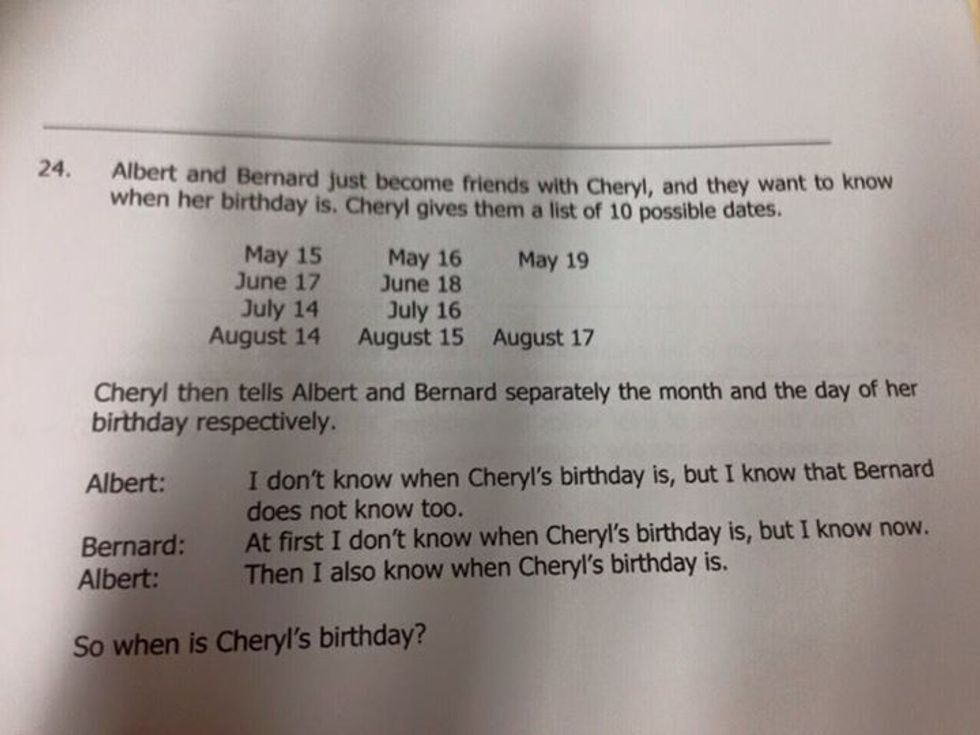 Image source: Facebook.com/kennethjianwenz
So how could Albert and Bernard possibly determine the date of Cheryl's birthday knowing only this much?
Albert knew Bernard didn't know the answer because the month wasn't May or June. How did he know that? Each of the May and June answers contained different numbers associated with the right day, which eliminated the possibility of the answer being any of the first five choices: May 15, May 16, May 19, June 17 and June 18.
When Bernard found out that Albert knew the answer, he used the same logic to determine that the answer wasn't any of the first five choices. Bernard also figured out that he could eliminate July 14 and August 14 from the list since they contain the same day, leaving him with the possibility of only July 16, August 15 or August 17.
Bernard then realizes that there's no way Albert could know for sure if the correct answer was August 15 or August 17, since they are the same month.
That means the only answer left is July 16.
If that's confusing, you're not alone. As BuzzFeed reported, some on Twitter have taken a stab at the puzzle – and failed. Here are some of the incorrect answers:
people are saying this question is difficult but isnt it quite obvious the answer is May 19...... pic.twitter.com/v8LPsRYOaJ

— Mateen Firdaus (@matsfir) April 11, 2015
Okay I think the answer is August 17. Now time to check.

— Ms. Chanandler Bong (@facepalm92) April 13, 2015
It appears the second user did go back and check. She later tweeted the correct answer:
The answer is July 16th.

— Ms. Chanandler Bong (@facepalm92) April 13, 2015
Another user claimed to know the answer and tweeted their guess. However, that tweet is no longer visible in their timeline.

Image source: Twitter
(H/T: BuzzFeed)
–
Follow Jon Street (@JonStreet) on Twitter