Scientists call it the "four corners mystery."
It's the only place in the U.S. where the corners of four states – Arizona, New Mexico, Utah and Colorado – come together to form a perfect intersection. But scientists have noticed another mystery located just east of these 2,500 square miles.
After looking at satellite data collected from 2003-2009, experts discovered a thermal "hotspot" in the space that is about half the size of the state of Connecticut, Pioneer News reported.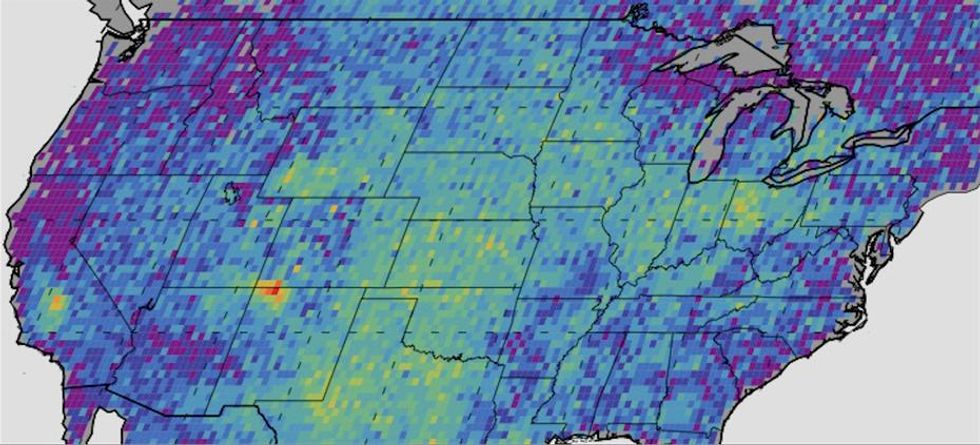 Image source: NASA/JPL-Caltech/University of Michigan via Pioneer News
But just what could be causing this bizarre "hotspot?" Scientists have recently come up with one possible explanation.
A number of scientists have now signed on to the theory that the phenomenon is being caused by a greenhouse gas leak, such as methane. And considering how the area is home to the most productive coal bed methane facilities in the country, that theory may not be too far-fetched.
But the potential discovery isn't all news.
Scientists said that if a manmade greenhouse gas leak is to blame for this red and orange blip on the map, a simple manmade solution might also exist.
"If we can verify the methane detected by the satellite and identify its sources, decision-makers will have critical information for any actions they are considering,"  said Gabrielle Petron, a scientist at the Cooperative Institute for Research in Environmental Sciences.
(H/T: Pioneer News)
–
Follow Jon Street (@JonStreet) on Twitter