When California Highway Patrol officer Tim Montoya reached the scene of a fiery car crash, he saw a crying toddler on the side of the road, pointing to the flaming vehicle. The boy's father wouldn't respond to police if anyone was still inside.
When Montoya looked in the engulfed SUV, he saw the trapped, semiconscious mother. In the back seat was a baby face down on the floor and covered in blood.
Willing himself not to panic, Montoya reached in for 9-month-old girl. After setting her a safe distance from the crash on the grass off of California State Route 55 in Santa Ana, the Orange County Register reported that he went back to burning vehicle to help his colleague remove the 22-year-old mother.
"I was sad. It was very upsetting, but I didn't panic," Montoya told the newspaper of the incident that happened early Monday morning. "I just reverted back to my training."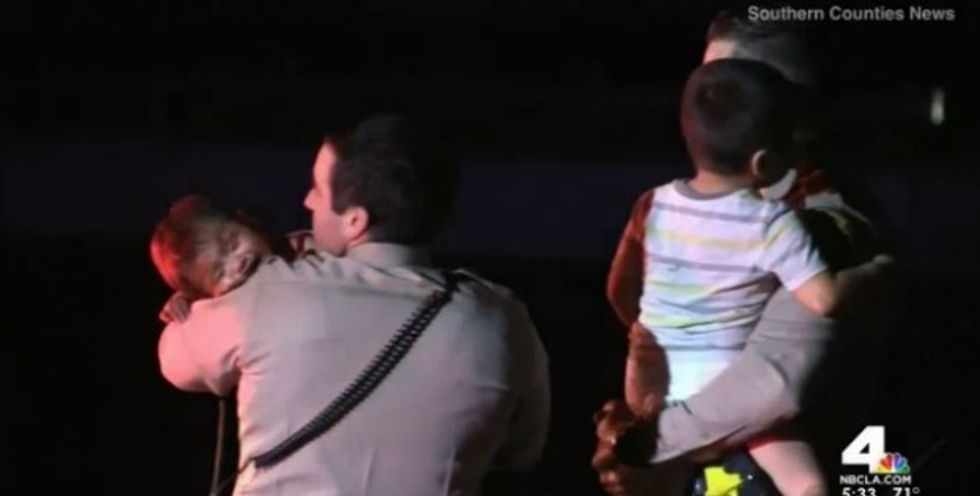 Officers cradled the upset children after they were rescued from the accident. (Image source: KNBC-TV)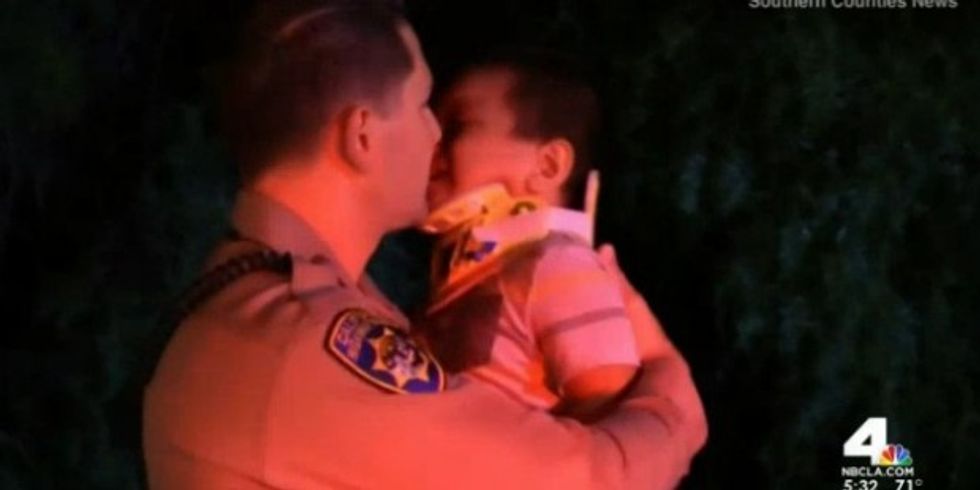 The children's mother and father were also rescued from the crash. The father is expected to be booked under suspected drunk driving. (Image source: KNBC-TV)
The OC Register reported that the children were taken to the hospital in serious condition, as was the mother, but they are expected to survive.
The driver, identified as 22-year-old Leonardo Morales, was taken to the hospital for back injuries. He was also placed under arrest for suspicion of drunk driving, the newspaper reported.
Watch this raw footage from the scene:
KNBC-TV reported that a CPH officer driving on the opposite side of the freeway saw the accident as it happened and called in reinforcements. Montoya also said that it appeared the children were not in carseats at the time of the accident.
"Children are the innocent victims in this whole situation," Montoya told the news station.
After the harrowing incident, Montoya shared this message with KNBC.
"Call someone to pick you up," he said. "Don't be driving after you've been drinking."
Watch KNBC's report: