A course approved by the U.S. Department of Defense claims that the misapplication of the Bible and language in the U.S. Constitution and the Declaration of Independence are historical influences with the power to contribute to modern-day sexism.
An e-learning course titled "Sexism," that is presented by the Defense Equal Opportunity Management Institute, a military organization that offers equal opportunity training for military active duty, reservists and civilians, contains a section titled, "Historical Influences" that details "historical influences that allow sexism to continue," according to a report by the Daily Caller.
As for the Bible, the course claims that misapplication and misunderstanding of scripture can perpetuate sexism.
"Quotes from the Bible can be misinterpreted as having a sexist influence when brought out of context and not fully understood," the slide reads.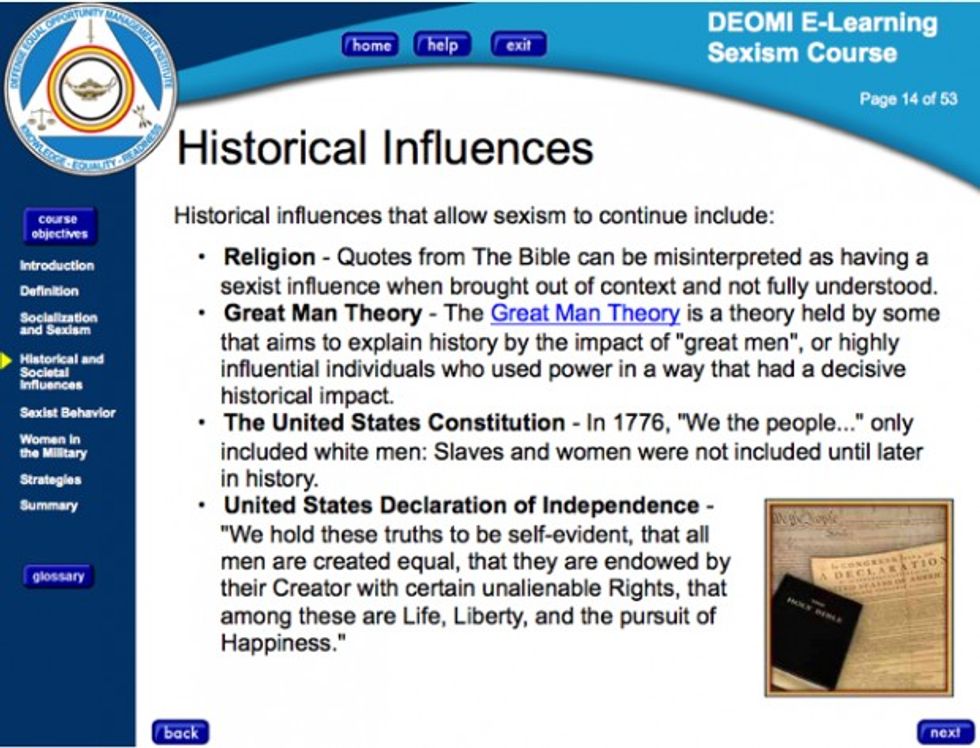 Defense Equal Opportunity Management Institute
The text goes on the claim that the words "we the people" in the U.S. Constitution were restricted to white men only when they were written, as they did not cover "slaves and women" until much later.
A line from the Declaration of Independence proclaiming that "all men are created equal" was also included on the slide.
Lt. Cmdr. Nate Christensen, a spokesperson at the Defense Department, told The Daily Caller that the purpose of the course is to ignite conversation about the themes surrounding sexism.
"The content of the lesson is provided to generate academic discussion concerning how these historical documents have been included in discussions about the topic of sexism," he said.
But after the inquiry, the outlet reported that the "Sexism" course was removed from the Defense Equal Opportunity Management Institute's website, along with two other classes: "Prejudice and Discrimination" and "Racism,"
The Daily Caller was later told that courses are periodically examined and reviewed. A note now appears next to each class description, which reads, "This course is currently offline and under revision."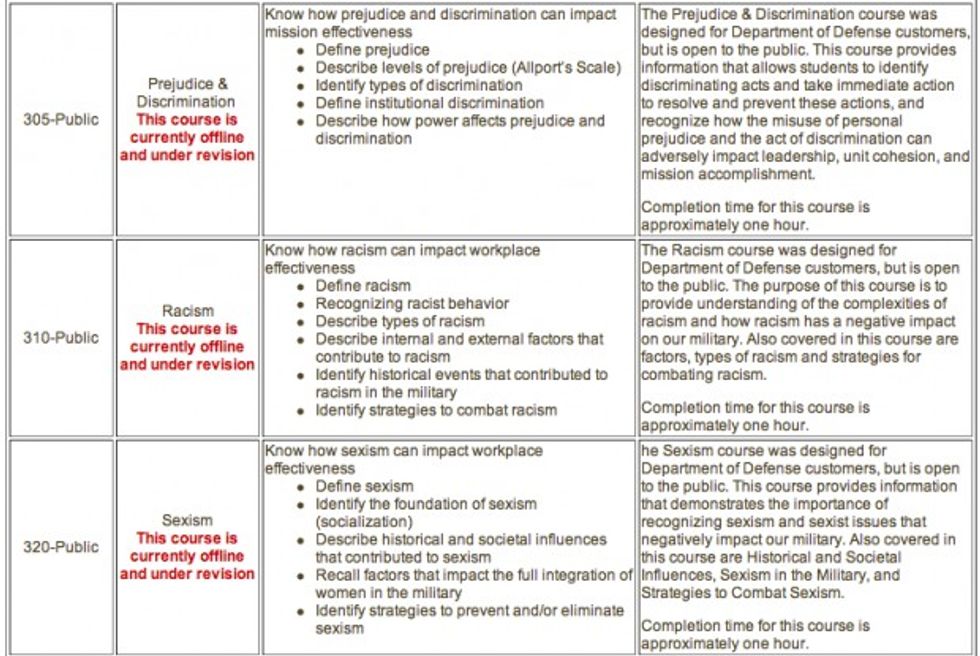 Defense Equal Opportunity Management Institute
Christensen said that there are no Department of Defense policies requiring people to take these online courses, though he cited that 2,075 personnel have taken the "Sexism" class, 3,448 have taken the "Prejudice and Discrimination course and 3,028 have taken the "Racism" course since 2011.
Read more about the contents of all three here. 
(H/T: Daily Caller)
--
Front page image via Shutterstock.com.