It's a phrase few Americans ever have the occasion to say: "I'm really getting pulled over by a tank right now."
The reasons why the Florida man said it are just as eyebrow-raising as the fact that he was pulled over by a "tank" in the first place.
The whole encounter was captured on video.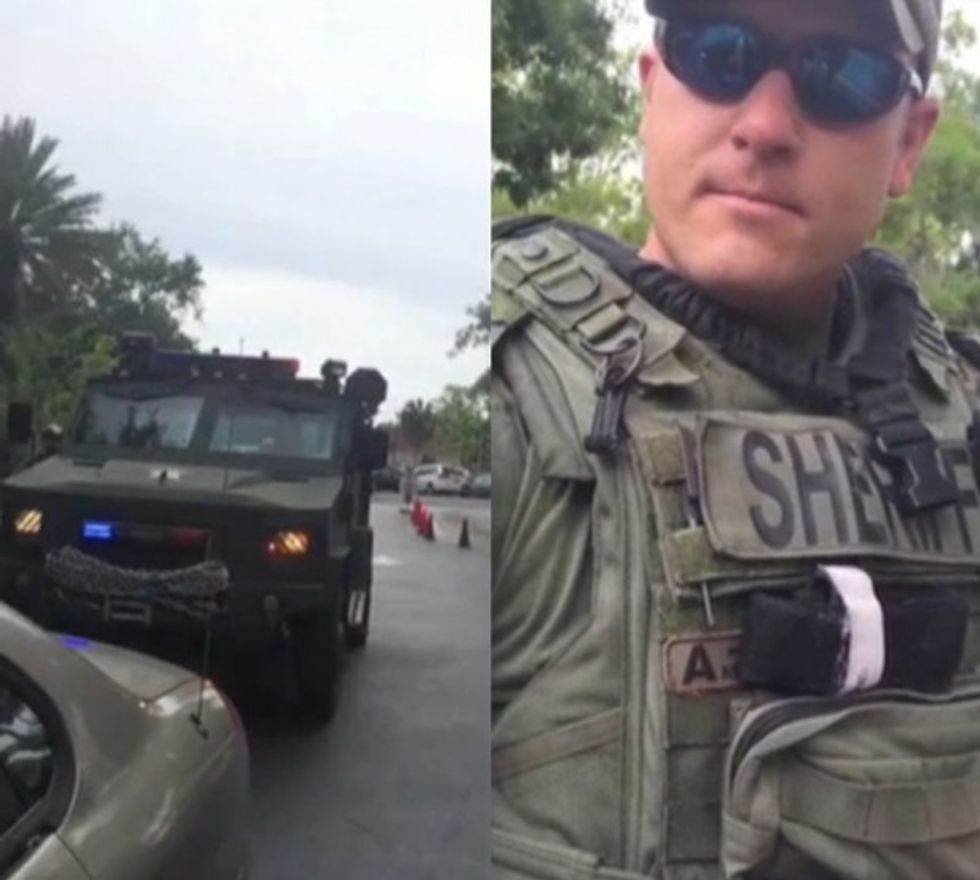 Images via the Gainesville Sun
The Gainesville Sun reported Monday on the story of 23-year-old Lucas Jewell, a self-professed Navy veteran and Gainesville City Commission candidate, who was pulled over by sheriff's deputies in an armored personnel vehicle after a University of Florida football game Saturday.
At first, Jewell thought he'd been pulled over just because he'd made an obscene gesture at the cops — what the cops called an "improper hand gesture."
But the deputies had an additional reason.
"It appeared that the young lady [in the passenger seat] was giving you fellatio," one told Jewell.
For his part, Jewell was in disbelief.
"I was surprised...that we needed tanks to drive down our streets," he said, explaining that he'd made the rude gesture because he didn't approve of police militarization. "I thought this was a safe community, I didn't know we were in Iraq."
"That's an armored vehicle, not a tank," one of the deputies responded. "You were in the Navy and you think that's a tank?"
When deputies instructed Jewell to spit out his sunflower seeds they told him not to spit on them.
"I'm sorry sir, I mean no disrespect," Jewell responded.
"How am I a 'sir' now?" one deputy shot back. "You were just flicking us off!"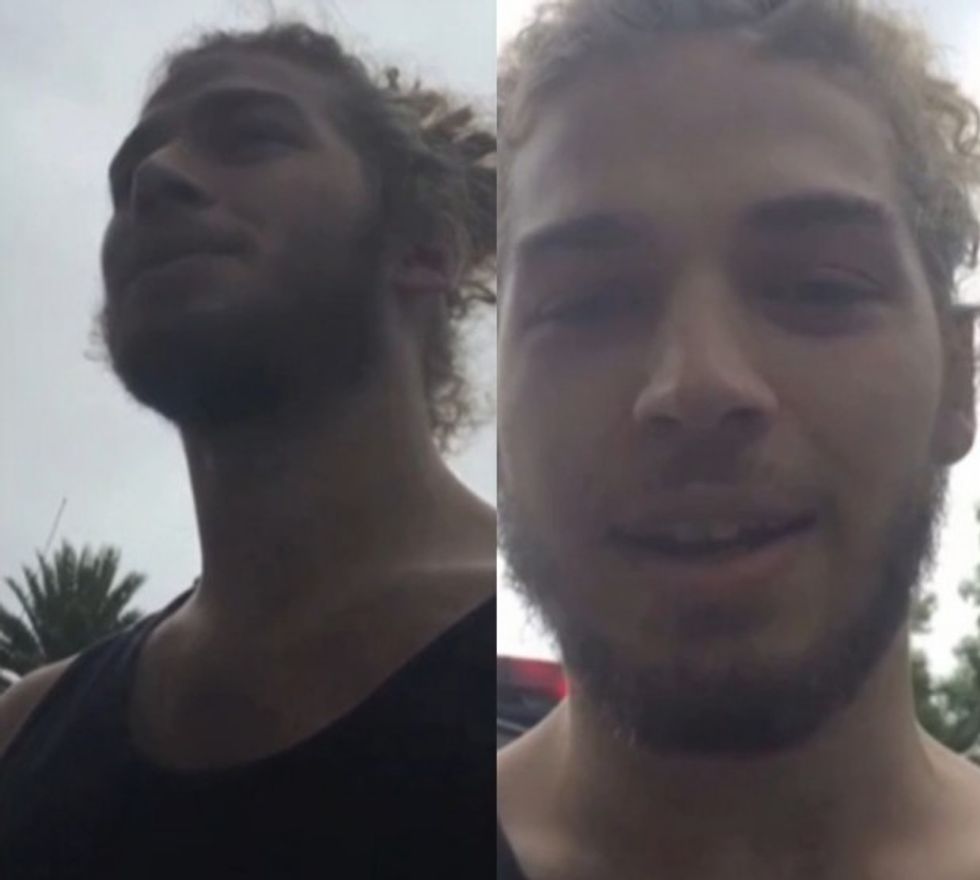 Images via the Gainesville Sun
Jewell vehemently protested that he was not, in fact, in the middle of a sexual act as the deputies alleged.
His phrasing was a little blunt.
"Do you see my pants?" Jewell said. "I don't even have a boner."
He claimed his female passenger was merely sleeping on his lap.
Watch video from the encounter below:
Jewell was let off with warnings and deputies filed an "informational" report on the incident.
The Alachua County Sheriff's Office confirmed to the Sun that it is launching an investigation into the incident.
The sheriff's office also noted that the armored vehicle had been called out for regular security at the football game and was not normally used as a road patrol vehicle.
Jewell told the Sun he plans to file an official complaint, given the possible free speech violation stemming from deputies pulling him over for the hand gesture.
—
Follow Zach Noble (@thezachnoble) on Twitter