Stanford University student Molly Horwitz says she identifies as both "a proud South American and as a Jew." So when she launched her bid for the student senate, Horwitz applied for an endorsement from the campus' Students of Color Coalition which according to the the Stanford Review is "the most sought-after due to its large size and impressive influence."
Horwitz said that during her interview with SOCC last month, she was asked how her Jewish faith might play a role in her actions in the senate, an allegation the group says is false.
"Given your strong Jewish identity, how would you vote on divestment?" Horwitz says the group's interviewer asked her, referring to a recently passed senate resolution calling on the university to divest from certain companies that do business with Israel. Horwitz wrote in the Stanford Daily that the question left her "shocked and devastated."
Horwitz described her experience:
I couldn't quite process that I had actually been asked this question. Did me being Jewish mean I wasn't qualified to serve on Senate? Did SOCC doubt my commitment to serving students of color on the basis that I am Jewish? Somewhat stunned, I asked for clarification. The SOCC interviewer responded that she had noticed I talked about my Jewish identity in the application and was wondering how this would affect my decision on divestment.

I wanted to cry. I had spent so much time trying to move past the fear that I was not Latina enough, that I was not Jewish enough, that I was too Jewish, that I was too Latina, that I couldn't be both Jewish and Latina, that my identities were in conflict. Did SOCC think my being Jewish compromised my ability to serve on the Senate?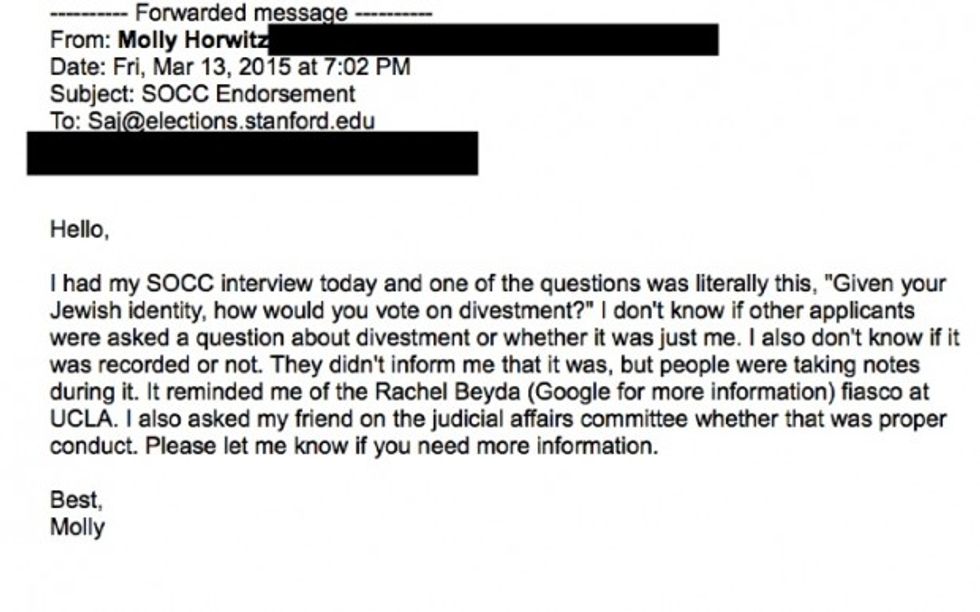 Screenshot of Horwitz's email from Stanford Review.
"The rest of the interview was a blur to me. I barely kept it together. As soon as I left the interview room I began shaking and hyperventilating," Horwitz wrote. "What made me so distressed was not that SOCC had asked me about divestment, but that they had thought my Jewishness might make me a poor Senator."
In her application for the SOCC endorsement – which the campus paper posted online - Horwitz repeatedly referred to her faith and her Latina roots. The Jewish Telegraphic Agency reported that she is originally from Paraguay.
"I found many parallels between the oppression of the Jews in Egypt and oppression of communities of color in the United States," she wrote. "The extent of the oppression and inequality that still exists in the U.S. disturbs me, and I'm learning different non-violent strategies that exist in order to bring about change."
Nanci Howe, Stanford's associate dean of students, told Horwitz in an email that the line of questioning seemed "problematic."
"I think it's also extremely problematic for the SOCC to still be able to endorse other students, when they have demonstrated discriminatory practices," Horwitz replied to the associate dean.
The Stanford Review observed:
If Ms. Horwitz's claims are correct, then the alleged question and subsequent clarification singled out Ms. Horwitz for her religion, implicitly assuming that Ms. Horwitz's Jewish faith raises questions regarding her ability to serve on the Senate. While SOCC has every right to select candidates it believes will advocate for its agenda, it does not have license to judge candidates purely on the basis of their religious beliefs. […]

These allegations are also concerning because SOCC is a coalition designed to advocate for groups that have historically faced discrimination.
But the Students of Color Coalition posted an open letter in the Stanford Daily on Monday vigorously refuting Horwitz's allegations.
"Religious discrimination, like any form of discrimination, starkly violates the values on which the Students of Color Coalition is based. Were these allegations true, they would not only merit a public apology but also constitute a betrayal of both the communities SOCC represents and the ideas the coalition members promise to uphold," the group said.
"However, these allegations are false; they do not reflect what actually transpired in the endorsement process and mischaracterize the aims of a SOCC endorsement," it added.
SOCC said that it asked the candidates "a carefully worded, standard question on divestment during the interview process … we decided to ask candidates: If they had been elected Senators this year, how would they have handled the issue of divestment? At no point was the question framed in the context of religious identification."
"We recognize such false allegations for what they are: the latest edition in a decades-long smear campaign [...] waged against our coalition, our principles, and our competency," SOCC added.
Horwitz in turn refuted SOCC's denial, writing, "I really wish that this had not happened. But it did" and that while she debated coming out with the allegations, "Ultimately, I decided it is important for me to address inequality and discrimination wherever it occurs."
The alleged exchange has been compared with an event at UCLA in February when Jewish student Rachel Beyda, a candidate for the student's judicial council, was asked by members of the student government if her Jewish background would be a "conflict of interest."