One of the biggest misconceptions when it comes to the Bible is the assumption that the Christian text is available in all of the world's nearly 7,000 known languages.
While 72 percent of surveyed Americans recently told the Barna Group and the American Bible Society that they believe that the Christian holy book is available to any and all languages, the realty is actually quite different.
In fact, less than half of the world's 6,901 languages have a complete or partial version of the Bible, despite the fact that only 21 percent of respondents said in the "State of the Bible" study that there are still languages that do not have translated versions of the Bible.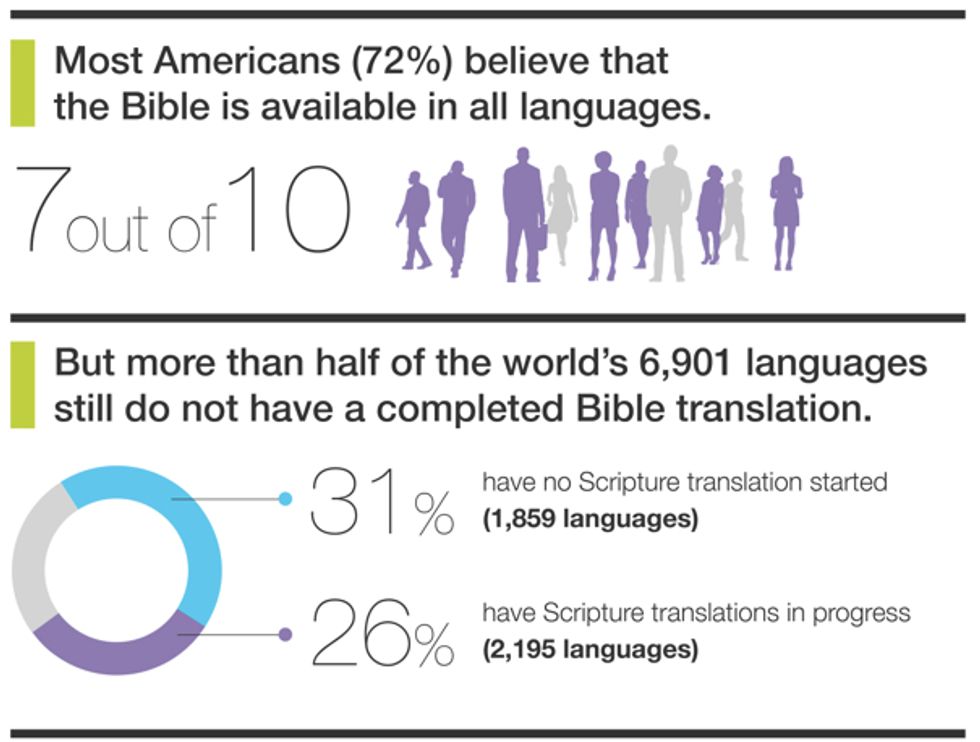 Barna Group
"More than half of the world's languages still do not have a completed Bible translation (57%)," reads a press release announcing the data. "Three in 10 active first languages do not have even a translation begun in that language (31%). An additional one-quarter have only segments of scripture completed, with more portions in the translation process (26%)."
The Bible has not even begun to be translated in 1,859 of the world's languages, meaning that many across the globe do not have access to scripture. An additional 2,195 languages have versions of the Bible currently in mid-translation.
The survey data showed that, despite this dynamic, Americans are overwhelmingly supportive of every individual across the globe having access to the Bible, with 98 percent supporting access to the text.
In the U.S., nearly nine-in-10 people say that they have at least one Bible in their homes, which could be coloring both the misconception about  access as well as the overarching support for scriptural availability.
Read more about the recently released research here.
(H/T: Charisma News)
--
Front page image via Shutterstock.com.