© 2023 Blaze Media LLC. All rights reserved.
'Disgusting': Vile Comments Sent to Hunter for Taking Photo With Slain Giraffe — Here's Her Response
"Pure human evil...disgraceful."
Controversy was ignited this week after a comedian and animal rights activist posted a five-year-old photo of a Utah hunter smiling as she posed next to a slain giraffe.
"What must've happened to you in your life to make you want to kill a beautiful animal & then lie next to it smiling?" Ricky Gervais asked his 7.5 million Twitter followers Monday.
The hunter, Rebecca Francis, was featured on the show "Extreme Hunting" and hosted the show "Eye of the Hunter."
"I prefer bowhunting, and the animals I have taken with a bow include: a 10 1/2 ft. brown bear, black bear, shiras moose, alaskan moose, dall sheep, stone sheep, desert bighorn ram, rocky mountain bighorn ram, mule deer, whitetail deer, elk, mountain goat, antelope, arapawa ram, kudu, zebra, black wildebeest, giraffe, springbuck, blesbuck, lynx, badger, and squirrel," her website says.
After Gervais tweeted the photo, Francis was immediately attacked online, with many posting about how they hoped she was painfully killed.
"Disgusting human being," one Twitter user wrote.
"Pure human evil...disgraceful," wrote another.
"I would love to permanently erase that smile," one user wrote. "May she get all the cancers and diseases she deserves."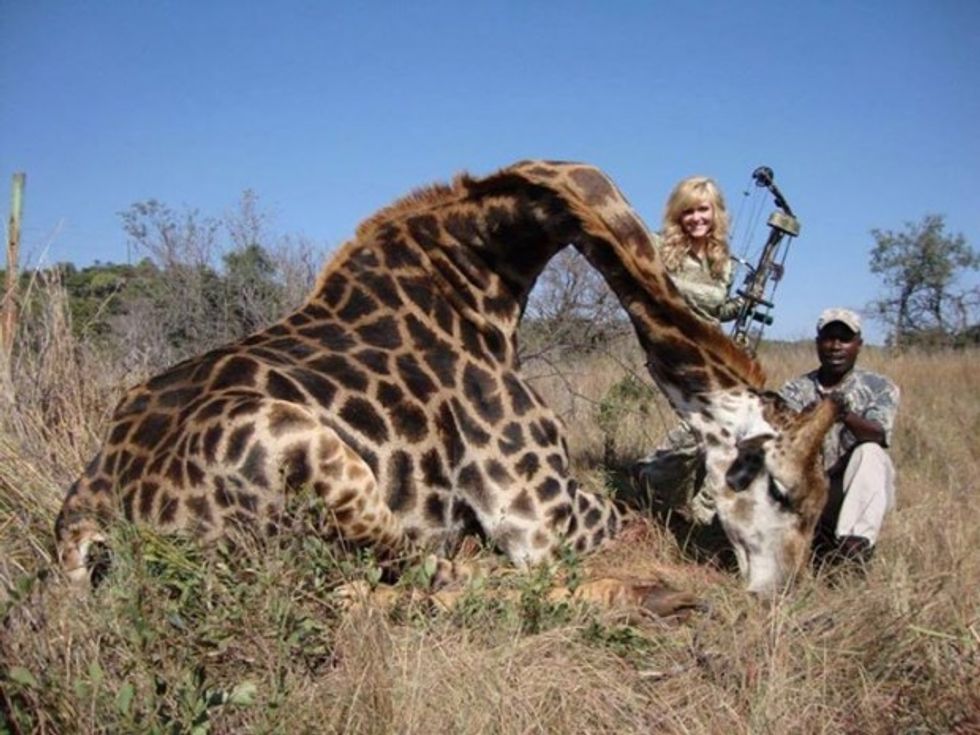 Image source: Facebook
Francis responded to the vile comments in a Facebook post on Hunting life's page, explaining that she was asked to kill the giraffe:
When I was in Africa five years ago I was of the mindset that I would never shoot a giraffe. I was approached toward the end of my hunt with a unique circumstance. They showed me this beautiful old bull giraffe that was wandering all alone. He had been kicked out of the herd by a younger and stronger bull. He was past his breeding years and very close to death. They asked me if I would preserve this giraffe by providing all the locals with food and other means of survival. He was inevitably going to die soon and he could either be wasted or utilized by the local people. I chose to honor his life by providing others with his uses and I do not regret it for one second. Once he was down there were people waiting to take his meat. They also took his tail to make jewelry, his bones to make other things, and did not waste a single part of him. I am grateful to be a part of something so good.
This is not the firs time that a hunter has been attacked for posting next to dead wildlife online. In 2013, hunter Melissa Bachman ignited controversy after posting a photo of her over a dead lion.
—
Follow Oliver Darcy (@oliverdarcy) on Twitter
Want to leave a tip?
We answer to you. Help keep our content free of advertisers and big tech censorship by leaving a tip today.
more stories
Sign up for the Blaze newsletter
By signing up, you agree to our
Privacy Policy
and
Terms of Use
, and agree to receive content that may sometimes include advertisements. You may opt out at any time.