Fox News host Sean Hannity confronted the Democratic Congressman who said this week on the House floor that "it feels like open season on black men in America."
Rep. Hank Johnson (D-Ga.) said earlier this week that he is "outraged" over recent cases of police brutality.
Hannity confronted Johnson with Centers for Disease Control and Prevention statistics Wednesday evening.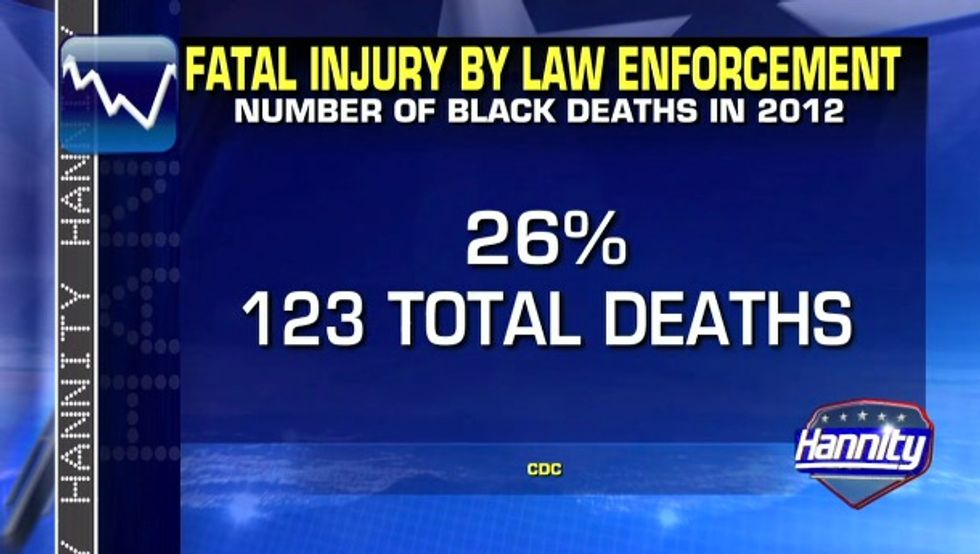 Image source: Fox News
"It's 123 deaths," the Fox News host said. "The last year that we have, 2012, from the CDC."
Hannity then pointed to FBI figures which signaled black-on-black murders resulted in far more deaths in recent years.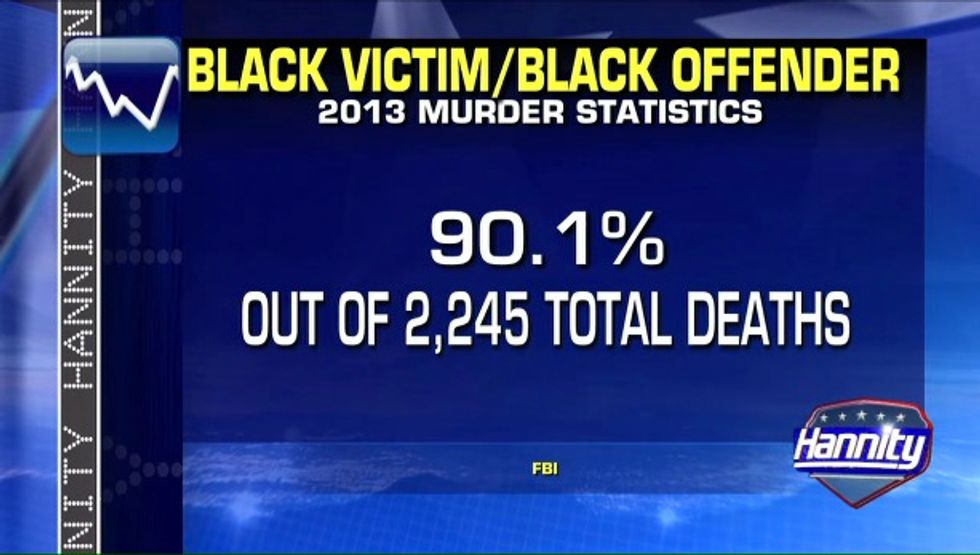 Image source: Fox News
"Your comments are against the police department and militarization — isn't it a bigger issue, black-on-black crime?" Hannity asked.
Johnson responded, saying his comment about it feeling like "open season on black men in America" was in reference to the recent killing of Walter Scott by a South Carolina officer.
"But I can't think of another instance that is similar to that," Hannity said.
"You can't think of one other instance where there has been an unjustified killing?" Johnson asked, seemingly in disbelief.
"No, not like that," Hannity answer. "That looked like an assassination. That looked like an assassination."
"But the Michael Brown case wasn't like that," Hannity continued. "The Trayvon Martin case wasn't like that."
Johnson stuck to his talking points.
"What we have seen is a revelation, a cascade of black males being killed at the hands of law enforcement," the Democratic representative said.
"But can you name one other example?" Hannity asked.
"Well, I can tell you that according to the Department of Justice figures, for 2013, 420 deaths. And out of that 420 deaths Sean, black males were four times more likely to face death after being taken into custody," Johnson shot back.
The two battled for a few more moments, ultimately coming to agreement that they both want to help kids exit impoverished neighborhoods.
—
Follow Oliver Darcy (@oliverdarcy) on Twitter