On Sunday, a citizen who spotted two children walking alone in a Maryland neighborhood called 911.
These weren't just any children though. They were 10-year-old Rafi and 6-year-old Dvora Meitiv, the so-called "free range" children of Alexander and Danielle Meitiv who are now filling a lawsuit to protect what they believe are their parental rights.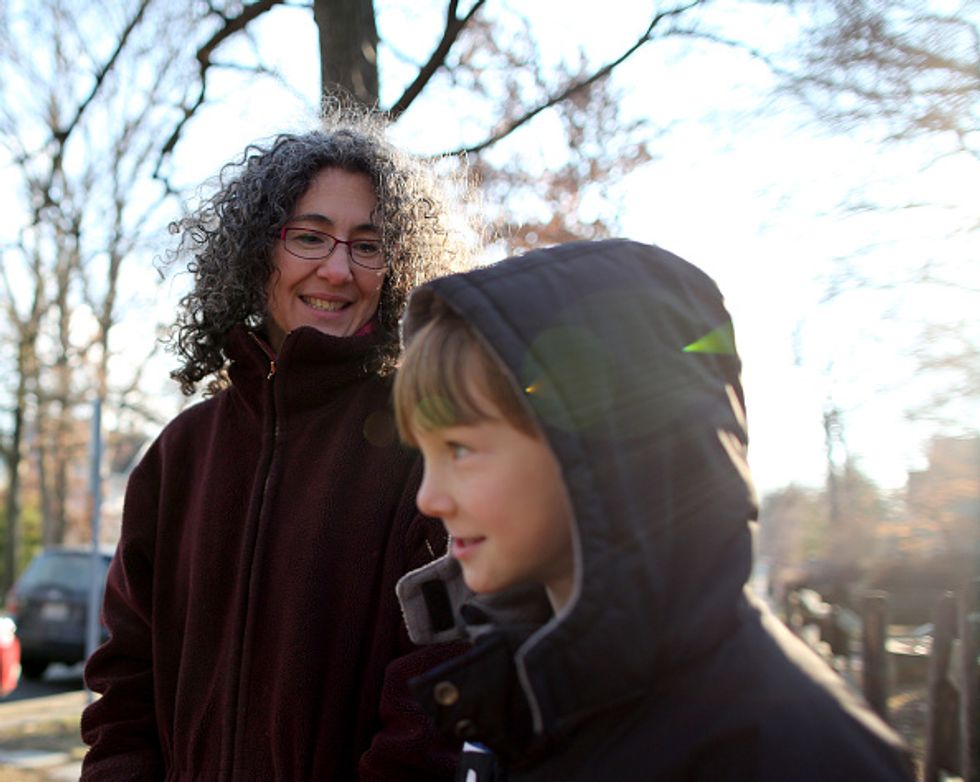 Danielle Meitiv waits with her son Rafi, Meitiv, 10, for Danielle's daughter Dvora Meitiv, 6, to be dropped off at the neighborhood school bus stop in Silver Spring, Maryland, Friday, January 16, 2015. Danielle and Alexander Meitiv were  investigated by Child Protective Services for letting their children walk home alone from a playground. (Sammy Dallal/For The Washington Post via Getty Images)
"I'm walking my dog. Two kids that are unaccompanied and they've been walking around for probably about 20 minutes by themselves," a man relayed to a 911 operator in the audio
released
by the Montgomery County Police Department to the Washington Post.
The man told the operator Sunday afternoon he didn't see any parents with them.
"They came up and asked to pet my dog. I let them and that was it," he said, telling the operator that he was walking behind the children at the time. "I didn't want to scare them."
Listen to the full seven-minute call:
After the call, a police officer picked the children up. Danielle Meitiv said earlier this week that her children told her the officer said he would take them home.
Instead though, the officer took the children to Child Protective Services where they remained for some time before the Meitivs were notified of their whereabouts and where they stayed longer afterward as the Meitivs worked to get them back. The parents signed a safety plan with CPS in order to have their children released back in their custody late Sunday night.
Earlier this week, the Meitiv's lawyer Matthew Dowd said in a written statement that the parents were "rightfully outraged" at the situation.
"We must ask ourselves how we reached the point where a parent's biggest fear is that government officials will literally seize our children off the streets as they walk in our neighborhoods," he said, according to the Washington Post.
The Meitiv's were in the spotlight for their parenting style that allows their children to roam unaccompanied, within reason, in December. This latest incident on Sunday though has brought the debate back into national news.
Check out this report from WNEM-TV in Michigan:
(H/T: Daily Mail)