Gun laws in Poland have been described as "some of the most draconian" in the European Union.
One right-wing Polish lawmaker would like to change that, and drew on the Holocaust to make the case for easier access to firearms, saying the Holocaust would not have happened if Jews had been armed.
"If every Jew had a gun before the war, there would be no Holocaust," member of European parliament Janusz Korwin-Mikke said in an interview Wednesday with the TVN network, the Jewish Telegraphic Agency reported.
"Every young guy has to have a gun," added Korwin-Mikke, who is the representative of the right-wing Coalition for the Renewal of the Republic-Freedom and Hope and is running for president in next month's Polish election.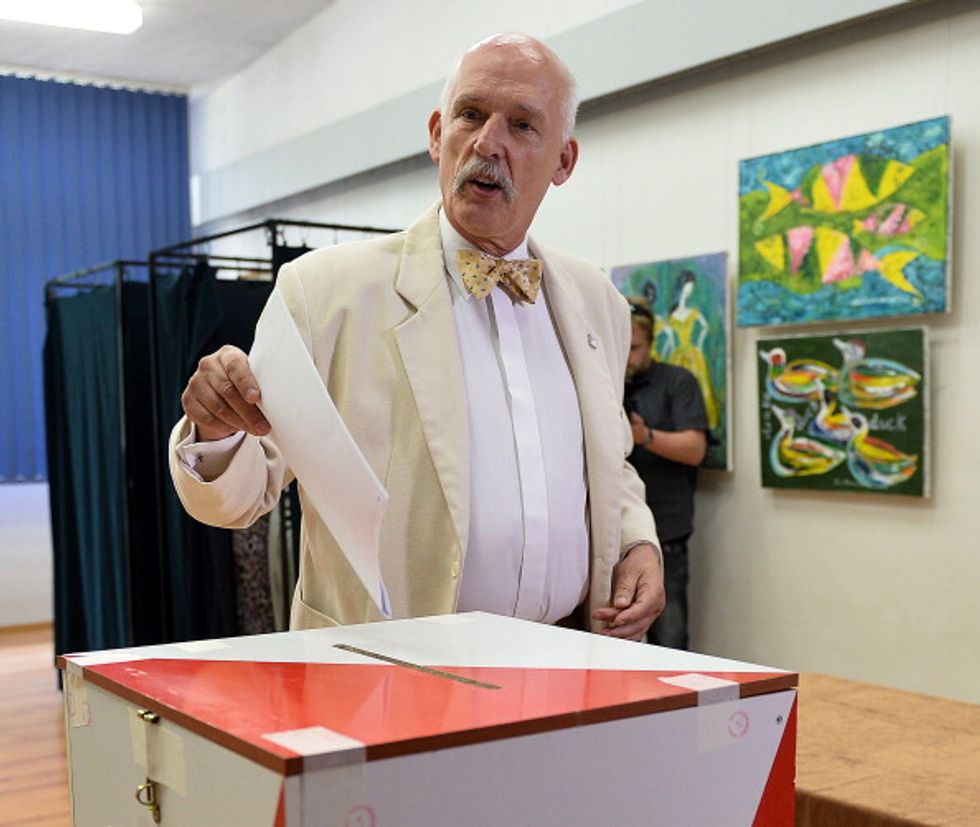 Janusz Korwin-Mikke, leader of the eurosceptic Congress of the New Right party, casts his ballot for the European Parliament elections, May 25, 2014 in Warsaw. (Janek Skarzynski/AFP/Getty Images)
He asserted that 140,000 Poles have guns, though Radio Poland placed the number higher, reporting last year that half a million guns are currently registered in Poland, owned by 340,000 people in a population of nearly 3.9 million.
"With these weapons you can kill, yet somehow no one kills," added Korwin-Mikke.
The Jewish community in Poland was all but decimated during the Holocaust as the Nazis deported and systematically massacred the Jews.
Cars and pedestrians came to a standstill at 10 a.m. Thursday morning in Israel as the country observed a 2-minute moment of silence to remember the victims of the Nazis.
Nearly half of Israelis believe another Holocaust is possible, according to a survey released before Holocaust Remembrance Day.
Israel's Foundation for the Benefit of Holocaust Victims said 46 percent of respondents said they believe another Holocaust is possible,  up from last year's 41 percent. The higher figure was attributed in the Israeli media to rising anti-Semitism in Europe.