Members of the House and Senate will meet next week to negotiate a final budget plan for 2016, one that Republicans have touted as a path toward balancing the budget in 10 years or less.
But that work has already been largely undone by Congress, which has passed one bill that would add billions of dollars in new debt and puts the goal of a budget surplus out of reach. Republicans in the House are also pursuing tax legislation that — while championed by many conservatives — would further add to the debt.
"Congress's legislative actions have not been consistent with their deficit reduction promises," the Committee for a Responsible Federal Budget (CRFB) said Thursday. "Lawmakers can tighten up budget enforcement procedures in the conference committee to make fiscal irresponsibility more difficult, but ultimately it will be up to their political will to find offsets for policies."
The biggest spending boost Congress has approved is legislation to permanently avoid a steep cut to the reimbursement rates of Medicare doctors, by changing the so-called Sustainable Growth Rate (SGR) formula. Members of both parties have praised that bill as one that would end the uncertainty surrounding these payments, which could threaten access to doctors for people who use Medicare.
But at the same time, that bill is estimated to lead to $141 billion in new spending over the next decade, since only some of the costs of the bill are offset. Some say the actual effect on the debt is closer to $175 billion, because of the interest that would accrue on the debt.
According to CRFB, that increase is enough to turn the Senate's balanced budget plan into a plan that fails to balance the budget by 2025: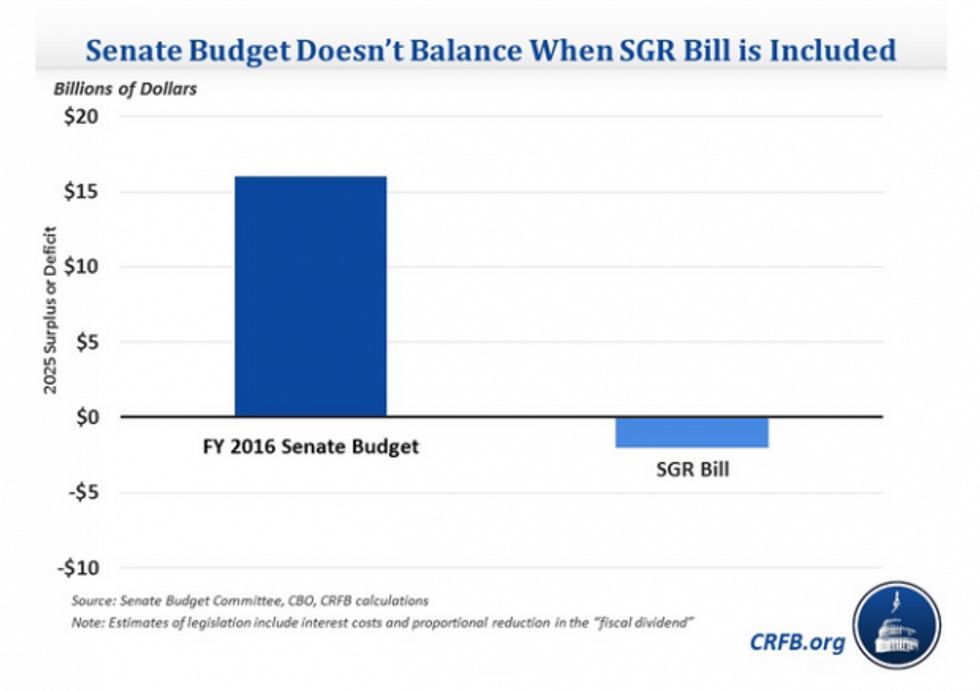 Image: Committee for a Responsible Federal Budget
CRFB said the Medicare bill doesn't quite throw the House budget out of balance by 2025. But the group noted that the House is pursuing other bills that would destroy the goal of balancing the budget.
One of these bills was approved this week — legislation that would eliminate the estate tax. While reducing taxes is a goal shared by just about every Republican, the bill does not find spending offsets, and as a result, it would add another $269 billion to the debt after a decade.
Between that bill, and another pending bill to extend the research and development tax credit that would add another $180 billion to the debt, the House's balanced plan would be thrown out of whack: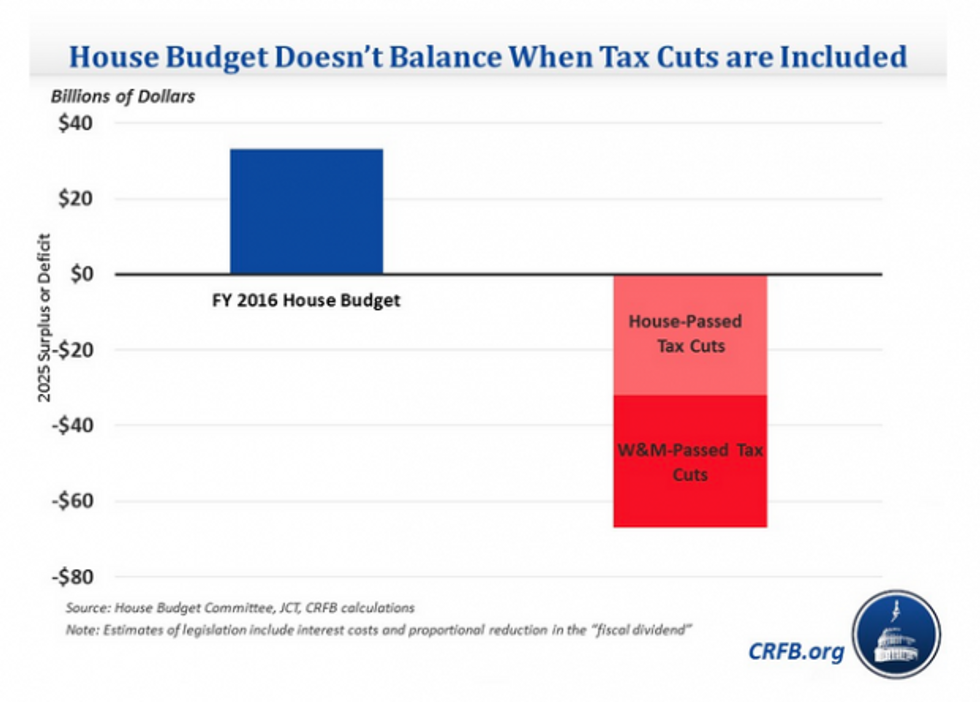 Image: Committee for a Responsible Federal Budget