With the Supreme Court poised to hear gay marriage arguments later this month, a newly released poll reveals, in part, how Protestant preachers will likely respond if the high court decides that states are required by law to allow two people of the same sex to marry.
The vast majority of the 1,000 Protestant pastors surveyed for a recent LifeWay Research poll expressed their moral opposition to gay unions, indicating that few would likely officiate same-sex nuptials if they become legal across America.
In fact, 80 percent of respondents said that they disagreed with the statement, "I see nothing wrong with two people of the same gender getting married," with 74 percent expressing a strong opposition to this sentiment.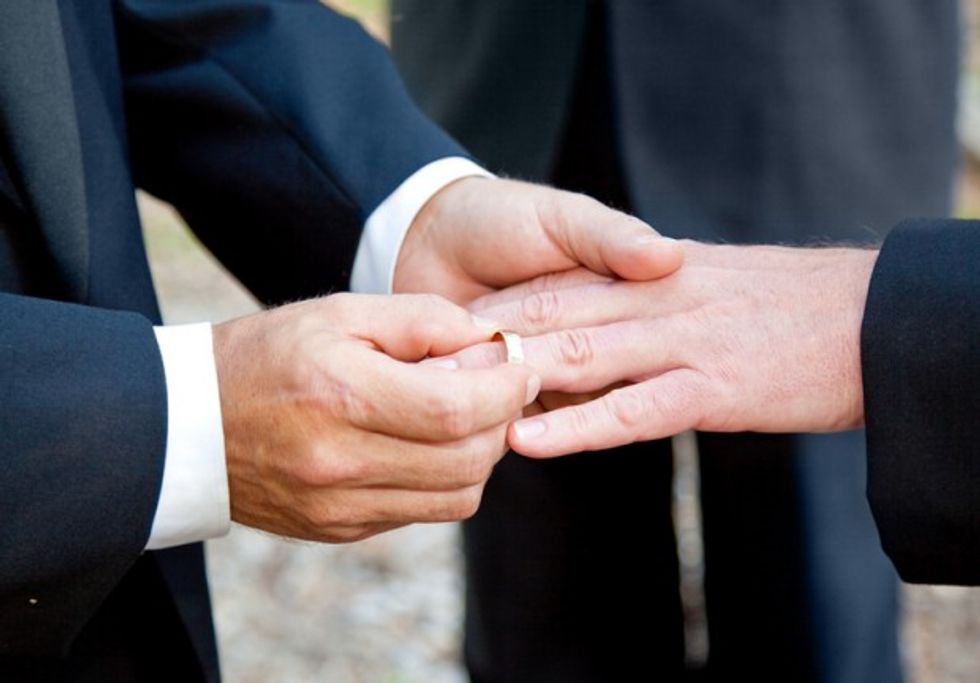 Photo credit: Shutterstock
The proportion of those disagreeing in 2010 when the same question was asked was at 83 percent, according to LifeWay.
That said, 18 percent of Protestant pastors surveyed did say that they agreed with the statement, with 11 percent of them expressing strong agreement, meaning that some pastors will likely be open to hosting and presiding over gay weddings.
Opposition to same-sex unions still remains strong among some of America's faithful as well.
A separate poll found that only 40 percent of Protestants believe gay marriage should be legal, compared with 56 percent of Catholics and 73 percent of non-religious people.
As for the general public at large, 50 percent of the nation reported believing that gay marriage should be legal, with stronger support appearing among those who have gay and lesbian friends (60 percent). This puts pastors and some believers at odds with the general public on the ever-contentious issue.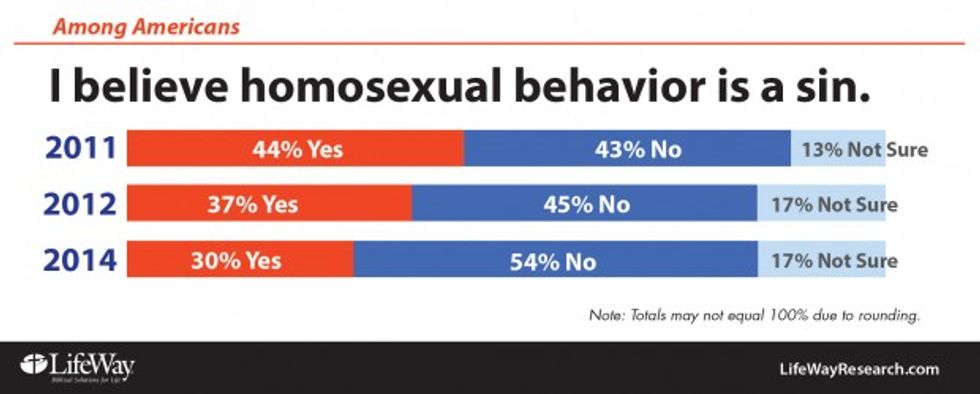 LifeWay Research
One of the other changes that has developed is the public's decreasing view of homosexuality as sinful behavior. In 2011, 44 percent of respondents said that they believe "homosexual behavior is sin" — a proportion that dropped to 37 percent in 2012 and 30 percent in 2014.
Read more about the results
here
.
(H/T: LifeWay Research via Charisma News)