A Florida mom was doing what she does everyday when road rage struck.
Michelle was on her way to pick up her kids from school in Mandarin when she said the driver of a truck pulled forward, nearly hitting her, and then started screaming. That's when Michelle said she laid on her horn, WJAX reported.
As the two vehicles kept moving, the other driver reached over and chucked a large drink at Michelle's car. But by that point, Michelle was getting the whole thing on video.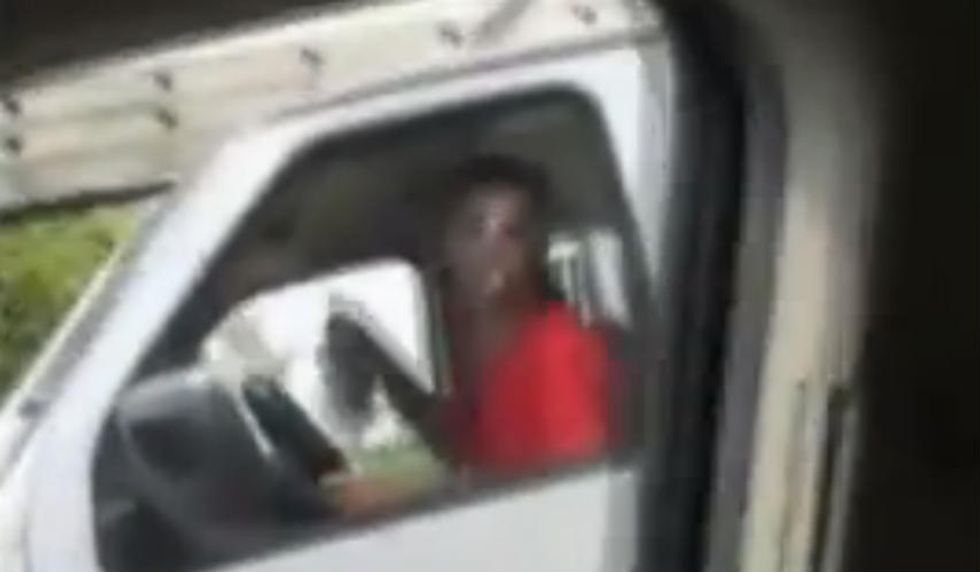 Image source: WJAX-TV
"He's coming at me weaving, weaving, weaving, and I pull my camera out, because this guy is going to hit me," she said, before eventually calling 911 and giving them the man's license plate number.
But the drama didn't end there.
Michelle said the driver gave her his middle finger and drove away – so that's when she followed him home.
"[He] got out of his vehicle, ran into the house for less than 15 seconds, ran back out and was coming at me," she said.
Michelle drove away as soon as she saw him coming back outside because she feared he went in to grab a weapon. Looking back now, she admitted she shouldn't have followed the driver.
"He made me feel like a victim, and I wanted vindication," Michelle said.
Other residents said they recognize the truck from the video, which led WJAX to the home where it was parked. A local reporter knocked on the door, but there was no answer.
The outlet the man does have a previous criminal record. In 2004, the same man was charged with reckless driving in addition to failure to yield and racing on a highway.
Despite all of that and the video, however, the Jacksonville Sheriff's Office said the man is not facing charges.
–
Follow Jon Street (@JonStreet) on Twitter