© 2023 Blaze Media LLC. All rights reserved.
The Hospital Told Him His Son Was Brain Dead, but He Didn't Believe It. That's When He Grabbed His Gun and Witnessed a 'Miracle.
"It was a miracle!"
After receiving the news from doctors that his son, who had recently suffered a series of strokes, was essentially brain dead and could soon be taken off life support, a desperate father said he entered a hospital in Tomball, Texas, prepared to kill himself if his son were to die.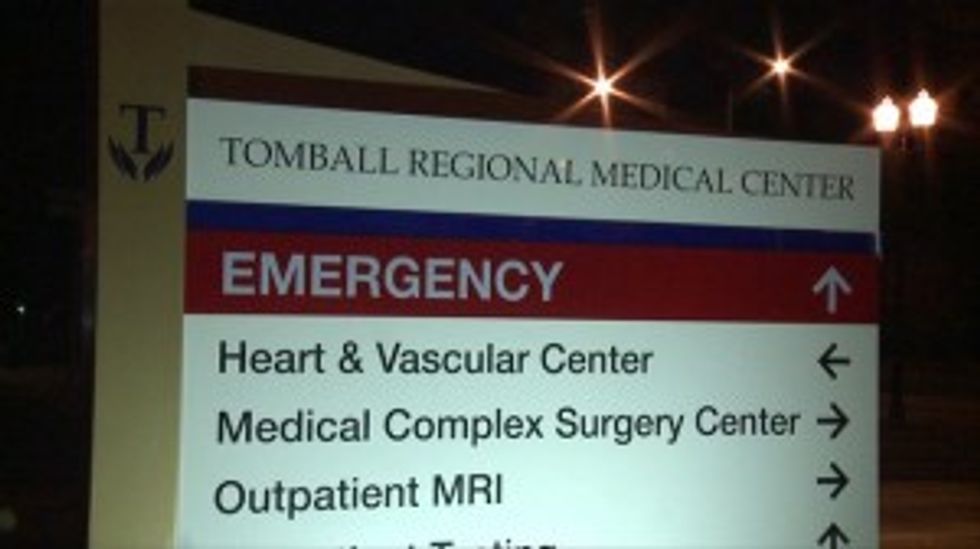 Screengrab via CW39
With a 9mm handgun in his waistband, George Pickering, 59, said he went into his son's room at Tomball Regional Medical Center's intensive care unit on Jan. 10 and was informed that the life support keeping him alive could soon be removed. The tragic news set Pickering off. He pulled out his handgun and ordered everyone to get out of the room because, the dad explained to TheBlaze, it was his time to be with his son.
Pickering's actions set in motion what would be a four-hour standoff with police at the hospital — but during that time, he said, a "miracle" occurred.
Shortly after the standoff began, Pickering said another son actually wrestled the gun away from him. At that point, it basically became a "verbal standoff" with authorities, he said.
As police and a SWAT team surrounded the hospital, Pickering said he prayed and talked to his adult son, who was still on life support. He was left astonished by what he witnessed.
Screengrab via KTRK-TV
"Squeeze my hand if you can hear me, Georgie," Pickering whispered to his son.
The father said he felt a squeeze. He repeated the command.
"He squeezed my hand four times," he recalled. "It was a miracle! I knew my son was not brain dead. I knew my son was not a vegetable. I am his father, I would've felt something."
After four tense hours, Pickering surrendered to police peacefully, believing he had done enough to prove that his son should be kept alive. Prior to the incident, he reported being disturbed by hospital staff's hasty discussions about harvesting his 27-year-old son's organs. He said he did not have the medical power of attorney over his son.
Later that night, his son woke up.
Pickering said he rolled over in his bed, looked at his stepmother and said, "I love you momma."
In an emailed statement sent to TheBlaze on Friday, a Tomball Regional Medical Center spokesperson wrote: "We appreciate the opportunity to be included in your story. However, due to strict patient privacy laws, we are unable to comment." Follow up messages asking for the hospital's official policies on organ donation procedures and life support were not immediately returned
It wasn't immediately clear how the reported decision to remove the son from life support was made or if other family members were involved.
"I have no regrets," he told TheBlaze. "I can't have any regrets. Nobody got hurt — well, except for me I guess. I was never planning to hurt anybody."
(Scroll down for important update)
Pickering was arrested on two charges of aggravated assault and spent 77 days in jail. He is scheduled to appear in court on Friday for a hearing connected to the incident. However, the father could face additional charges for violating a no-contact order issued after the armed standoff — and the story behind that "crime" is just as gripping.
'I Saved My Son's Life'
During his 77 days in jail, Pickering got a visit every Tuesday from an ex-convict who would talk and pray with him as he worked through the trying time in his life. The man was from Silver Springs Baptist Church in Magnolia, Texas.
Shortly after getting out of jail, Pickering found himself in the parking lot of Silver Springs Baptist Church. The pastor, Scott Zbylot, recalled the troubled man pleading, "I need God, I need Jesus — can you help me." He said the church welcomed him with open arms.
In April, Zbylot told TheBlaze, Pickering decided to give his life to Christ and was invited to be baptized on Easter Sunday. Having nearly lost him, Pickering said he invited his son to watch him get baptized.
After Pickering's moving baptism, Zbylot said his son, the one who nearly died, went into a side room with one of the church's outreach ministers "confessing his sins" and "putting it all out there." In the middle of his sermon, he said, the son emerged. He too was ready to be baptized.
Zbylot said he turned to Pickering and said, "I think you need to baptize your son." And so, months after nearly losing him forever, Pickering baptized his son — a direct violation of the "no-contact" order put in place after the January standoff at the hospital.
"It really was some of the most incredible testimony I've ever been a part of," Zbylot said.
Watch the video footage of Pickering's baptism via Silver Springs Baptist Church:
George Pickering baptism from Silver Springs Baptist Church on Vimeo.
Pickering told TheBlaze he wasn't sure if he was going to be arrested for violating the order, but he said he's basically been his son's caretaker for over nine years and simply refused to not be with him. The man's son, once thought to be brain dead, has recovered a great deal, though is still struggling in some regards.
"He's walking and talking and thinking clearly and remembering his passcode. It's really a blessing," the father said, though he's still struggling through cognitive issues similar to what an NFL player who has been hit too many times in the head might go through.
When asked bluntly if he is a threat to his son as a no-contact order might suggest, Pickering replied, "Absolutely not, I love my sons. I feel like I saved my son's life. … We have a saying, 'I love you as big as the sky.' I love Georgie. I am not, and never will be, a threat to any of my sons."
In the event that Pickering is sentenced to additional jail time, Zbylot said the church will step up to help care for his son, who is unable provide for himself financially. He said anyone moved to help can donate directly to Silver Springs Baptist Church and earmark the payments "benevolence" and George Pickering.
Regarding the hospital's actions, Zbylot is conflicted. He said the hospital is filled with "good people" who were likely just following the organ-harvesting protocol. But he wonders if there needs to be a change.
Still, he's not casting stones: "Was he brain dead and God healed him? If so, that's not malpractice, that's a miracle!"
As for his fate, Pickering said he is praying that everything is "understood" at his hearing on Friday. In the meantime, the dad will lean on his faith and pray that God's will is for him to take care of his son.
"George needs me like I need George," Pickering said of his son.
---
UPDATE 1:55 p.m. ET: A Harris County Criminal Court judge revoked George Pickering's bond on Thursday after the father violated a no-contact order when he baptized his son earlier this month. He is currently in jail without bond at least until his next bond hearing.
---
Want to leave a tip?
We answer to you. Help keep our content free of advertisers and big tech censorship by leaving a tip today.
more stories
Sign up for the Blaze newsletter
By signing up, you agree to our
Privacy Policy
and
Terms of Use
, and agree to receive content that may sometimes include advertisements. You may opt out at any time.