© 2023 Blaze Media LLC. All rights reserved.
My City Is on Fire': Hundreds of Homes Evacuated as Southern California Inferno Rages
"Creepy to see this from my backyard."
CORONA, Calif. (TheBlaze/AP) — An out-of-control wildfire that broke out in a forested basin near a Southern California dam triggered the evacuation of about 300 homes late Saturday, authorities said.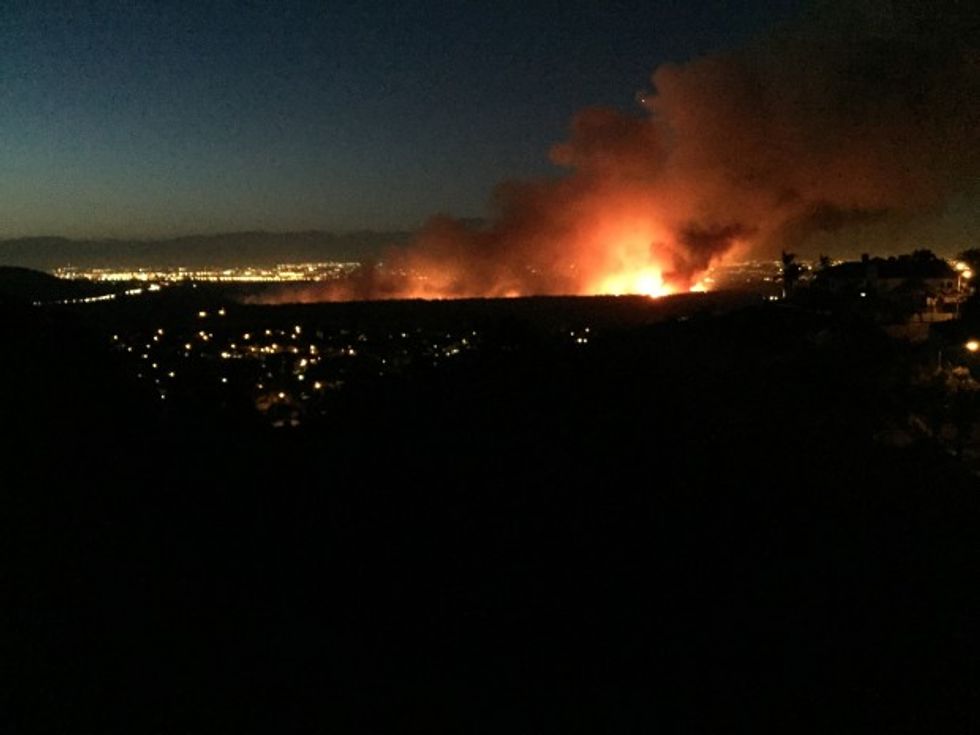 A brush fire that broke out Saturday evening, April 18, 2015 burns in the Dam Prado Dam Flood Control Basin north of the city of Corona, Calif. Fire officials said some trees caught fire in the forested basin and grew to at least 75 acres. Firefighters were hampered by rough terrain in the area. (AP Photo/Dan Cole)
The fire, which was reported shortly after 6 p.m. in the Prado Dam Flood Control Basin and spread to 300 acres by early Sunday.
Capt. Mike Mohler of the California Department of Forestry and Fire Protection said firefighters on the ground were hampered Saturday by difficult access to the raging blaze.
"The fire is fueled by thick brush in a riverbed that hasn't burnt in years," he said. "The fire is creating its own weather, so firefighters are having difficulty getting in there."
He said the flames were about a half-mile north of a residential area along the border of the cities of Norco and Corona. A mandatory evacuation was ordered for about 300 homes in the area.
"The fire is heading toward a populated area," Mohler said.
The fire, visible from State Routes 71 and 91, sent a large plume of smoke that could be seen miles away.
On social media, locals posted haunting images and video of the encroaching inferno, writing messages such as, "My city is on fire," and, "Creepy to see this from my backyard."
My city is on fire. #corona pic.twitter.com/IPdmpIvg2q

— Vanessa Duran (@vduranduran) April 19, 2015
Awfully scary fire in Chino Hills very close to Corona pic.twitter.com/ebw1a6FD71

— David L. Freeman (@DavidLFreeman1) April 19, 2015
Creepy to see this from my backyard. #corona #fire pic.twitter.com/UAKmcmmXDV

— Alicia Young (@aliciaey2) April 19, 2015
Fire near corona. #ABC7Eyewitness pic.twitter.com/do58NOqvX6

— Patrick Romero (@Alpha0727) April 19, 2015
My view of the fire in corona pic.twitter.com/bhdTVGvbz7

— GROOVY L (@Soriax23) April 19, 2015
A photo posted by Chaz Grunder (@chazgrunder) on
The cause of the blaze was under investigation.
Want to leave a tip?
We answer to you. Help keep our content free of advertisers and big tech censorship by leaving a tip today.
more stories
Sign up for the Blaze newsletter
By signing up, you agree to our
Privacy Policy
and
Terms of Use
, and agree to receive content that may sometimes include advertisements. You may opt out at any time.