Country singer Garth Brooks, who was honored with a milestone award at the 2015 Academy of Country Music Awards Sunday, sang a song that honored U.S. military members for their service.
Introduced by Taya Kyle, the wife of "American Sniper" Chris Kyle, Brooks sang "All-American Kid" while some service members filed through the audience to stand in the aisle and on the stage of the 50th anniversary of the awards.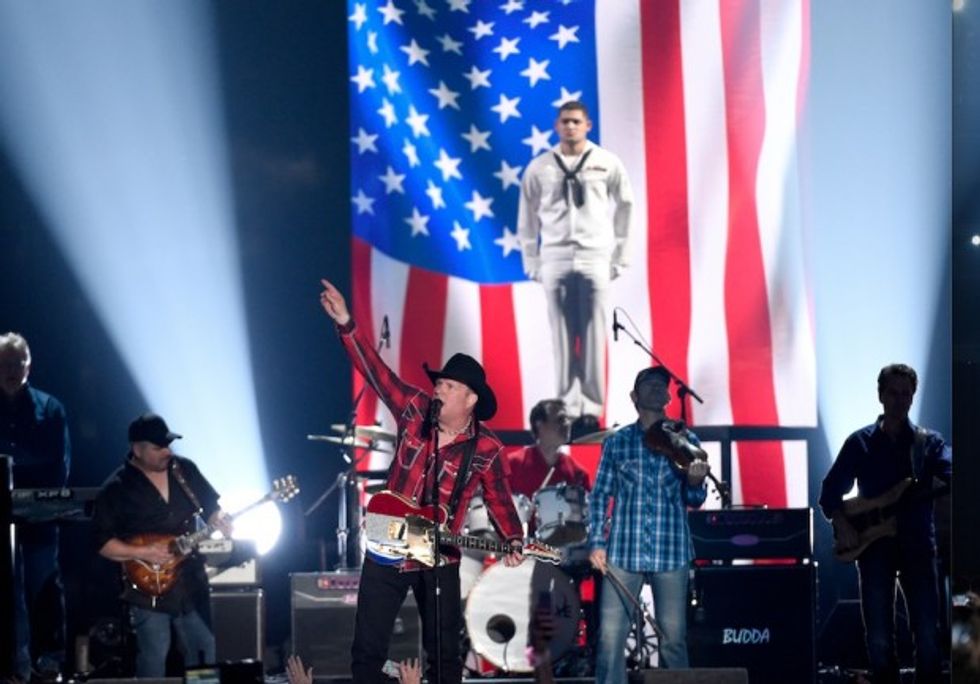 Milestone honoree Garth Brooks performs at the 50th annual Academy of Country Music Awards at AT&T Stadium on Sunday, April 19, 2015, in Arlington, Texas. (Chris Pizzello/Invision/AP)
"All-American Kid" speaks of a hometown hero who joins the military and serves three tours of duty, bringing back a silver star and battle scars:
He stepped off the plane

In his combat boots

He saluted the red, the white and blue

And the whole town cheered

And his mama cried

Another hometown boy

Made it home alive

Got his picture in the paper and the headline read "Welcome Back All-American Kid"

Yeah, this song is for those who never did

Come back all-American kids
At these last words, Brooks emotionally closed his eyes and then removed his cowboy hat to applaud the service members who stood on stage and in the audience.
Watch the performance:
For more highlights on the 50th ACM awards, check out the clips from Entertainment Tonight: