© 2023 Blaze Media LLC. All rights reserved.
Obamacare Is Paying Hospitals to Make Patients Happy. It's Actually a Horrible Thing.
"The hospital doesn't have Splenda."
The customer is always right?
Not when it comes to hospitals.
In 2012, Obamacare rules forced Medicare to start paying hospitals some $850 million less — the deal being that the money would be returned, with bonuses, to hospitals that got high marks from patients on satisfaction surveys while hospitals with low scores would be penalized.
But there's a huge problem: Happy patients aren't healthier.
They actually tend to die sooner.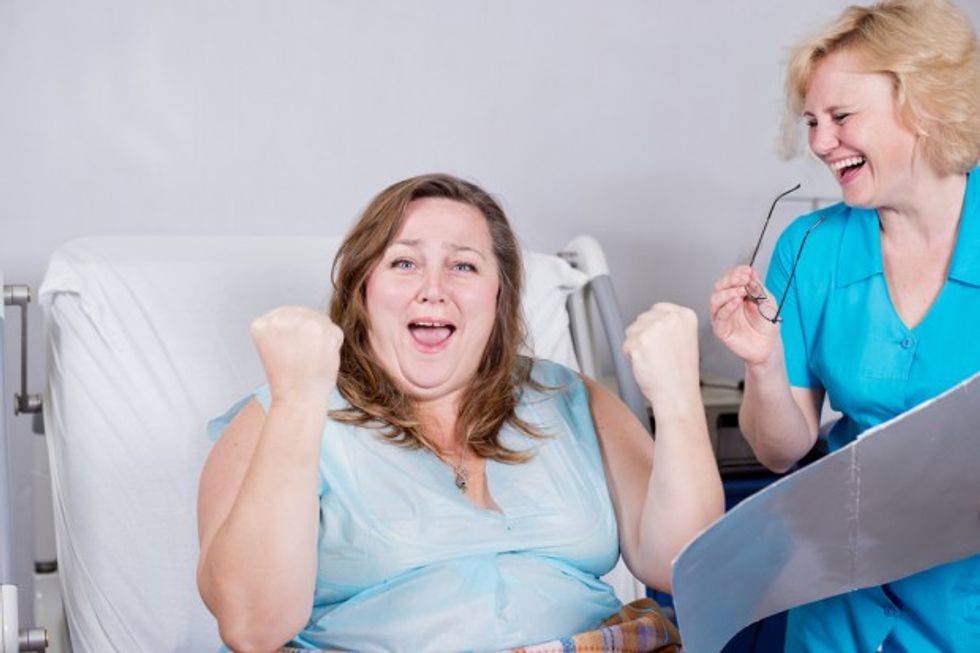 Image via Shutterstock
Alexandra Robbins laid out the perverse situation in the Atlantic Friday, explaining how patients would give hospitals bad scores for really dumb reasons.
She wrote:
The vast majority of the thirty-two-question survey, known as HCAHPS (Hospital Consumer Assessment of Healthcare Providers and Systems) addresses nursing care. For example, in a section about nurses, the survey asks, "During this hospital stay, after you pressed the call button, how often did you get help as soon as you wanted it?"

Patients have complained on the survey, which in previous incarnations included comments sections, about everything from "My roommate was dying all night and his breathing was very noisy" to "The hospital doesn't have Splenda." A nurse at the New Jersey hospital lacking Splenda said, "This somehow became the fault of the nurse and ended up being placed in her personnel file." An Oregon critical-care nurse had to argue with a patient who believed he was being mistreated because he didn't get enough pastrami on his sandwich (he had recently had quadruple-bypass surgery). "Many patients have unrealistic expectations for their care and their outcomes," the nurse said.
A 2012 study, conducted by University of California, Davis, professor Joshua Fenton, found that highly satisfied patients actually cost more health care resources than dissatisfied patients.
The study also found that satisfied patients were more likely to die within four years.
Fenton speculated that basing doctors' pay on patient happiness could lead to doctors being less honest with patients and not bringing up uncomfortable topics such as quitting smoking or losing weight.
Robbins pointed to the example of the University of Toledo Medical Center, a hospital that tries to give patients the "Ritz Carlton experience."
That experience comes at a price: UTMC has some of the worst stats in the state of Ohio when it comes to patients dying, suffering complications or being readmitted unexpectedly.
A UTMC nurse once threw away a perfectly good kidney that a brother had donated to his sister.
Robbins found that nationwide, two-thirds of the least healthy hospitals — the hospitals where patients are more likely to die, suffer botched procedures and the like — score above average on the government's patient satisfaction survey.
She recalled the words of a Missouri clinical instructor: "Patients can be very satisfied and dead an hour later."
Read the full Atlantic piece here.
—
Follow Zach Noble (@thezachnoble) on Twitter
Want to leave a tip?
We answer to you. Help keep our content free of advertisers and big tech censorship by leaving a tip today.
more stories
Sign up for the Blaze newsletter
By signing up, you agree to our
Privacy Policy
and
Terms of Use
, and agree to receive content that may sometimes include advertisements. You may opt out at any time.