If terrorists ever tried to take hostages in one of Tel Aviv's skyscrapers, the last thing they might expect is for anti-terror commandoes to leap in through the window.
But that's exactly why the Israel Defense Forces anti-terror unit has been practicing for that exact scenario, jumping off the top of one of Tel Aviv's tallest buildings and rappelling down the side.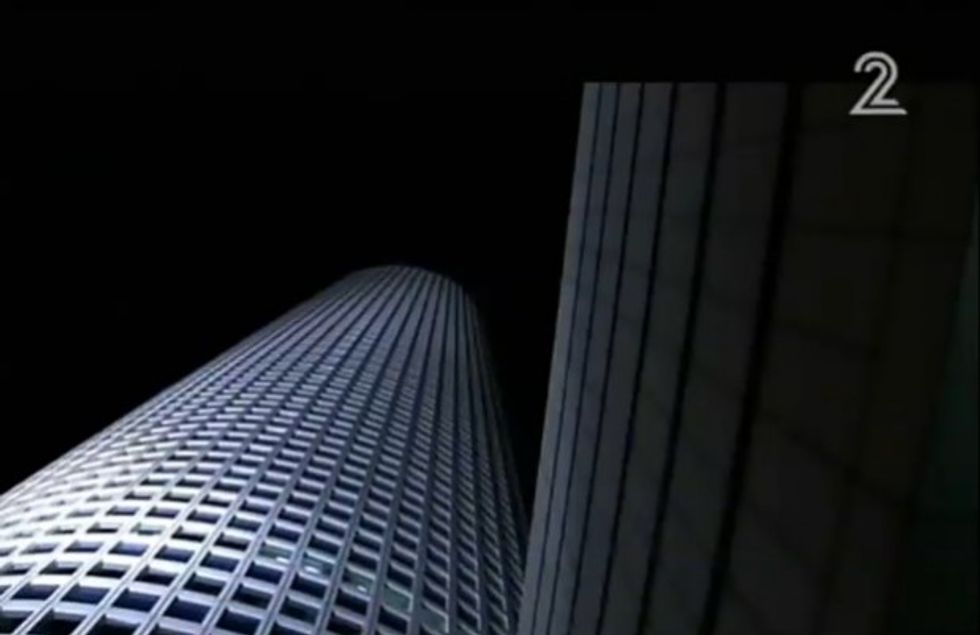 Here's the Azrieli Center's circular tower as seen from below. Soldiers jumped off the roof, then rappelled down the sides to train for a hostage scenario. (Screenshot: Channel 2)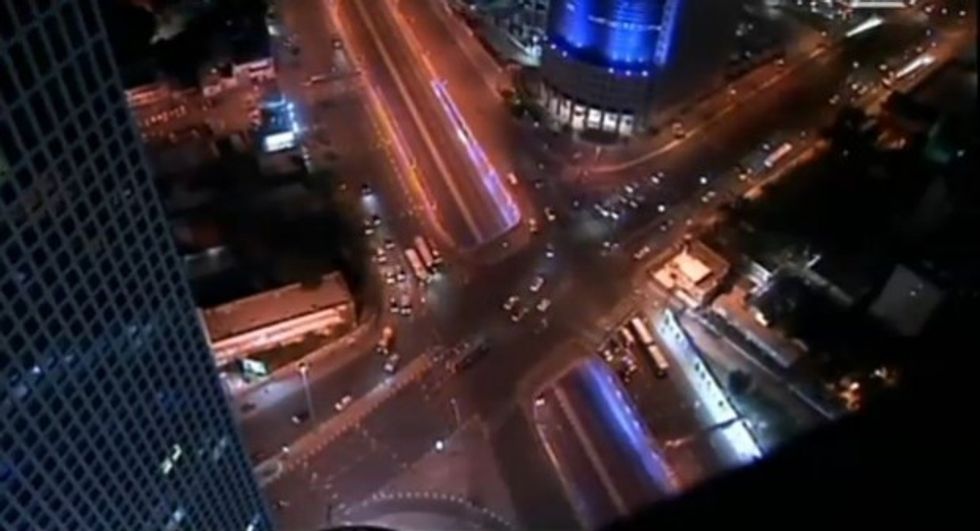 And here's the view from above. (Screenshot: Channel 2)
Israel Channel 2's cameras captured the moment the recruits took turns jumping off the roof of the 49-storey Azrieli Center. Just watching the video might be challenging for those afraid of heights. Here's the video of Channel 2's Sunday night report:
With one hand on their pistol, the other on their rappelling gear, the soldiers must have enormous faith that their gear and teammates are solidly supporting them.
The exercise is aptly named "baptism by height."
"You block out everything that's around you and focus only on the window and your pistol that's pointed at the window and that's the only thing you concentrate on. Then you wait for the command to move," one of the soldiers told Channel 2 during the midnight exercise.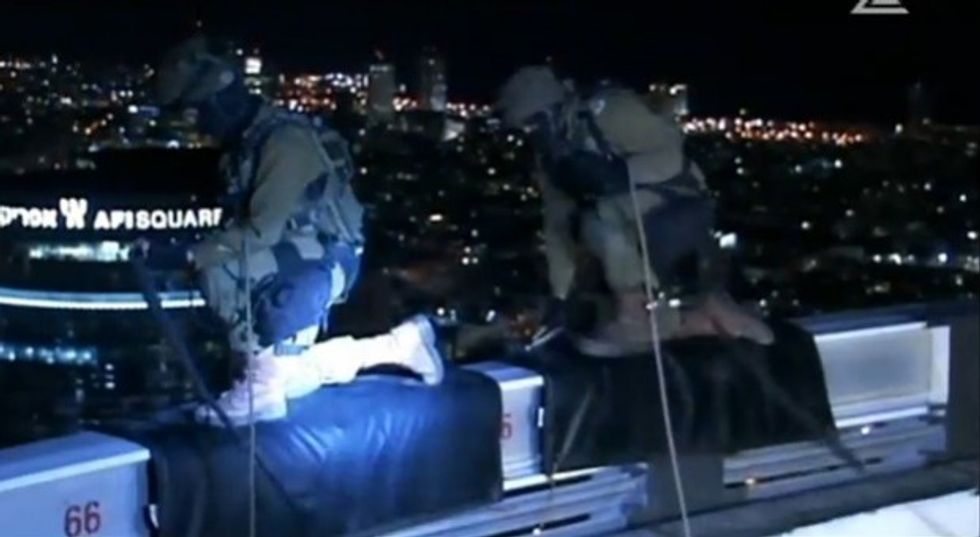 "You block out everything that's around you," said one of the soldiers. They took turns jumping two-by-two off the roof. (Screenshot: Channel 2)
Lt. Col. Erez, who commands the IDF anti-terror school said, "We want to arrive on the scene where hostages are being held, in order to fight from a maximum number of openings and to create surprise from as many directions as possible and neutralize the person in the fastest and sharpest way."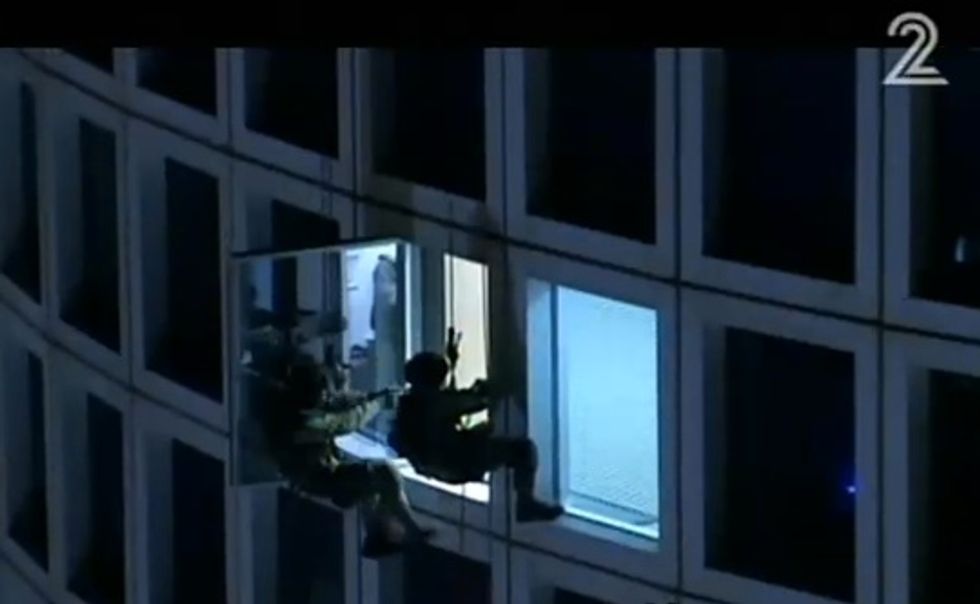 IDF anti-terrorism soldiers rappel down the side of the 49-story skyscraper. (Screenshot: Channel 2)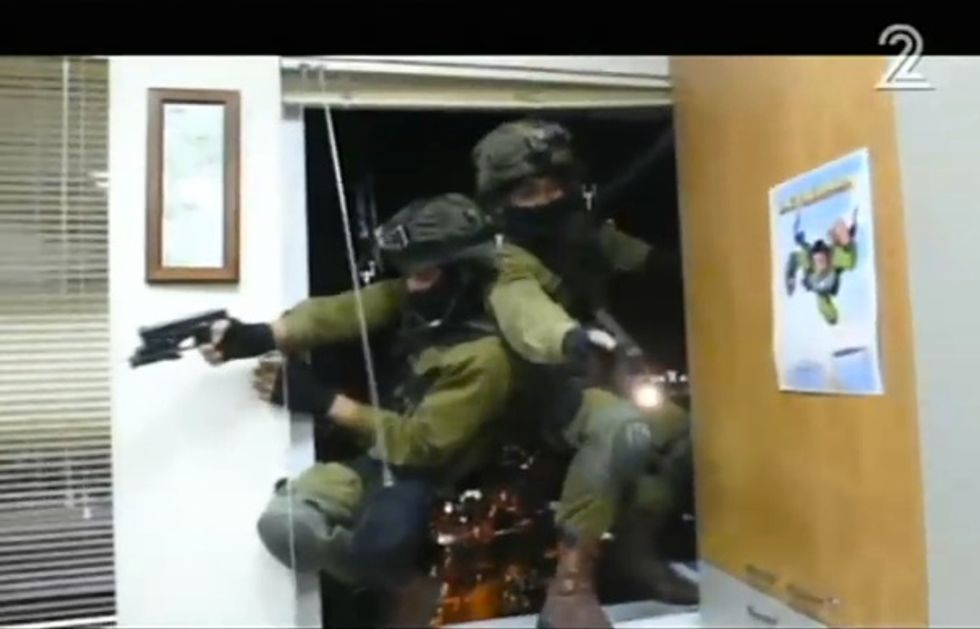 They trained jumping through windows to be prepared for possible hostage-taking scenarios. (Screenshot: Channel 2)
The IDF does not allow the media to identify soldiers and officers in certain sensitive positions, including pilots and anti-terror soldiers, by their full names.
Asked if the soldiers are afraid, Lt. Ram told Channel 2, "Fear is inside everyone. It's a survival instinct. As a fighter, the moment you jump from this kind of height, you understand you have no fear, you develop this insane faith in your gear, in your systems, in the exercise, and after that every other building … will take on different proportion."
"If he doesn't know how to overcome the fear and excitement, there's no chance he'll be able to do it for real," Erez said of his fighters.