President Barack Obama said he opposed but is not worried about an air missile defense that Iran is buying from Russia, and further warned Iran on interfering with Yemen.
Obama's warning during an MSNBC interview come as the U.S. is leading a must-lateral nuclear deal with Iran, and as U.S. ships are in Yemeni waters. Russia announced it was about six months away from selling S-300 missiles to Iran, but confirmed lifting the ban on the sale imposed in 2010.
In an interview on MSNBC's "Hardball," host Chris Matthews said, "If they do weaponize their nuclear program, they will have a fantastic defense system against any attack on their nuclear facilities. "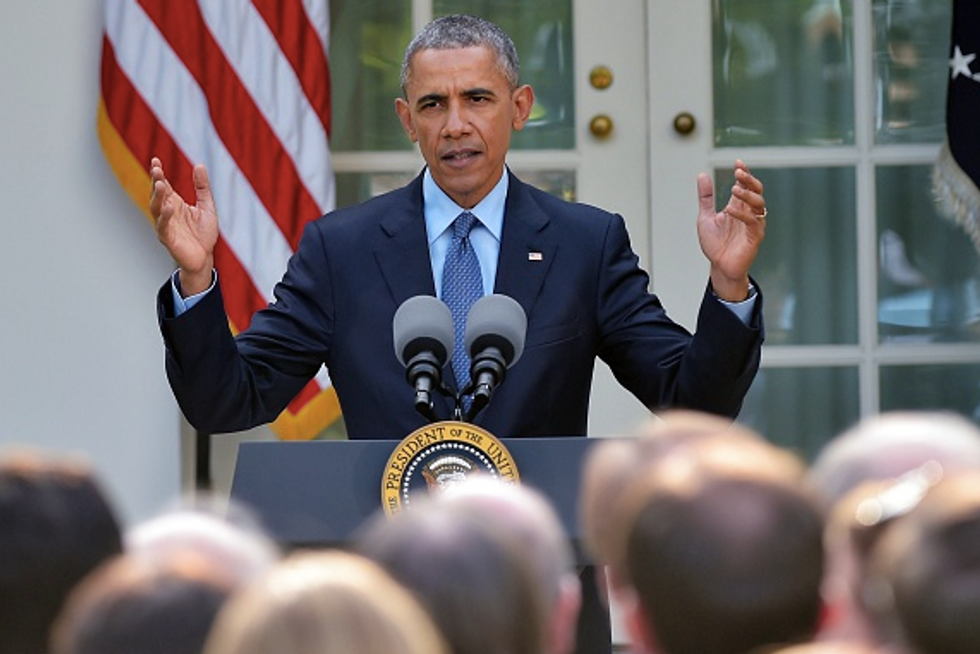 (MANDEL NGAN/AFP/Getty Images)
Obama said that won't be a problem.
"Our defense budgets are just a little bit under $600 billion. Theirs is a little over $17 billion," Obama told Matthews. "Even if they have some air defense systems, if we had to, we could penetrate them."
Israeli Prime Minister Benjamin Netanyahu expressed alarm about the S-300 sale of the air defense system. Russia tied the 2010 ban of S-300 sales to United Nations sanctions, but Russian Foreign Minister Sergey Lavrov said the 2010 ban was voluntarily as part of efforts to encourage progress in nuclear talks.
The announcement of the S-300 sales has prompted critics of the Iran nuclear deal to be even more skeptical. The parameters of the deal requires that Iran open up its nuclear sites for international inspection in exchange for sanctions relief. However, Iran would be allowed to continue to enrich uranium for energy purposes under the agreement.
Obama defended the Iran deal as in the best interest of the region.
"My goal is to make sure we can negotiate a deal we know we can verify that ensures Israel is safe and ensures our neighbors like Saudi Arabia and the gulf countries are safe and that there is not a nuclear arms race in the region," Obama said. "Ultimately it is going to be up to the Iranians to make sure they come to the table prepared to memorialize what has already been agreed to."
With regard to U.S. war ships in Yemeni waters, Obama warned against Iran delivering weapons to factions in Yemen.
"That's always been a fractious country with a lot of problems. It's very poor. There are a lot of people inside Yemen suffering," Obama continued. "What we need to do is bring all the people together and find a political arrangement. It is not solved by having another proxy war fought inside Yemen. We've indicated to the Iranians they need to be part of the solution, not part of the problem."