President Barack Obama, making the case for fast track trade authority and an Asian trade deal, said that Sen. Elizabeth Warren (D-Mass.), one of his most progressive allies in Congress, is wrong.
"I love Elizabeth. We are allies on a whole lot of issues. But she is wrong on this," Obama told MSNBC's Chris Matthews for an interview to be aired in full Tuesday night on Hardball.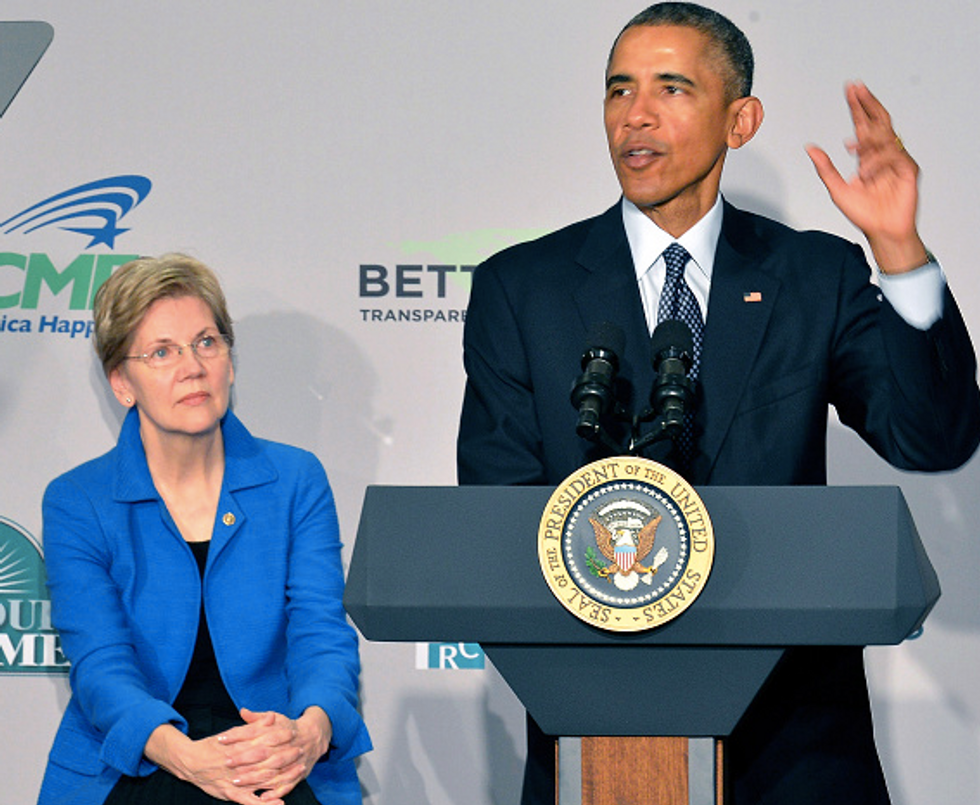 President Barack Obama makes remarks as U.S. Sen. Elizabeth Warren (D-MA) listens at the American Association of Retired Persons (AARP), February 23, 2015 in Washington, DC. Obama joined AARP and members of the 'Save Our Retire' coalition in efforts to protect retirement savings from bad investment advice. (Mike Theiler-Pool/Getty Images)
"I would not be doing this trade deal if I did not think it was good for the middle class," Obama continued.
Obama is seeking congresional approval of the Trans Pacific Partnership, a trade deal with Asian countries. The White House insists the deal has human rights and labor protections, but many Democrats and organized labor groups are skeptical, having a rare clash with the president.
Obama called China the "800 pound gorilla" that is not a signatory to the TPP, but has pressured other Asian countries to enter trade deals "that exclude or disadvantage U.S. companies."
He further talked about the lack of U.S. exports to Japan, noting the number of Japanese cars sold in America. He said that the TPP will change that.
"Go to Tokyo and there is not an American car in sight," Obama said. "Why would we want to keep the status quo?"