White House communications director Jen Psaki faced tough questioning from CNN's Alisyn Camerota on Wednesday morning over Saudi Arabia's claim that the nation has accomplished its "military objectives" in Yemen.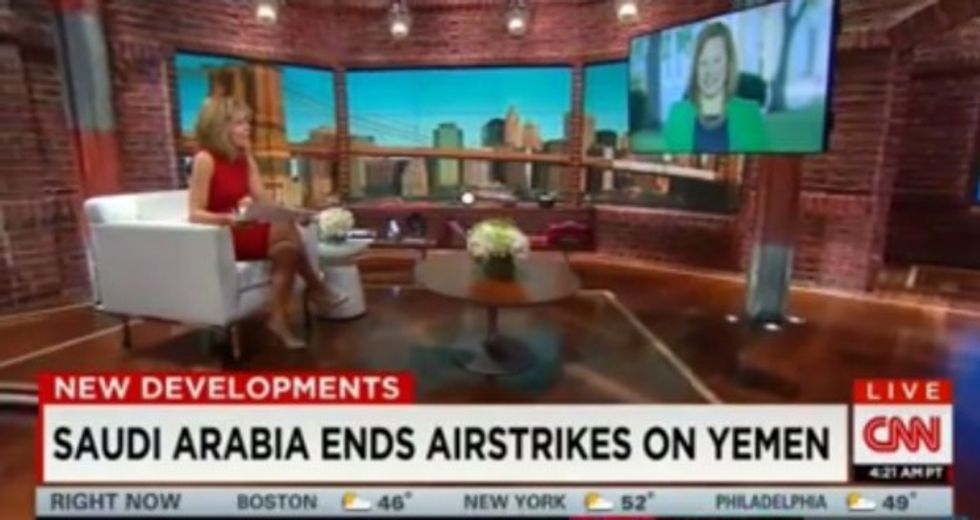 CNN
"How can that be true when we see the chaos on the ground in Yemen?" Camerota said.
Psaki said the U.S. supports Saudi Arabia in its fight against the Houthi rebels, a group that overthrew Yemen's government and is backed by Iran, and wants to put its "energies" into "bringing the parties" in Yemen together rather than military action.
Camerota continued to press, noting that Saudi Arabia — with its partners, including the U.S., — released a statement asserting that the following objectives of "Operation Decisive Storm" had been completed:
• Prevent takeover by Houthis

• Protect neighboring countries

• Neutralize the Houthi military

• Prevent the flow of weapons

• Protect Yemen's government
Camerota then reminded Psaki that just this week the "the Iranians were sending a shipload of possibly weapons to the Houthi rebels."
"How can you be making these claims today?" she asked.
Here's how Psaki responded:
"We have our own resources in the region for a reason, Alisyn, as you know. I'll also say though, there is plenty on my plate and the plate of the White House and we're not going to get into a pattern of speaking on behalf of Saudi Arabia. Obviously, the job is not done. There is remaining instability in the region in Yemen. There's a lot of work that needs to be done, and we're going to be doubling down and continuing to work on that with our partners around the world."
Saudi Arabia continued to pound rebel-controlled parts of Yemen on Wednesday as Houthi rebels called for peace talks, CNN reported.
---