House Republicans are charging that the IRS purposefully slashed its own funding for customer service activities, and that these cuts — not those imposed by Congress — are to blame for a new low in customer service that even the IRS commissioner has called "abysmal."
The House Ways & Means Committee released a report Wednesday that said the IRS is on pace to cut about three-quarters of its "taxpayer services" fund in 2015. That's a cut of $134 million, and that cut came from a source of money that the IRS controls, not Congress.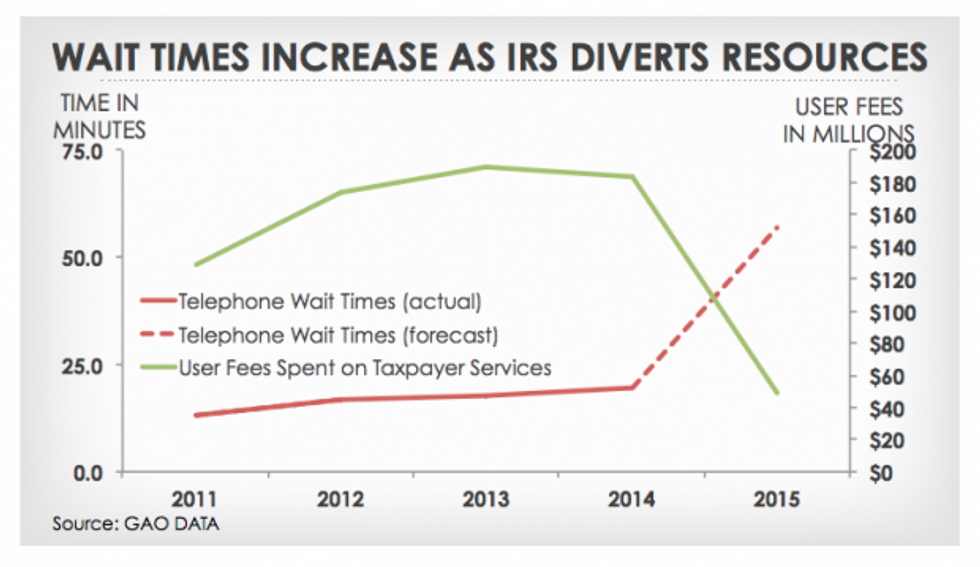 Image: Ways & Means Committee
At the same time, the IRS has handed out $60 million in bonuses, instead of deciding to use that money to sustain its customer service budget.
These findings were released after several weeks in which IRS Commissioner John Koskinen has blamed budget cuts imposed by Congress over the last few years for cuts to taxpayer services. Koskinen has admitted that people will have a much harder time getting phone support as they do their taxes, and earlier this month, he said the IRS has hung up on millions of taxpayers trying to ask for advice over the phone.
Rep. Peter Roskam (R-Ill.) said at a Wednesday hearing with Koskinen that Congress didn't cut taxpayer service at all from 2014 to 2015, and that the blame for poor service should fall on the IRS, not Congress.
"The amount of money Congress appropriated to the IRS for taxpayer assistance was the same this year as last year, but the level of service has decreased drastically," he said.
"So what happened?" he asked. "The IRS made the decision to move money away from taxpayer assistance."
According to an analysis on IRS funding by Ways & Means, the IRS collects nearly $500 million each year in fees that it can spend as it sees fit, without any involvement from Congress.
Ways & Means said the IRS spent $183 million on "taxpayer services" in 2014, but is on pace to spend just $49 million on that line item this year. The IRS also appears to be boosting "operations support" at the expense of taxpayer services.

Those user fee cuts alone are the equivalent of not answering about 16 million taxpayer calls, the committee said.
"The IRS's spending choices and mismanagement of resources raise serious questions about the nature and extent of the agency's self-described budget crisis and its commitment to serving the taxpayer," the report said.
The committee added that the IRS is still spending about $60 million on bonuses, and the equivalent of more than $20 million on union activities. When those spending decisions are considered, the committee estimated that the equivalent of 25 million taxpayer calls are being missed.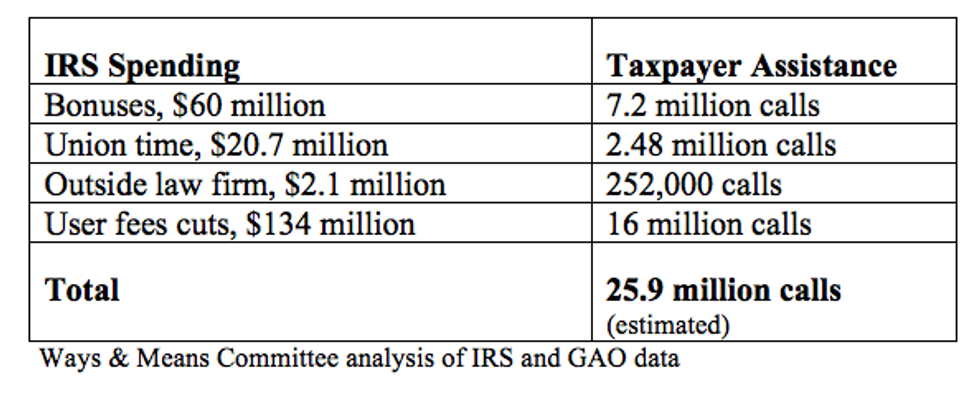 Congress has cut IRS funding by $1.2 billion since peak IRS funding due to scandals like the targeting scandal, the lavish conferences the IRS took, and its decision to waste money on videos.
The total cut to IRS funding imposed by Congress from 2014 to 2015 was about $346 million.