UPDATE, 9:44 p.m. ET: KHOU-TV reports that the woman has been offered her job back.
Marissa Holcomb told the news outlet that she had a meeting with Z & H Foods owner Amin Dhanani on Wednesday.
"He just apologized and pretty much offered me if I wanted to go back to his business and work there again," she told KHOU.
—
As if that wasn't traumatizing enough for a pregnant worker at a fast food restaurant to be robbed at gunpoint, the shift manager said the restaurant tried to get her to pay back the stolen money and then fired her after she refused.
The incident, which was caught on the surveillance camera in the Popeye's Louisiana Kitchen in Channelview, Texas, happened on March 31 while shift manager Marissa Holcomb, who is pregnant with her fourth child, was on duty, KHOU-TV reported. Video shows a masked gunman running into the restaurant and leaping over the counter. He ordered Holcomb to open the cash registers.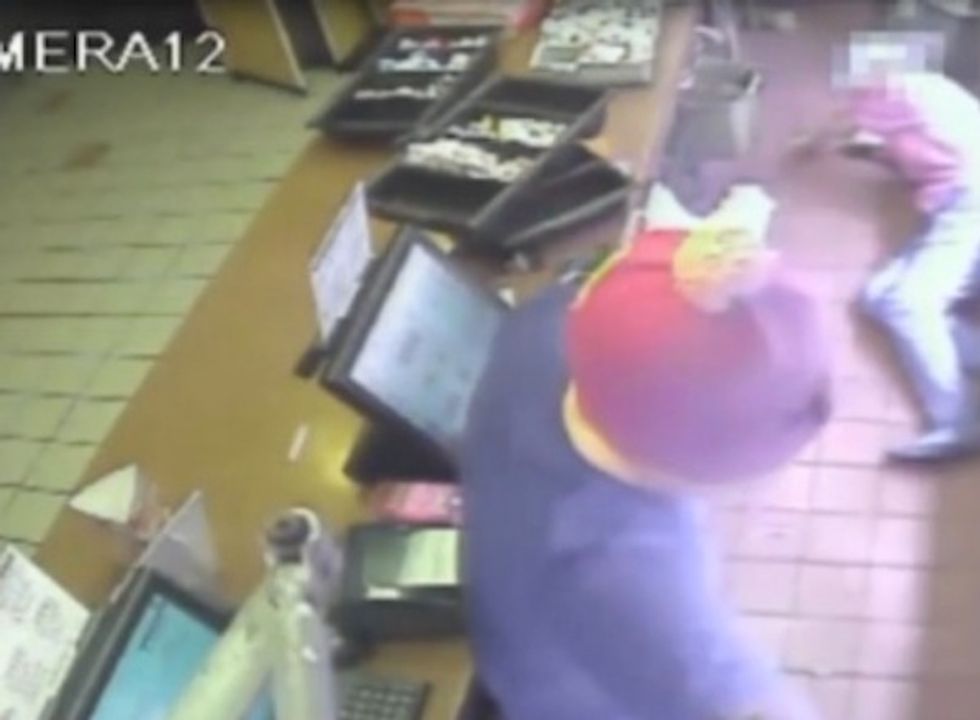 Image source: KHOU-TV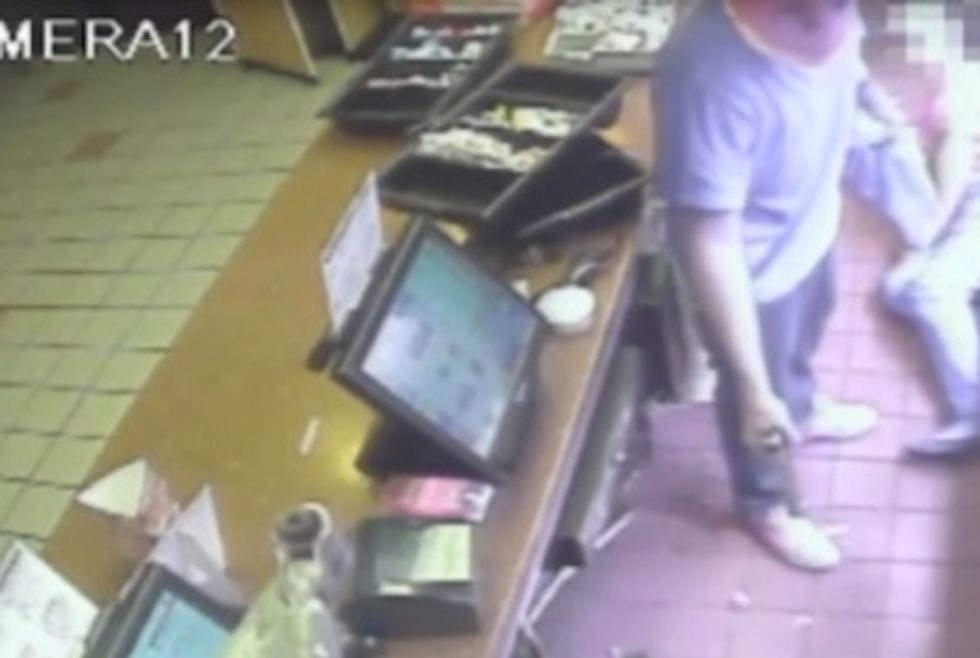 Image source: KHOU-TV
After she gave him what was inside, he hopped back over the counter and ran off with the bag full of cash.
Watch the footage:
After the robbery where nearly $400 was stolen by a man that police have yet to identify and catch, according to KHOU, Holcomb said her manager came to her with a choice: make up for the money or be fired. Less than two days after the robbery, Holcomb was fired.
"I just had a gun to me. I'm not paying the money," the woman, who is five months pregnant, told the news station.
KHOU reported that a spokesperson for  Z&H Foods Inc., which owns this Popeye's location, said Holcomb was fired because she broke policy leaving too much money in the register at a time. The spokesperson also said that the company didn't know about the employee being given the option to pay the $400 back. The news station noted that other restaurants have similar policies that could make employees responsible if money isn't moved from the register within a certain time frame.
"[The suspect] got what they got because that's what we made within one hour," Holcomb told KHOU, noting that she was moving money from the register as quickly as she could on that busy Tuesday night.
Popeye's said in an emailed statement to TheBlaze that this restaurant is "independently-owned and operated by a franchisee of the Popeyes system, and that franchisee exercises day-to-day control over the operation of the restaurant."
"We understand that the franchisee has reached out to the employee to work through this issue and we will continue to monitor the situation closely," the statement continued.
Holcomb said she has been filling out applications but fears no one will hire her because she's so far along in her pregnancy. For now, she and her children are living on only her husband's paycheck.
Watch KHOU's report:
This story has been updated to include more information.