What would have otherwise been a minor traffic stop resulted in one man lying on the ground after an officer fired several bullets and a karate kick – Chuck Norris-style.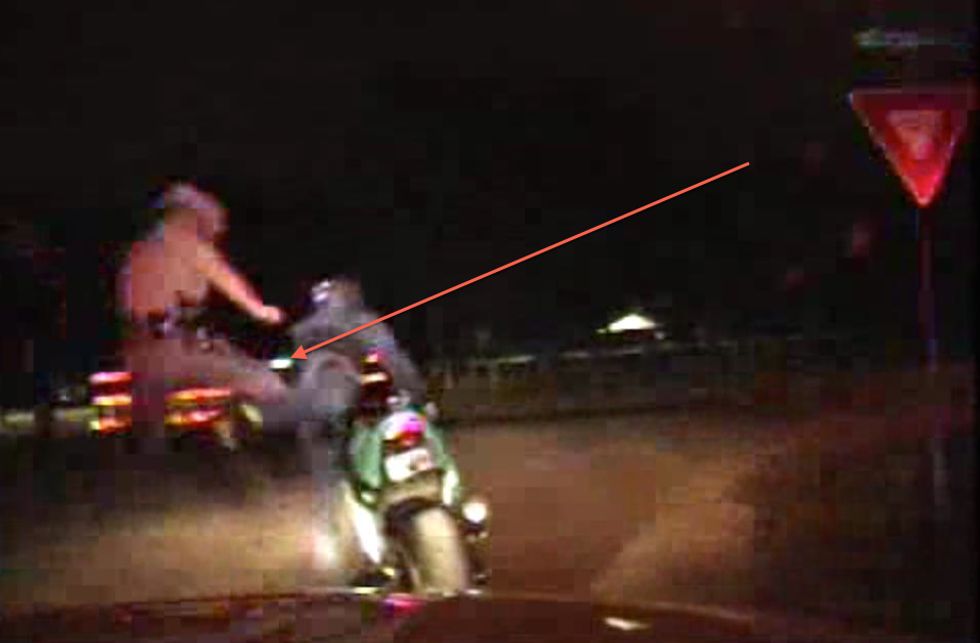 Image source: Texas State Patrol via Austin American-Statesman
Steven Gaydos, a 25-year-old Texas strip club bartender, thought nobody saw him blow through a stop sign on his motorcycle in 2012. But Gaydos found out he was wrong.
When he looked up in his mirror just moments later he saw a Texas state trooper chasing him.
"I knew it was a cop," Gaydos, who was driving on a suspended license, told the Austin American-Statesman. "I took off, thinking I could easily lose him."
But Gaydos was wrong again. The chase continued for about 40 miles along highways in Chambers and Harris Counties near Houston. At one point, Gaydos was going as fast as 130 mph on his Suzuki 750.
The officer can be heard on the dash cam video several times shouting at the motorcyclist to "pull over" but Gaydos kept going. Another officer, Abraham Martinez, fired a gun from outside his window at least four times with at least one of those bullets striking Gaydos in the thigh.
The high-speed chase finally came to an end near an interaction where Gaydos slowed down as a trooper can be heard shouting at him to "get on the ground."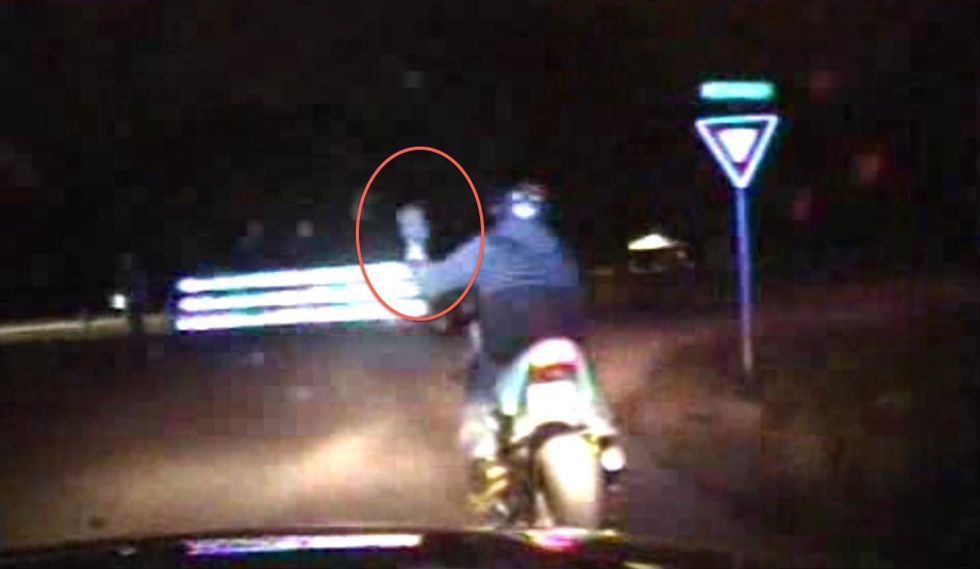 Image source: Texas State Patrol via Austin American-Statesman
Gaydos then raised his left arm as if in surrender as he began to slowly get off the bike. It does not appear as though he was plotting an escape. That's when Trooper Martinez took no chances.
The officer immediately got out of his patrol car and ran up to confront the driver. Martinez' dash cam footage then caught the officer knocking Gaydos to the ground with a midair karate kick.
The 10-year police veteran faced a three-day suspension without pay, according to the Austin American-Statesman. The video is just now becoming public as a result of the American-Statesman's investigation into Texas Troopers' chase actions.
Watch the intense, high-speed chase on dash cam video:
(H/T: Austin American-Statesman)
–
Follow Jon Street (@JonStreet) on Twitter