Homeland Security Secretary Jeh Johnson said Friday that the Obama administration has apprehended about 28 percent fewer people at the southern U.S. border in the first six months of fiscal year 2015, compared to the same period in the last fiscal year.
But Johnson indicated that this drop is not because border agents aren't trying hard enough. Instead, he said it's because the Obama administration has boosted border security and sent out the word to Central American countries that their citizens should not try to enter the United States.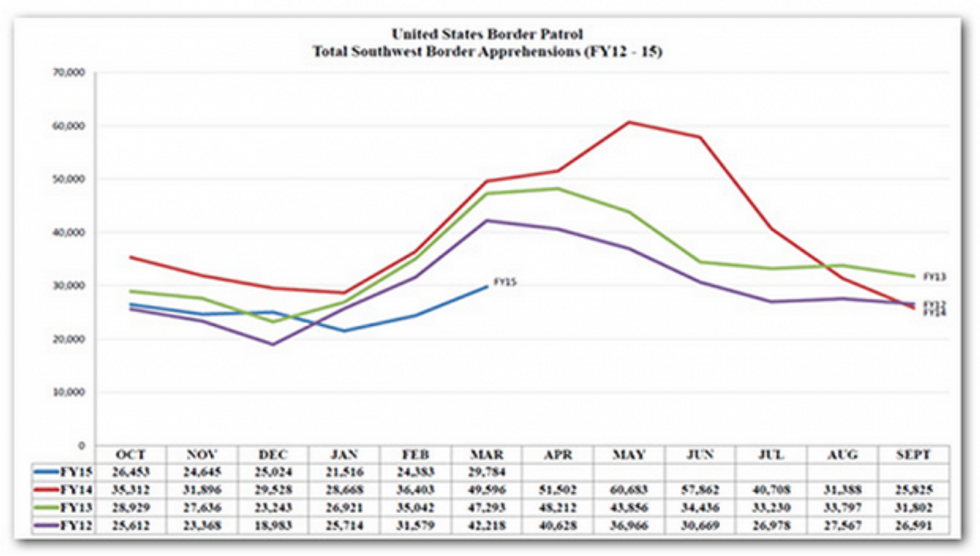 "I believe it is due to the nation's investment over the last number of years in border security," Johnson told reporters. "Our border patrol now has more personnel, more equipment, more technology than at any point in our history. So our nation's investment over the last several years in border security is paying off."
"We believe that our public messaging has also resonated particularly in Central America," he added.
According to a six-month update from DHS, border apprehensions in the first six months of the fiscal year are lower than they've been in the prior three years.
Many conservatives have argued that this is precisely the problem — the Obama administration is failing to apprehend illegal immigrants, allowing them to enter the United States in the hopes of staying forever under a possible exemption from the law. The administration has twice made major efforts to impose executive actions to let illegal immigrants stay and even work in the country.
But Johnson said DHS sees the lower apprehension numbers as a sign that there are less attempts being made to cross into the country.
"I believe that apprehensions are in indicator of total attempts to cross the border," he said. Johnson agreed, however, that more could be done to measure how many attempts to cross the border are being made, and said that effort is still a work in progress.
Much of the 28 percent drop in border apprehensions appears to come from a 45 percent fall in the number of unaccompanied children trying to cross. Last year's record peak of immigrant children prompted Republicans to say this wave was triggered by Obama's anticipated plan to relax immigration rules once again through executive action.
But the numbers have fallen off since last summer, in large part because of warnings from the administration to El Salvador, Guatemala and Honduras not to send people. The administration also has plans to work directly with people in those countries to see if they would be permitted into the United States.
In the first six months of the fiscal year, apprehensions of unaccompanied children are down 45 percent compared to the year before.