After hearing a loud noise at the back his residence Thursday afternoon, a Texas homeowner told Arlington police he went to investigate and found two men he didn't know had broken into his house.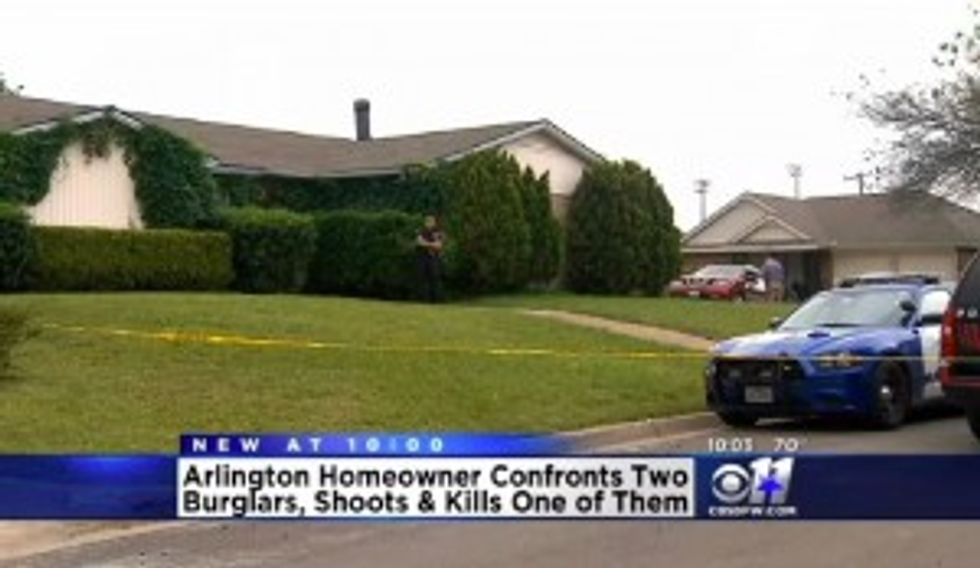 Image source: KTVT-TV
The homeowner was carrying a handgun and shot at the men, police said. While one escaped on foot, the other was hit by gunfire.
Police found the alleged intruder in the backyard; he was taken to a hospital where he died of his injuries.
The deceased was identified as Nathyn Tealer, 18, a Hispanic male, according to the Tarrant County Medical Examiner's Office.
While police haven't positively identified the man who got away on foot, they said they found an uninjured man in the area and detained him for questioning. But police said there wasn't probable cause to name him as a suspect.
Investigators completed a search of the residence Friday morning for evidence; police said the case likely will be turned over to a grand jury.
News crews from KTVT-TV took video of what may be the homeowner being examined inside an ambulance; the man was then taken to a hospital. People at the scene told KTVT he was upset after the shooting, which elevated his blood pressure.
—
Follow Dave Urbanski (@DaveVUrbanski) on Twitter