(TheBlaze/AP) -- Baltimore police say the department believes three notoriously violent gangs are now working together to "take out" law enforcement officers.
In a statement Monday, the department called it a "credible threat" and said members of the Black Guerilla Family, the Bloods and the Crips have formed a partnership against the police.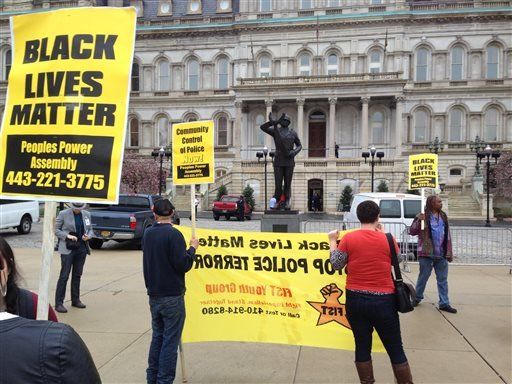 Demonstrators protest the death of Freddie Gray outside Baltimore City Hall on Monday, April 20, 2015. Gray died Sunday, a week after he was rushed to the hospital with spinal injuries following an encounter with four Baltimore police officers. (AP Photo/David Dishneau)
The department warned other law enforcement agencies to "take appropriate precautions."
The police statement came as mourners gathered for the funeral of Freddie Gray, who died of a mysterious spinal injury while in police custody.
Police spokesman Capt. Eric Kowalczyk would not say whether the threat is related to the death of Gray. Kowalczyk said the threat announcement has been circulated to law enforcement agencies nationwide.
Earlier this year, Baltimore police said the Black Guerilla Family sent a man into the Northeastern District station house with marijuana, cocaine and a loaded gun to test the station's security.
Later on Monday, the University of Maryland campus in downtown Baltimore shut down its campus, saying they've been warned by the Baltimore Police Department that "activities" in the area may turn violent.
It wasn't immediately clear whether the activities had anything to do with Freddie Gray, who died of a spinal injury while in police custody. Demonstrators angry over Gray's death have gotten violent on several occasions.
In an alert to students and staff, the university says "the safety of our students and employees is of paramount importance. Please vacate the campus as soon as possible."
School spokesman Alex Likowski said he didn't know what type of activity might be passing through campus or what prompted the warning from police.
The university's main campus is in College Park, about 30 miles south of Baltimore
---