Radio personality Don Imus announced Monday that his radio show will no longer be broadcast on the Fox Business Network beginning at the end of next month.
Mediaite which first reported the news noted that Imus's announcement he was going "off television" on May 29 was "buried in the 6 a.m. hour of his show."
He appeared to downplay the significance of the development, noting how many more people listen to him on radio than television.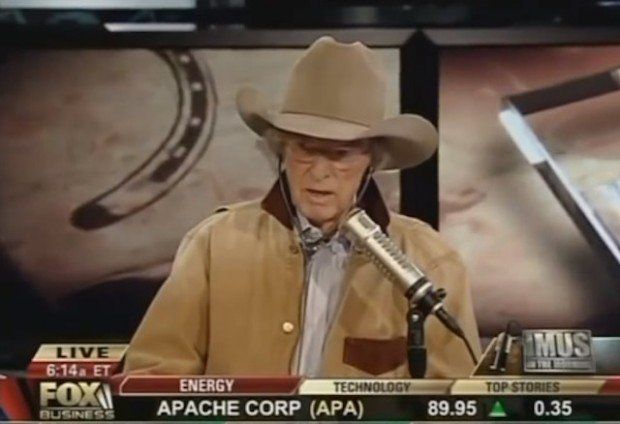 Don Imus announced Monday that his show will end its Fox Business Network simulcast on May 29. (Screenshot: YouTube, File)
Imus announced the development while discussing his upcoming guests and pointed out that they are "trying to all get in here" between now and the end of May while he's still on TV.
"Why? I do not know. There's about 10 times or even a hundred times more people that listen to the radio than watch on television. That's the mentality of, whatever," he said and then moved on to another subject.
TVNewswer confirmed Imus's departure with a Fox Business Network executive who described the separation as amicable:
A network executive with knowledge of the decision said the plan had been in the works since January when Imus informed FNC Chairman & CEO Roger Ailes that he was moving to Texas. Both sides agreed to part ways. Ailes is said to have had a warm relationship with Imus for more than 30 years and is appreciative of the contributions he made to the network.
The New York Daily News offered more behind-the-scenes details:
A knowledgeable source says Imus went to Ailes in January to say he would be spending the summer at his recently purchased ranch in Texas — which, unlike his previous ranch in New Mexico, has no remote television studio facilities.

Imus and his wife Deirdre plan to spend more time in Texas, in part because of Imus' respiratory problems and in part because their son Wyatt has a growing rodeo career based there.

Because the TV show is based in New York, it was not possible to work out TV arrangements.
There's no news yet as to who will move into Imus's 6 a.m.-9 a.m. television slot, but an announcement is expected "in the coming weeks," TVNewser reported.
Imus show has been broadcast on FBN since 2009.
In 2007, his television simulcast was dropped by MSNBC following derogatory remarks he made about the Rutgers University women's basketball team.
CBS also fired Imus from his radio show over the same controversy.
(H/T: Mediaite)