A State Department spokesman said Tuesday that he didn't know much at all about two major events happening in the world today, including Saudi Arabia's arrest of dozens of people who were looking to bomb the U.S. embassy in Riyadh.
Reports said Saudi Arabia arrested 93 people involved in the alleged plot. But spokesman Jeff Rathke had little to say about the event, and said he wasn't aware about almost anything about it.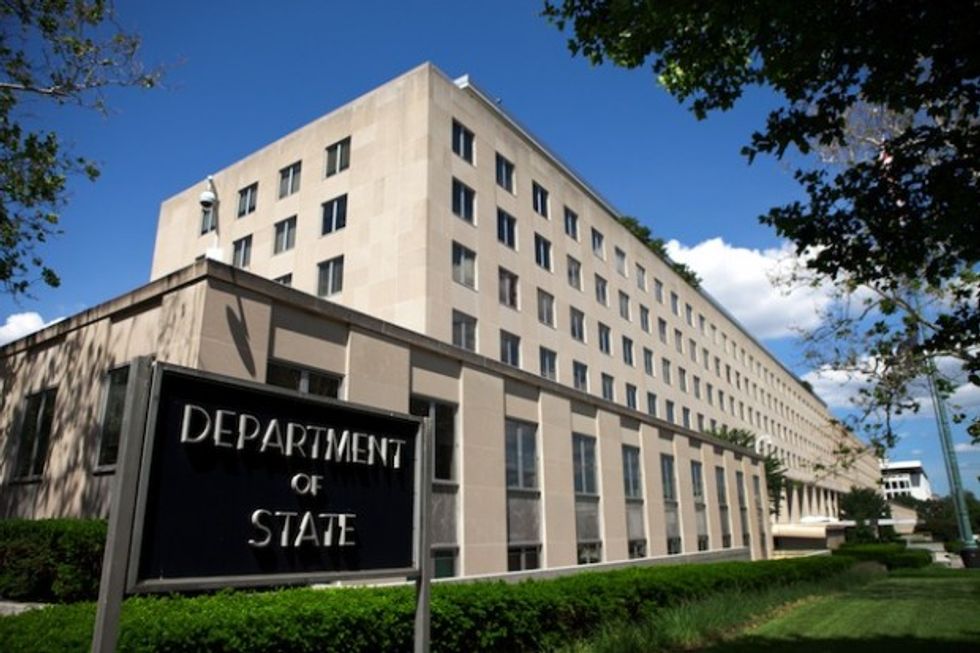 The State Department had little to say Tuesday about two major events, including Saudi Arabia's effort to thwart an alleged bomb plot against the U.S. embassy in that country. Photo: Mark Van Scyoc/Shutterstock
"We're aware of the arrests," he said. "We don't have confirmation of the details."
When asked if the U.S. participated in the operation, he said, "I don't believe we were involved in the arrests."
When asked if the U.S. is aware that the alleged plan was to hit the U.S. embassy with a car bomb, he said, "I don't have any details." When asked if it was a plot by the Islamic State, he said, "I'll refer you to them," a reference to Saudia Arabia.
And when asked if the U.S. is worried that the Islamic State may now have a significant toe hold in Saudi Arabia, he said, "I'm not jumping to that conclusion." Rathke also didn't thank Saudi Arabia for its efforts.
When asked about Iran's Tuesday decision to divert a Marshall Islands-flagged vessel in the Strait of Hormuz, Rathke said State was "aware" of those reports, and said State is "monitoring the situation."
He said State doesn't believe any U.S. citizens are on boared the vessel, but said he didn't know much else. When asked if the U.S. had any communication with Iran, he said "I'm not aware of any."
When asked if the event took place in international waters, he said he wasn't sure. And when asked about Iran's motive, he said, "I don't have any speculation about Iran's motives."
According to the department, its mission is "to shape and sustain a peaceful, prosperous, just, and democratic world and foster conditions for stability and progress for the benefit of the American people and people everywhere. This mission is shared with the USAID, ensuring we have a common path forward in partnership as we invest in the shared security and prosperity that will ultimately better prepare us for the challenges of tomorrow."