A kindergarten concert in Iowa was interrupted last week by a man who started shouting "English only!" in response to a woman on stage speaking to audience members in Spanish.
The crowd quickly became upset and booed the unidentified man who chanted "English only! USA!"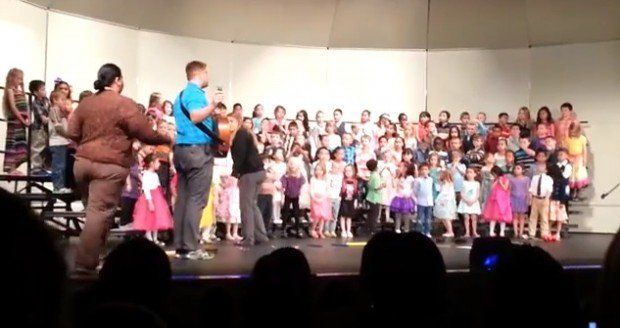 Dozens of kindergarteners stood on stage waiting to start their concert when a man interrupted a woman addressing the crowd in Spanish. (Image source: YouTube)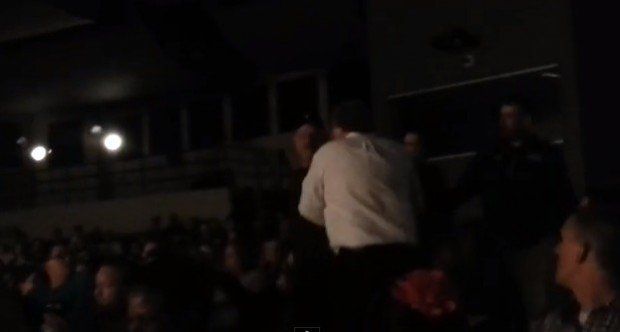 The man was kicked out for chanting "English only! USA!" (Image source: YouTube)
The incident happened Thursday at Perry Performing Arts Center where KCCI-TV reported the young performers were introduced in English first and then in Spanish. According to the news station, Perry, Iowa, has a large Latino population.
Watch the video in KCCI's report:
After the man was peacefully escorted out of the auditorium, the woman began speaking again in Spanish, apologizing for the interruption. The crowd clapped and cheered.
Juan Jose Ordonez Deleon, who recorded the incident and passed it onto news outlets, told the Perry News he considered the man's actions a "hate crime."
Others, like mother Sara Benedict, were upset by the interruption as well.
"It doesn't matter what color our skin is or what language we speak, you know. We're all the same people," Benedict told KCCI.
Here's the video posted to YouTube:
According to Des Moines Register, the school's superintendent applauded the quick response from the crowd to remove the man.
"We live in a diverse/people rich community that values all people and our children truly are our most precious resource," M. Lynn Ubben wrote in an email to school staff, the newspaper reported. "As our elementary music instructor so eloquently said, 'Our children don't see color, they just see their friends.' "
(H/T: Reddit)