The "embarrassed" Baltimore protester who was yanked from the streets after his mother caught him with rioters spoke out Wednesday.
"I understand how much my mama really cares about me," Michael Singleton told ABC News. "I just got to try to do better."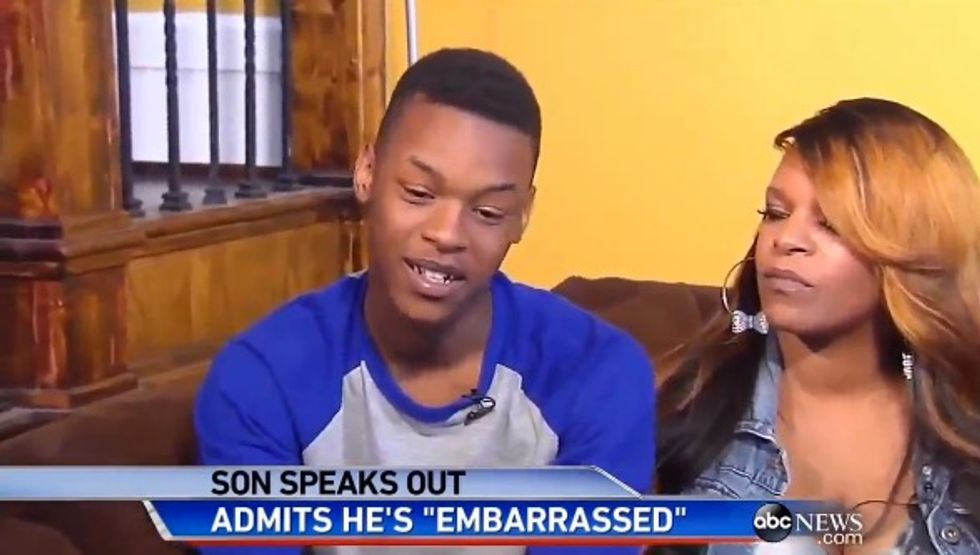 Image source: Screen grab via ABC News
Singleton recounted the moment he saw his mother, Toya Graham, catch him on the Baltimore streets.
"I'm like, 'Oh man. What is my mama doing down here?'" he said.
[sharequote align="right"]"I'm like, 'Oh man. What is my mama doing down here?'"[/sharequote]
Video of Graham approaching her son and slapping him on live television went viral. Many online hailed her as the "mom of the year" for her actions.
Singleton said that all his friends saw him get slapped around.
"They was around," he told ABC News. "Everybody knew my mama. All my friends knew my mama."
Graham said she wasn't going to allow her son to participate in the rioting.
"To see him down there, doing what he was doing, that's — we are not doing that," she told ABC News. "I'm not angry at him anymore. As long as I have a breath in my body, you will not be on the streets selling drugs — you're just not going to live like that. Not with me."
She explained that she caught him with a rock in his hand and became enraged.
"I did. You know, once he threw that rock down I said, 'You weren't brought up like this,' " Graham told CNN.
Baltimore Police Commissioner Anthony Batts said Tuesday that he had seen the video.
"I wish I had more parents who took charge of their kids tonight," he said, according to WJZ-TV.
Baltimore descended into chaos Monday as individuals upset with the recent death of a man in police custody rioted across the city, setting fires and attacking police officers.
(H/T: Mediaite)
—
Follow Oliver Darcy (@oliverdarcy) on Twitter