A Tampa family was doing a little spring cleaning earlier this month, but what they found in the attic of their home might change what they thought of their family history.
"Maybe my great-grandparents were pirates," Mike Lopez told WTSP-TV.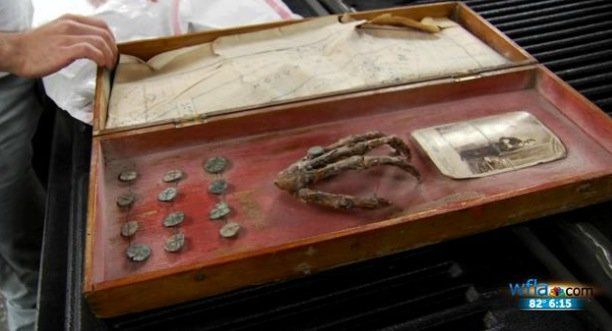 The Lopez family found this box belonging to their grandfather, holding what are believed to be items collected by their great grandfather, in their attic. (Image source: WFLA-TV)
Lopez's sister, Maria, found a box that belonged to their grandfather. Inside was a map, old coins, an old wedding picture and — drumroll please — a skeletal hand with a ring on its finger.
"I was totally blown away," Lopez told the news station of its discovery.
Lopez said his grandfather would tell them stories about their great grandfather, Ernesto Lopez, when they were children. The story was that he had at one time found the pirate treasure of Jose Gaspar. An article in the Tampa Bay Times last year described Gaspar as a buccaneer who went by the nickname Gasparilla. The newspaper reported that Gaspar was involved in a violent mutiny on a Spapnish war ship in 1783. Afterward, Gaspar and other outlaws settled in Florida and went on to "become greedy, gory outlaws of the sea."
Watch WTSP-TV's report:
Lopez told WTSP he took the coins, map and hand to antique shops and was told it was both "gruesome and authentic." Rodney Kite-Powell, a curator at the Tampa Bay History Center, told the Tampa Bay Times the map was from no later than the 1920s. The coins too, Kite-Powell said, were likely from the 20th Century — not the 18th Century as previously reported — and made of a non-precious metal.
"They're a little thin to be Spanish coins or old coins in general. Generally older coins were thicker," Kite-Powell explained to WFLA-TV.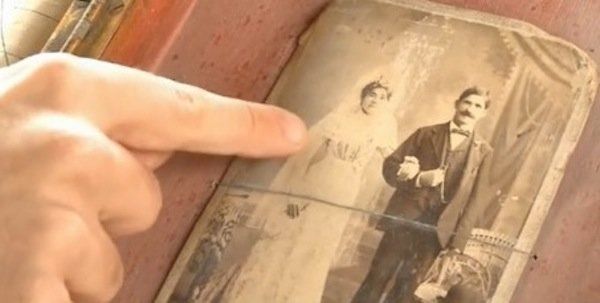 Lopez points to the wedding photo of his great grandmother and great grandfather. (Image source: WTSP-TV)
As for the hand, Kite-Powell told the Times it could be a mummified monkey hand.
"It smelled kind of funny," he said.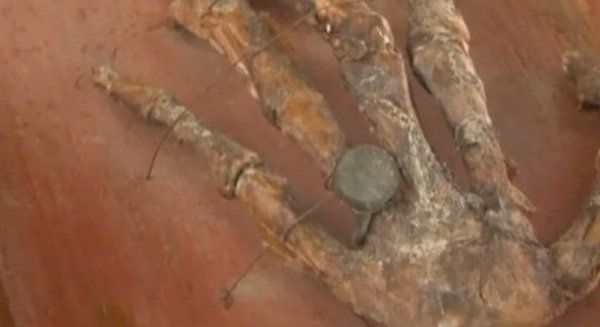 An expert said Lopez would need to take the hand to a medical examiner to determine if it was human or something else. (Image source: WTSP-TV)
Maria Lopez told the news station that her great-grandfather either made an "elaborate pirate hoax" or he actually found treasure on the Hillsborough River.
"There's really no way to know which is the case," she wrote in an email.
Here's WFLA-TV's report on the discovery:
(H/T: WUSA-TV)