Senior Obama administration officials have told the House Oversight & Government Reform Committee that the gyrocopter that landed on the U.S. Capitol grounds April 15 exposed a significant flaw in the effort to keep Washington, D.C., safe.
In prepared testimony before Wednesday's planned committee hearing, these officials said tracking small gyrocopters presents a "technical challenge," and said the one flown by Douglas Hughes earlier this month showed up just as an intermittant dot on radar screens.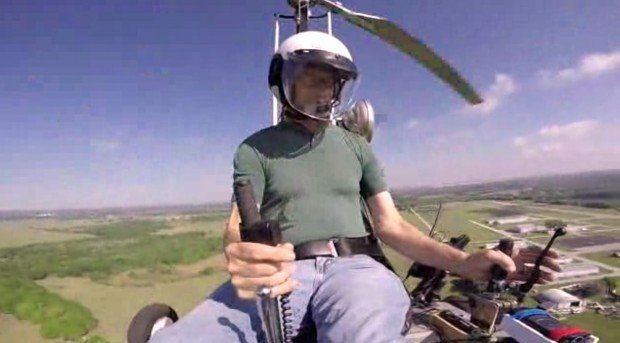 The gyrocopter that landed on the U.S. Capitol grounds earlier this month has exposed a potentially serious hole in the security of the Washington, D.C., area. Screengrab via Tampa Bay Times 
"A small manned gyrocopter or similar low-altitude and slow-speed aerial vehicle, despite the low threat capability associated with such a vehicle, presents a technical challenge," Admiral William Gortney, commander of the United States Northern Command, said in his prepared remarks.
Gortney said the gyrocopter was detected by several sensors as it approached the National Mall, but said in some cases, it was hard to distinguish the copter from birds, terrain and other slow-flying objects. He said the event is being used to further refine the way authorities detect unwanted intrusions into the airspace above the national capital region, or NCR.
"Our initial analysis of this event has further confirmed the need to continue to improve our ability to identify low-altitude and slow-speed aerial vehicles operating in the NCR," he said.
Federal Aviation Administrator Michael Huerta confirmed that when looking back at the data, the copter could be seen as an inconspicuous dot making its slow way from Gettysburg, Pennsylvania, to Washington.
"All available information about the slow moving, irregular symbol made it indistinguishable from other non-aircraft radar tracks," he said in testimony.
Officials also indicated that they had advance warning that Hughes might try his stunt -- Hughes landed in the hopes of delivering a letter to every member of Congress calling for campaign finance reform.
U.S. Secret Service Director Joseph Clancy said in testimony to the committee that they had warnings from about 18 months ago that Hughes might try something similar.
"On October 4, 2013, the Secret Service obtained information that Hughes intended to fly a single seat aircraft onto the grounds of the Capitol or the White House," he said. "No timeframe was provided for the alleged event. That same day, the Secret Service relayed the information to our law enforcement partners at the Capitol Police."