The Environmental Protection Agency has been refusing to let a government watchdog investigate some of its activities, on the grounds that those activities are protected for "intelligence" reasons.
EPA Inspector General Arthur Elkins testified at the House Oversight and Government Reform Committee Thursday, and said the EPA has asserted this claim and prevented the IG from gaining access to some information.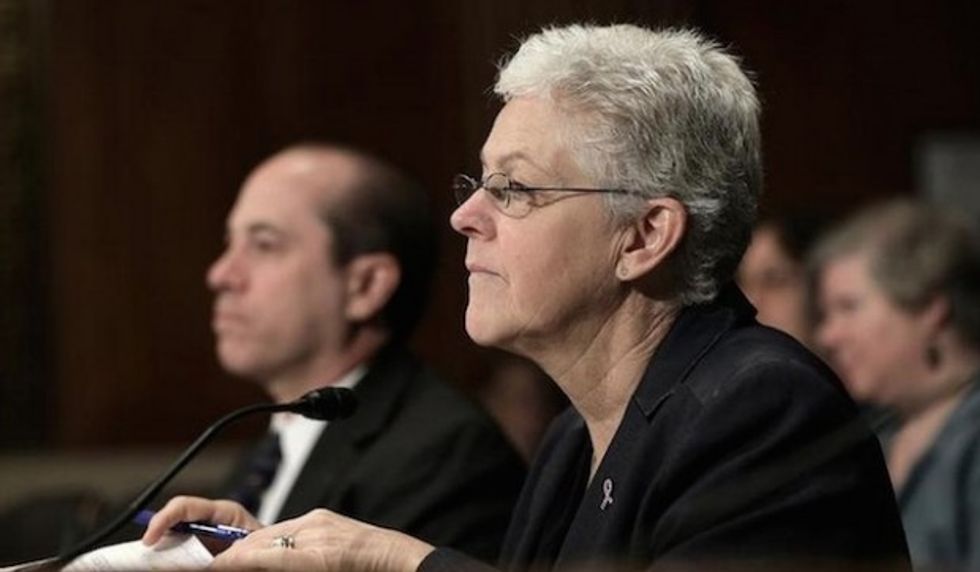 The EPA, run by Administrator Gina McCarthy, has claimed that some of its 'intelligence' operations should not be subject to examination by a government watchdog.
Elkins didn't describe how the EPA is defining an "intelligence" activity, but said the EPA's assertion is impeding the IG from gathering all the information it needs to do its job.
"This situation impeded the OIG's ability to investigate threats against EPA employees and facilities, conduct certain misconduct investigations, and investigate computer intrusions," he said in prepared remarks. He also said the EPA has its own Office of Homeland Security that runs its own investigations — even though it has no authority — that interfere with the IG.
Elkins said his office and the EPA have since "theoretically agreed" that there is no area of EPA activity that is off limits to on IG investigation. But he said the EPA has yet to withdraw from an agreement with the FBI that the EPA says puts limits on the IG's power.
He said he had just received some emails saying that deal with the FBI may soon be terminated, but said that hasn't happened yet.
"So without real clarity in this matter, we unfortunately continue to operate in a fog," he said. "This is the current state of affairs at EPA."
There is some history at the EPA of officials pretending to be involved in clandestine operations. One of its officials, John Beale, famously said he worked at the CIA and bilked the EPA for thousands of dollars in airfare and salary that he didn't earn.
Elkins gave his testimony at hearing that also heard complaints from members that several EPA officials have been found to be engaged in activities far less highbrow than "intelligence" activities, and are more along the lines of sexual harassment.
The committee noted that Peter Jutro, a former acting associate administrator for the EPA Office of Homeland Security, was reported for sexual harassment by 16 female EPA officials.
The committee has also been pressing the EPA for years to fire EPA officials who were caught routinely watching pornography at work, and on government computers.