Traveling with a child is no easy feat. Traveling with a child who has severe medical needs is even more of a trial.
Which is why Sarah Ahland was nervous about taking her 4-year-old son Cayden across the country, even if it was for the trip of a lifetime. Unfortunately, she said her fears were realized on their flight home.
Ahland and her son went to Disney World, Sea World and Lego Land recently as part of a Make-A-Wish trip.
Cayden has a long list of medical issues — Ehlers-Danlos syndrome, gastroparesis, immunoglobulin G deficiency and pacreatitis. He gets all of his nutrition and medicine through an IV and tubes and uses a wheelchair.
"When the Make-A-Wish people [came to our house]," Ahland said, "he showed them the 'Lego Movie,' [which had a preview of Lego Land in it.] He said, 'that's where I want to go, that's the ride I want to ride on.'"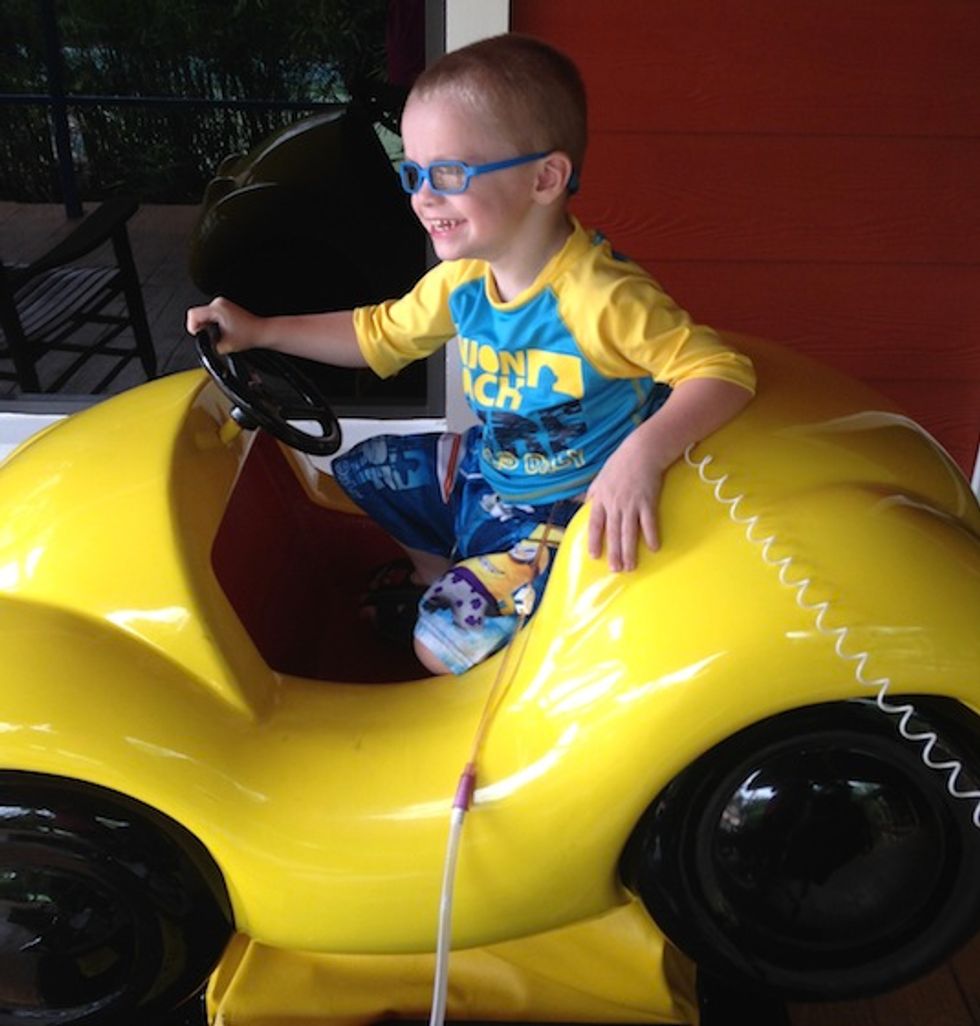 Cayden realizing his 4-year-old dream. (Sarah Ahland)
Though lugging car seats, strollers and a cooler for medication, in addition to normal bags, wasn't easy, Ahland told TheBlaze between her and her friend Rebekah Cross, a woman who she met through a mom's group online when they were both pregnant, and with the help of airline staff, they made it to Orlando without any glitches.
"He's never had so much fun," she said. "Every morning, he still talks about it."
Though Ahland says the trip itself was "amazing," things turned south when she and Cross got ready to return home to Sacramento and Phoenix, respectively, Monday.
It started when they checked in and learned their seats had been split up, something both mothers said was unacceptable because Ahland needed help with Cayden.
"Sarah tried to talk to the agent at the gate in Orlando when we arrived, but she said she wasn't helping us since it wasn't her job and that someone would be there in an hour," Cross said in an email. "It ended up being her back in an hour, and it was a huge ordeal to try to get our seats back to how we had reserved them. She said she couldn't split up a family, and I pointed out that she had already split up our Make-A-Wish family. Eventually, she made it work out."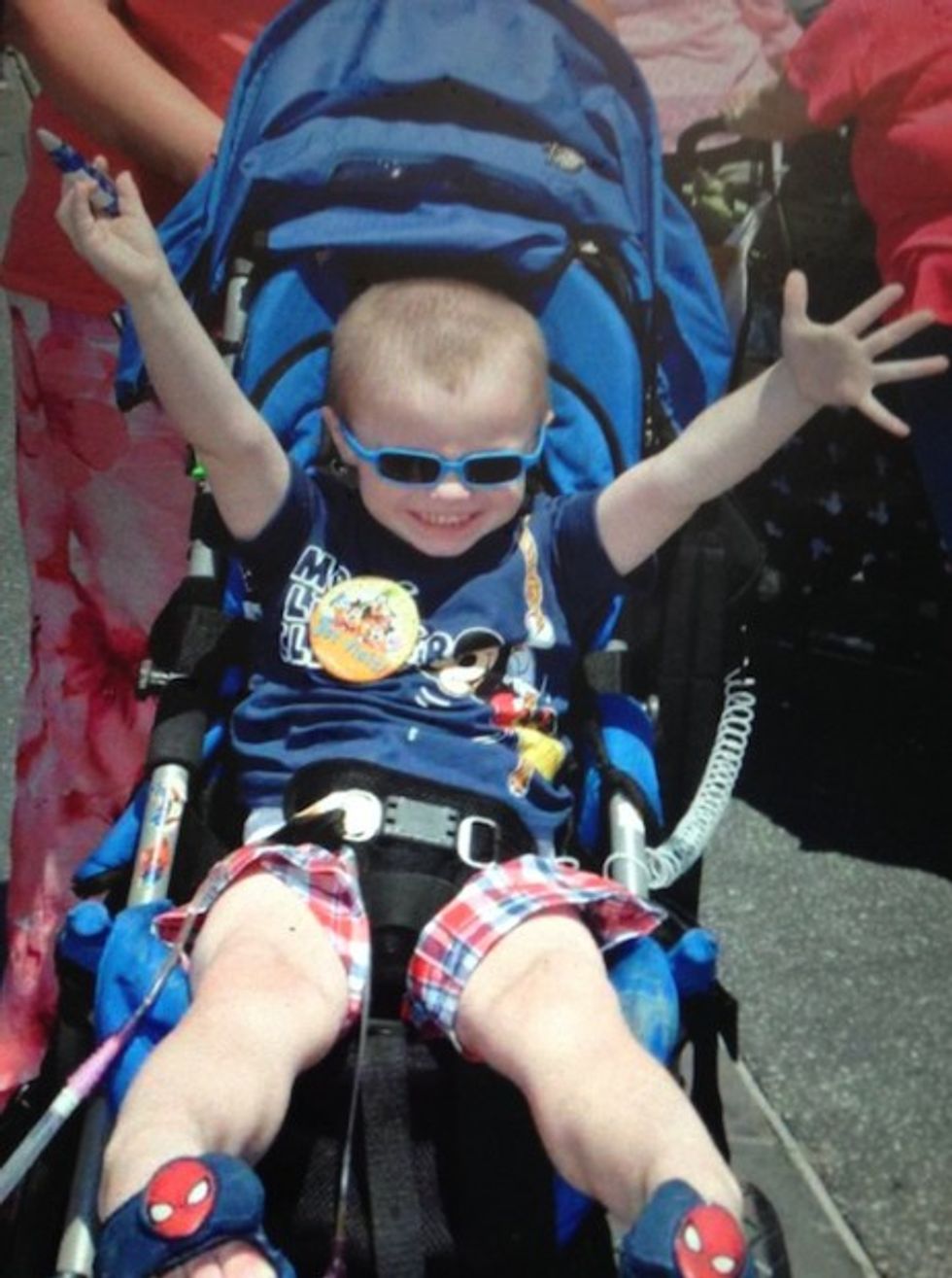 Cayden in Orlando (Sarah Ahland)
But their issues with US Airways staff didn't end there, the moms said.
Not only did they say they received no assistance for all the gear they had to manage with their children as they pre-boarded, but Ahland said a flight attendant, spotting the cooler that held the medicine Cayden could need in flight, said it would need to be checked.
"The flight attendant just stared at me and told me I would need to gate check it because it's not going to fit [in the overhead compartment,]" Ahland said. "I go to put it in the overhead myself. She didn't come over to help us, and she said, 'If you break overhead bin it's going to delay the flight even further.' She never helped us ... just watched us struggle and stood there."
Ahland made the cooler fit just as she had done on their first flight.
Cross and Ahland said prior to their whole trip, they had called US Airways several times to confirm they would be able to accommodate the cooler Cayden needed, among other things. They said US Airways had assured them that it would go in an overhead bin, or if it didn't fit there, that flight attendants would move it to another location. In addition, they were wearing Make-A-Wish buttons and had a letter from the foundation as well.
For the remainder of the flight and for the second leg from Phoenix to Sacramento, Ahland said the flight attendant in question ignored them.
When asked what she thought was the issue, Ahland said she thinks a delayed flight and another flight attendant who was late frazzled this other US Airways worker — though not an excuse for her behavior.
US Airways was not available for comment at the time of this posting. According to the airline's baggage policy though, required medical supplies can be carried on the aircraft as long as it meets size and weight restrictions. Its medical disabilities page further states that devices and medications can be brought on board as long as they fit in overhead compartments or under the seat.
Ahland said she filed a complaint with American Airlines Tuesday, merged with US Airways, but has not heard back yet.
"I just hope that they do more training with disabilities and medical equipment and just more sensitivity training in how they can help people with disabilities," she said.
Cross said she thinks at the very least Ahland and Cayden should get an apology.
"In the moment it's very hard to stand up for yourself," Cross said. "I was really glad I was there to be able to give her backup support. We're not going to risk something very tragic happening because you don't want to be inconvenienced."
Update 5/2/2015: American Airlines said in an emailed statement to TheBlaze that it "[regrets] that the Ahland families' travel did not go as smoothly as it should have. Thanks to a notification from a friend of the family on Twitter, we were able to have our team at Phoenix Sky Harbor International Airport meet them on arrival, escort them to their next gate and notify the flight crew beforehand of their needs for their next flight to Sacramento. We sincerely apologize for the inconvenience."
—
This story has been updated to clarify the merger between American Airlines and U.S. Airways.