© 2023 Blaze Media LLC. All rights reserved.
Carl Moore is willing to do just about whatever it takes to protect his dogs.
Moore, a 73-year-old former Marine who has worked as both a boxer and a county music club bouncer, made that much clear when he recently took on a 300-pound beast – and won.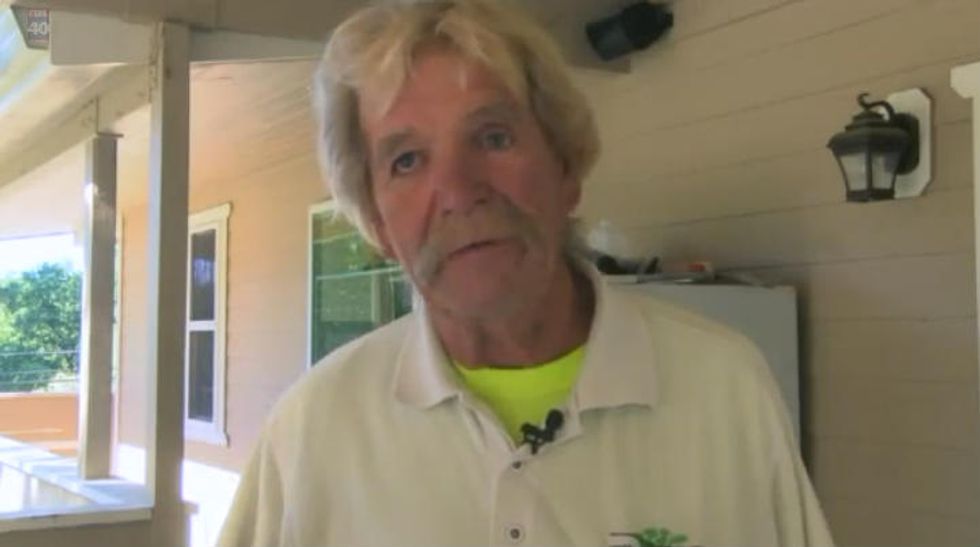 Image source: KTXL
It happened at Moore's Placer County, California, home after his chihuahua sounded afraid while it was barking. When he went to see what all the ruckus was about, he found himself face-to-face with a bear trying to get to the small dog, KTXL reported.
Bears had already taken out about three dozen of his chickens, and Moore wasn't about to let this one eat his dog.
With his arms raised, Moore ran after the animal to force it farther from his house. It wasn't going to be that easy, though. Moments later, the bear stood up on its hind legs.
So Moore hauled off and threw a punch.
"Boom, I hit him good," Moore said.
John Sargent saw what Moore did and couldn't believe his eyes: "Carl just blasted him. It was crazy."
However "crazy" it was, Moore's decision to confront the trespasser resulted in the bear leaving his dog – and his house – alone.
"I never faced anything in my life that I didn't figure I can whip," he told KTXL.
When Moore was later asked why he didn't try to get away from the bear instead approaching it, he said, "I ain't lettin' no bear eat my puppies. That ain't gonna happen."
"These dogs are my babies," he said.
California Fish and Wildlife rangers, who gave the estimate as to how much the bear might have weighed, told Moore that he could apply for a permit to have the bear killed since it ate his chickens. But Moore won't be doing that himself.
"If it comes back I'll call 911 and let the sheriff's do it because I don't want to shoot no animal," Moore said.
(H/T: KTXL)
–
Follow Jon Street (@JonStreet) on Twitter
Want to leave a tip?
We answer to you. Help keep our content free of advertisers and big tech censorship by leaving a tip today.
more stories
Sign up for the Blaze newsletter
By signing up, you agree to our
Privacy Policy
and
Terms of Use
, and agree to receive content that may sometimes include advertisements. You may opt out at any time.