Rick Santorum, the former senator from Pennsylvania and several-time presidential hopeful, has always been known as something of a culture warrior.
He has made his traditional, conservative, Roman Catholic viewpoints known, especially on issues pertaining to gay marriage — viewpoints that have earned him the vicious ire of many pro-gay marriage advocates.
So how does Santorum feel about Bruce Jenner, the Olympic champion and reality TV star who told the nation last week, "for all intents and purposes, I am a woman"?
You might be surprised.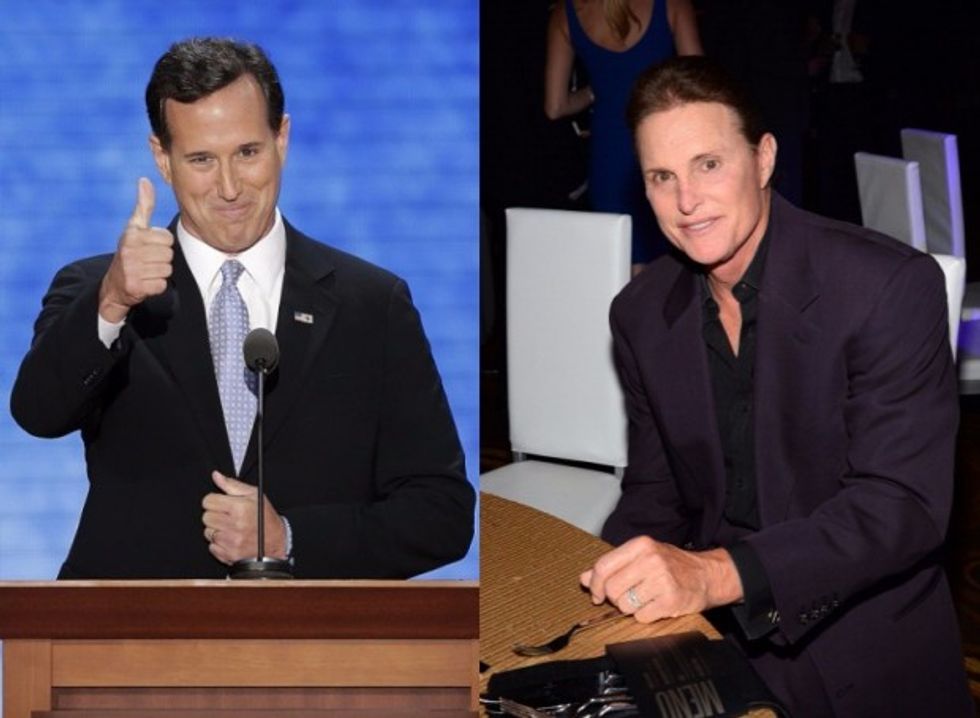 Rick Santorum, left, and Bruce Jenner. (Photos by AP Photo/J. Scott Applewhite and Ethan Miller/Getty Images for Michael Jordan Celebrity Invitational)
"If he says he's a woman, then he's a woman," Santorum told BuzzFeed in response to a question at the South Carolina Republican Party's convention Saturday.
He continued:
My responsibility as a human being is to love and accept everybody. Not to criticize people for who they are. I can criticize, and I do, for what people do, for their behavior. But as far as for who they are, you have to respect everybody, and these are obviously complex issues for businesses, for society, and I think we have to look at it in a way that is compassionate and respectful of everybody.
Asked about the issue of transgender individuals using public restrooms, Santorum said:
So these are tough issues. I haven't got into the whole issue, and I don't think the federal government should get into the whole issue of bathrooms. I think those are things that the business community and local agencies and organizations should deal with.
In his April 24 TV interview in which he declared himself to be a woman, Jenner also came out as a Republican.
—
Follow Zach Noble (@thezachnoble) on Twitter