It's being called the "fight of the century."
On Saturday night, boxing titans Floyd Mayweather Jr. and Manny Pacquiao will finally fight.
The pair weighed in and stared one another down on Friday.
Mayweather's record: 47-0, with 26 KOs.
Pacquiao's record: 57-5-2, with 38 KOs.
The 5'6" Pacquiao weighed in at 145 pounds, while the slightly taller Mayweather weighed 146.
Over their long careers, both fighters have battled personal demons and faced public controversy: Pacquiao for "womanizing, gambling and drinking," Mayweather for a history of beating women.
But as he told TheBlaze earlier this year, Pacquiao has rededicated himself to his Christian faith. He wore a shirt reading, "All Glory And Honor Belong To God," at weigh-in Friday.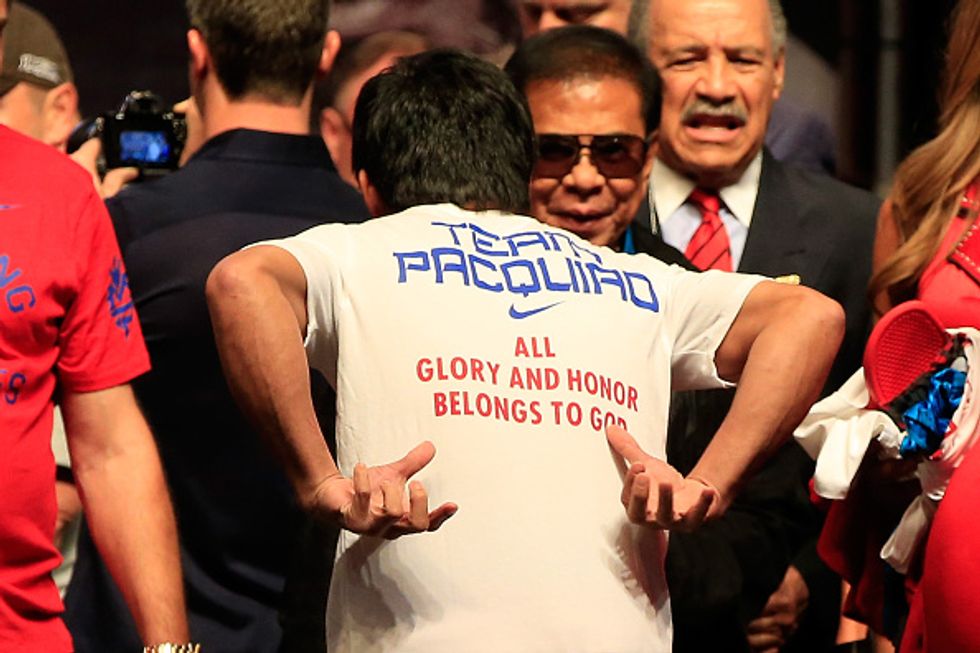 Manny Pacquiao points to the back of his shirt reading 'All Glory And Honor Belong To God' during his official weigh-in on May 1, 2015 at MGM Grand Garden Arena in Las Vegas, Nevada. Pacquiao will face Floyd Mayweather Jr. in a welterweight unification bout on May 2, 2015 in Las Vegas. (Photo by Jamie Squire/Getty Images)
Mayweather, who also identifies as Christian, will work to defend his perfect fighting record as he winds down his career.
The fight is slated to be the biggest, richest event in boxing history, with both fighters raking in tens of millions of dollars, win or lose.
Experts are divided, but Mayweather is the betting favorite.
Who are you pulling for? Take the poll below and discuss in the comments.
No matter who wins or loses, the hype surrounding the event may, for once, be justified.
This story has been updated.
—
Follow Zach Noble (@thezachnoble) on Twitter